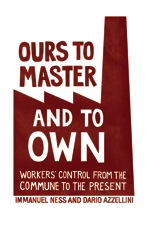 OURS TO MASTER AND TO OWN
Workers' Control from the Commune to the Present
Edited by Immanuel Ness and Dario Azzellini
Haymarket Books (May 2011, world English rights)
Trade Paper • ISBN-13: 9781608461196 • US $19 • 6 in x 9 in • 400 pgs.
ABOUT THE BOOK:
From the dawning of the industrial epoch, wage earners have organized themselves into unions, fought bitter strikes, and have gone so far as to challenge the very premises of the system by creating institutions of democratic self-management aimed at controlling production without bosses. Looking at specific examples drawn from every corner of the globe and every period of modern history, this pathbreaking volume comprehensively traces this often under-appreciated historical tradition.
Ripe with lessons drawn from historical and contemporary struggles for workers' control, Ours to Master and to Own is essential reading for those struggling to bring to birth a new world from the ashes of the old.
Contributors: Immanuel Ness, Dario Azzellini, Elaine Bernard, Alberto Bonnet, Sheila Cohen, Patrick Cuninghame, Pietro Di Paola, Andy Durgan, Donny Gluckstein, Ralf Hoffrogge, Marina Kabat, Zbigniew Marcin Kowalewski, David Mandel, Goran Music, Henrique T. Novaes, Peter Robinson, Maurício Sardá de Faria, Gabriela Scodeller, Arup Kumar Sen, Samuel J. Southgate, Jafar Suryomenggolo, Alan Tuckman, and Victor Wallis.
PRAISE:
"Ours to Master and Own is the most substantive and comprehensive work on workers control and self management today providing an essential account of labor movements in the process of insurrection, direct action, and factory occupations under a range of institutional circumstances. I strongly recommend this work, which provides examples drawn from throughout the world of workers struggling for justice and power from the Paris commune to the present."
Gary Younge, columnist, The Guardian and The Nation; author of Who We Are and Should It Matter in the 21st Century (Penguin/Viking 2010)
"Excellent! A very complete, serious and inspiring account of the movements for workers' control and their difficulties. There is no doubt that it should become a standard point of reference for future discussions, and actions. A great source of information and reflection."
John Holloway, Institute for Humanities and Social Sciences at The Autonomous University of Puebla; author of Crack Capitalism and Change the World Without Taking Power
"Long overdue, this book is the first comprehensive worldwide compilation of the struggle of workers to gain control of their work environments. It is a must-read for all who are interested in the past and future of working-class struggles and insurgencies."
Michael Goldfield, coauthor of Labor, Globalization, and the State
ABOUT THE AUTHORS:
Immanuel Ness is professor of political science at Brooklyn College, City University of New York, and a founding member of the Lower East Side Community Labor Organization, an autonomous activist organization in New York City. His research and writing focuses on social and revolutionary movements, labor militancy, and migrant worker resistance to oppression. Ness has just completed Guest Workers, Corporate Despotism and Resistance,(forthcoming University of Illinois Press) a book that examines the rise of guest workers from the global South in the US and labor opposition to employer abuses. He is author of numerous books including an anthology of contemporary labor: Real World Labor, with Amy Offner and Chris Sturr (Dollars & Sense). He edits the peer-review quarterly journal, Working USA: The Journal of Labor and Society, and has also edited several reference works, including The International Encyclopedia of Revolution and Protest: 1500 to the Present (Wiley-Blackwell 2009), and, with Aaron Brenner and Bejamin Day, The Encyclopedia of Strikes in American History (Sharpe 2009).
Dario Azzellini is a writer, documentary director and political scientist and lecturer at Johannes Kepler University in Linz, Austria. He splits his time between Berlin and Caracas. His research and writing focuses on social and revolutionary militancy, migration and racism, people's power and selfadministration, and workers control, with extensive case studies in Latin America. He served as Associate Editor for the The International Encyclopedia of Revolution and Protest: 1500 to the Present, and was primary editor for Latin America, the Spanish Caribbean, and the New Left in Italy. He serves as Associate Editor for WorkingUSA: The Journal of Labor and Society and for Cuadernos de Marte, an academic publication about war sociology released by the University of Buenos Aires. He has published several books, among them The Business of War (Assoziation A 2002), about the privatization of military services. His latest documentary, "Comuna under construction," (2010) examines worker councils in Venezuela. More information on his publications and work is available at http://www.azzellini.net/.
RIGHTS INFORMATION:
Languages & Territories Where Rights Have Been Sold:
Please contact subagents for the following languages and territories:
For all other languages/territories, please contact Roam Agency.