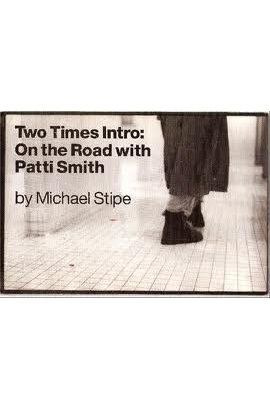 TWO TIMES INTRO
On the Road with Patti Smith
By Michael Stipe
Akashic Books (September 2011, world English rights)
Paper • ISBN-13: 9781617750236 • US $23.95 • Hardcover • 128 pgs.
ABOUT THE BOOK:
Photographer Michael Stipe followed friend and fellow musician Patti Smith on tour for two weeks in 1995. Two Times Intro is his intimate and evocative visual diary of her return to live performance, along with portraits of other cultural celebrities, such as Allen Ginsberg, who appeared with her. From 1975's Horses to 2007's Twelve, Smith's creative vision has been a singular, explosive catalyst for artists and musicians worldwide–including Stipe. As William S. Burroughs writes in the introduction, Patti Smith's "effect on the audience is electric, comparable to voodoo or umbanda rituals, where the audience members become participants, and are literally lifted out of themselves."
In addition to text by Stipe (including a brand-new introduction for 2011), William S. Burroughs, and Patti Smith, there is also commentary from Thurston Moore, Kim Gordon, Lenny Kaye, Tom Verlaine, and others who have been inspired by Smith's work.
ABOUT THE AUTHOR:
Michael Stipe is a singer, photographer, film producer, and activist. He lives in Athens, Georgia, and New York City. R.E.M. formed in 1980 in Athens, Georgia, and is composed of Peter Buck, Mike Mills, and Michael Stipe. Heralded by Rolling Stone as ""America's Best Rock and Roll Band," R.E.M. rose from cult college radio status to sell more than seventy million albums worldwide and was inducted into the Rock and Roll Hall of Fame in 2007. Stipe is also a contributor to (and the subject of) the book R.E.M.: Hello.
RIGHTS INFORMATION:
For all rights inquiries, contact Roam Agency directly, or the Wylie Agency: http://www.wylieagency.com/.