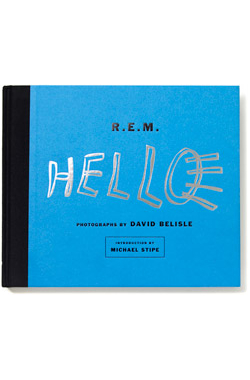 R.E.M.: Hello
Portraits by David Belisle
With a foreword by Michael Stipe, and captions and commentary by Michael Stipe and R.E.M.
Chronicle Books (2008, world English rights)
ISBN-13: 9780811865104 • US $29.95 • 10 in x 8.5 in • 192 pgs.
175 color and b/w photographs
Download the promotional poster / promotional brochure
ABOUT THE BOOK:
In this remarkable collection of intimate and compelling photographs — featuring R.E.M., as well as Thom Yorke of Radiohead, Bruce Springsteen, Eddie Vedder, Michael Moore, Neil Young, Patti Smith, The Dixie Chicks, and other artists — you will see the band as they have never been seen before. Over the past six years, photographer David Belisle has traveled with R.E.M. on tours as well as photographed their recording and video sessions, and has captured their on- and off-stage lives with unprecedented access. The 175 color and black and white photographs in the book are accompanied by handwritten captions by the band and an introduction by Michael Stipe. These lush images, photographed with an intensely artistic eye, capture the members of R.E.M. in public performances around the world and in the most personal spaces that only the band and their closest friends can access.
ABOUT THE AUTHORS:
David Belisle (http://www.davidbelisle.com/) is a Seattle-based photographer who has worked with R.E.M., the Yeah Yeah Yeahs, Mudhoney, the Tiny Vipers, and others.
Michael Stipe is a singer, photographer, film producer, and activist. He lives in Athens, Georgia and New York City, and is the author of Two Times Intro: On the Road with Patti Smith.
R.E.M. (http://www.remhq.com/) formed in 1980 in Athens, Georgia, and is composed of Peter Buck, Mike Mills, and Michael Stipe. Heralded by Rolling Stone as "America's Best Rock and Roll Band," R.E.M. rose from cult college radio status to sell more than 70 million albums worldwide and be inducted into the Rock and Roll Hall of Fame in 2007.
RIGHTS INFORMATION:
Languages & Territories Where Rights Have Been Sold:
Please contact subagents for the following languages and territories:
For all other languages/territories, please contact Roam Agency.