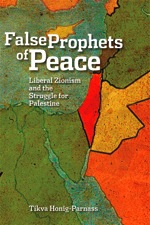 FALSE PROPHETS OF PEACE
Liberal Zionism and the Struggle for Palestine
By Tikva Honig-Parnass
Haymarket Books (August 2011, world English rights)
Trade Paper • ISBN-13: 9781608461301 • US $20 • 6 in x 9 in • 350 pgs.
ABOUT THE BOOK:
This book refutes the long held view of the Israeli left as adhering to a humanistic, democratic and even socialist tradition, attributed to the historic Zionist Labor movement. Through a critical analysis of the prevailing discourse of Zionist intellectuals and activists on the Jewish-democratic state, it uncovers the Zionist left's central role in laying the foundation of the colonial settler state of Israel, in articulating its hegemonic ideology and in legitimizing, whether explicitly or implicitly, the apartheid treatment of Palestinians both inside Israel and in the 1967 occupied territories. Their determined support of a Jewish-only state underlies the failure of the "peace process," initiated by the Zionist Left, to reach a just peace based on recognition of the national rights of the entire Palestinian people.
PRAISE:
"The Zionist Left, formerly hegemonic within Zionism and the Israeli settler state, has declined since 1977 and is now marginalized. But the myth of its 'progressive' nature persists among Western liberals. Based on her knowledge as a former insider, and on her familiarity with the relevant material, Tikva Honig-Parnass, a radical political activist and analyst, performs an invaluable service in forensically deconstructing the myth."
Moshé Machover, author, Israelis and Palestinians: Conflict and Resolution
ABOUT THE AUTHOR:
Tikva Honig-Parnass, was raised in the Jewish community of pre-state Palestine, fought in the 1948 war and served as the secretary of the then Radical Left Zionist Party of Mapam (The Unified Workers Party) in the Knesset (1951-1954). In '60 she definitively broke with Zionism and joined the ranks of the Israeli Socialist Organization, known as Matzpen. Since then she has played an active role in the movement against the '67 occupation as well as in the struggle for the Palestinian national rights. She is the author (with Toufic Haddad) of Between the Lines: Israel, the Palestinians, and the U.S. War on Terror.
RIGHTS INFORMATION:
Please contact subagents for the following languages and territories:
For all other languages/territories, please contact Roam Agency.