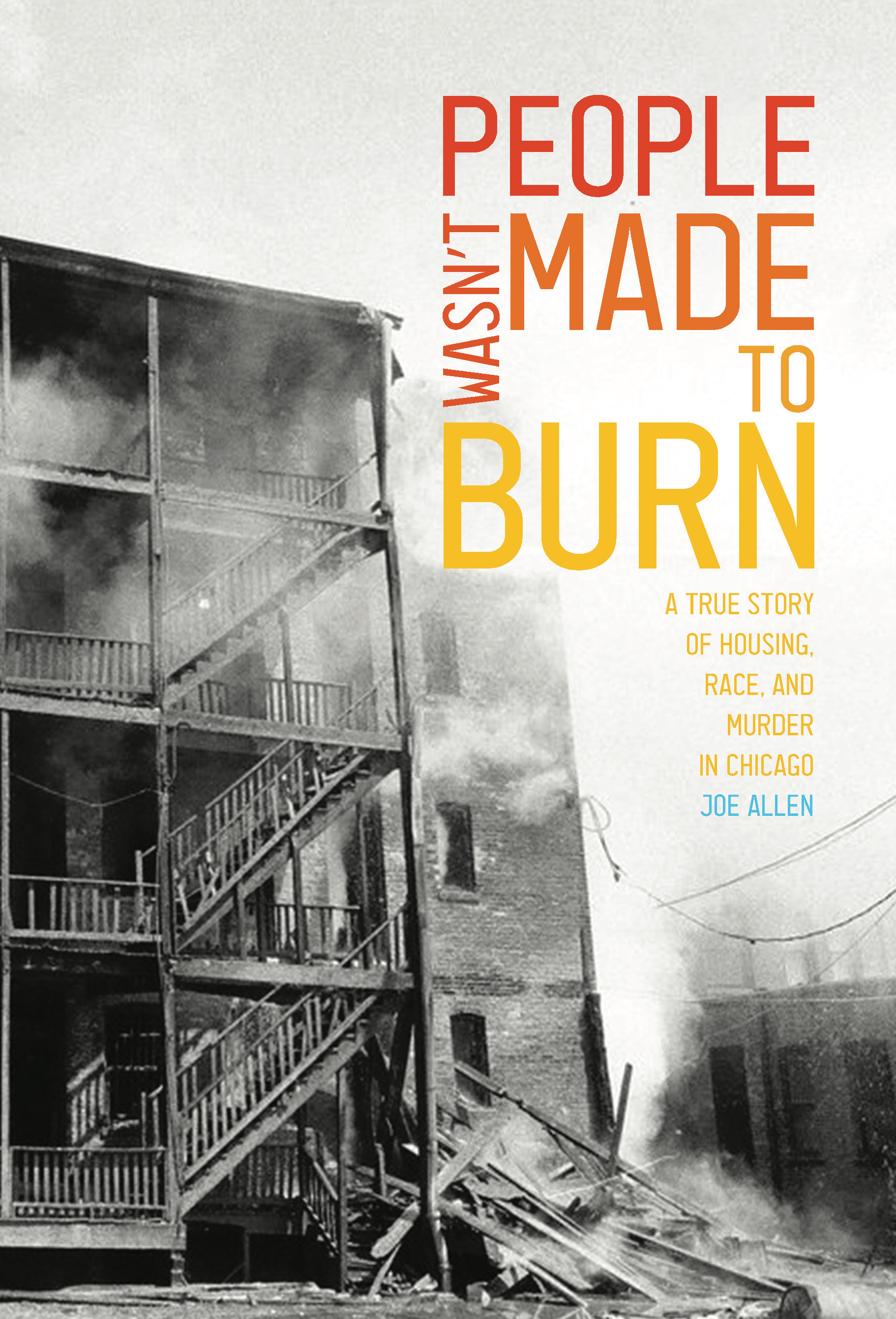 PEOPLE WASN'T MADE TO BURN
A True Story of Race, Murder, and Justice in Chicago
By Joe Allen
With drawings by Ben Shahn
Haymarket Books (June 2011, world English rights)
Trade Cloth / Ebook • ISBN-13: 9781608461264 • US $22.95 • 5 1/4 in x 7 7/8 in • 328 pgs. • B&W illustrations
ABOUT THE BOOK:
The long-buried story of a Chicagoan's struggle for justice after four of his children perished in a tragic fire.
In 1947, James Hickman shot and killed the landlord he believed was responsible for a tragic fire which took the lives of four of his children on Chicago's west side. Prosecutors sought a death sentence for Hickman, but a vibrant defense campaign — which included the famous actress Tallulah Bankhead and acclaimed artist Ben Shahn — exposed how working poverty and racism led to his crime and helped win Hickman's freedom.
In the best tradition of True Crime drama and narrative non-fiction, Joe Allen unearths the compelling story of a campaign that was willing to stand up to Jim Crow well before the modern civil rights movement had even begun. As deteriorating housing conditions and an accelerating foreclosure crisis combine to form a hauntingly similar set of factors as those which led to the tragic fire that claimed the lives of James Hickman's children, Allen's book restores to prominence a previously unknown individual whose story has profound relevance to today.
PRAISE:
"James Hickman was one of the hundreds of thousands of black Mississippians to move to Chicago in the 1940s. The nightmarish tragedy that befell the Hickman family there, as well as the actions of the dedicated activists who fought to save Hickman's life by revealing the institutional foundations of that tragedy, are vividly depicted in Joe Allen's important and moving history. Hickman's story illustrates the toxic nature of racial segregation and economic exploitation. The outraged community that united to support Hickman is a refreshing reminder of people's power to organize for change."
Beryl Satte, author of Family Properties: Race, Real Estate, and the Exploitation of Black Urban America
"Astonishing. … People Wasn't Made to Burn does nothing less than reinvent the true-crime genre. … Allen has rescued a part of our social history, which on its own is an impressive accomplishment. He has turned the true-crime genre upside down, which also is a fantastic feat. But by book's end, Allen relates the Hickman case to our own troubled times."
Dave Zirin, The Nation
ABOUT THE AUTHORS:
Joe Allen is a frequent contributor to the International Socialist Review and a longstanding social justice fighter, involved in the ongoing struggles for labor, abolition of the death penalty, and against the Iraq war. He is the author of Vietnam: The (Last) War the United States Lost.
Ben Shahn's social realist art celebrated the lives of those who struggled for justice, from Sacco and Vanzetti to the labor militants of the Great Depression to the civil rights activists of the 1960s.
OTHER TITLES BY THIS AUTHOR:
Vietnam: The (Last) War the United States Lost
RIGHTS INFORMATION:
Please contact subagents for the following languages and territories:
For all other languages/territories, please contact Roam Agency.