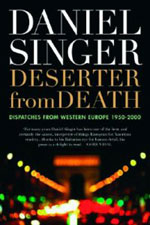 DESERTER FROM DEATH
Dispatches from Western Europe, 1950-2000
By Daniel Singer
Foreword by Howard Zinn
Nation Books (2005, world English rights)
Paper • ISBN-13: 9781560256427 • US $17.95 • 8.3 in x 6.2 in • 352 pgs.
ABOUT THE BOOK:
A self-described "deserter from death," Polish-born Daniel Singer narrowly escaped the Holocaust to become one of the European left's leading social and political commentators. From the Algerian crisis in the late fifties, through the world-shaking events of May '68, to the post-Reagan, post-Thatcher era, this is an effervescent social history of the past half-century.
Deserter from Death collects Singer's writing from when he was a young reporter for The Economist to his final years as the Nation magazine's celebrated European correspondent. This is the first major collection of Singer's work to be published since his death in December 2000.
PRAISE:
"I can think of no journalist more versed, more hip to what is happening in Europe today than Daniel Singer."
Studs Terkel
"There is an alternative to rampant inequality and the corruptions of power, and — ever so modestly and persuasively — Daniel Singer points the way."
Barbara Ehrenreich, author, Nickel and Dimed
"If there was one insistent note in his political analysis, it was that movements for independence, peace, and social justice must be based, if they are to fulfill their moral promise, on the mass mobilization of people, and not on the leadership of an individual or a party."
From the foreword by Howard Zinn
ABOUT THE AUTHOR:
Daniel Singer was born in Warsaw in 1926, and was educated in France, Switzerland and England. He was a contributor to The Economist, The New Statesman, the Tribune and The Nation (where he was Europe correspondent for twenty years), and appeared as a commentator on NPR, "Monitor Radio," and the BBC, as well as Canadian and Australian broadcasting.
He was the author of Prelude to Revolution: France in May 1968 (Hill & Wang, 1970; expanded ed., South End Press, 2001), The Road to Gdansk: Eastern Europe on the Move (Monthly Review Press, 1981), Is Socialism Doomed? The Meaning of Mitterrand (Oxford, 1988) and Whose Millennium? Theirs or Ours? (Monthly Review Press, 1999).
OTHER TITLES BY THIS AUTHOR:
Prelude to Revolution: France in May 1968
RIGHTS INFORMATION:
Please contact subagents for the following languages and territories:
For all other languages/territories, please contact Roam Agency.