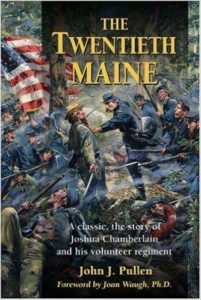 THE TWENTIETH MAINE
A Classic, the Story of Joshua Chamberlain and his Volunteer Regiment
John J. Pullen
Foreword by Joan Waugh
Stackpole Books (Reprint edition, 2008)
Paper • ISBN-13: 9780811735247 • US $23.95 • 352 pgs.
ABOUT THE BOOK:
"We went into the fight with 386, all told—358 guns. Every pioneer and musician who would carry a musket went into the ranks. Even the sick and footsore, who could not keep up in the march, came up as soon as they could find their regiments, and took their places in line of battle, while it was battle, indeed." – Col. Joshua Chamberlain
The fascinating story of Joshua Chamberlain and his volunteer regiment, the Twentieth Maine, is reprinted with a new foreword by Civil War historian and UCLA professor Joan Waugh. Pullen's classic and highly acclaimed book tells how Chamberlain and his men fought at Antietam, Fredericksburg, and Chancellorsville on their way to the pivotal battle of Gettysburg. There, on July 2, 1863, at Little Round Top, they heroically saved the left flank of the Union battle line. The Twentieth Maine's remarkable story ends with the surrender of Lee's troops at Appomattox.
Considered by Civil War historians to be one of the best regimental histories ever written, this beloved standard of American history is now available in a new Stackpole edition. Includes maps, photographs, and drawings from the original edition.
PRAISE:
"[M]agnificent. . . . Although The Twentieth Maine reads like a historical novel, it is documented like a history textbook. Its wide sale is eveidence not only of the excellence of the writing but also of the everlasting appeal of the book's heroes, both named and unnamed."
Robert M. Cross, The New England Quarterly
"For all its age, it is a tale that continues to fascinate."
 Robert Scribner, Virginia Magazine of History and Biography
OTHER WORKS BY THIS AUTHOR:
Joshua Chamberlain: A Hero's Life and Legacy
ABOUT THE AUTHOR:
John J. Pullen, a renowned Civil War historian, lived in Maine, writing about the Civil War until his death in 2003.
RIGHTS INFORMATION:
Audio book:
For all languages and territories, please contact Taryn Fagerness at Taryn Fagerness Agency.
See here for a list of Taryn Fagerness's foreign subagents.