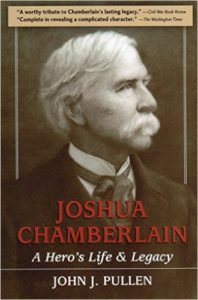 JOSHUA CHAMBERLAIN
A Hero's Life and Legacy
John J. Pullen
Stackpole Books (Reprint edition, 2013)
Paper • ISBN-13: 9780811712729 • US $19.95 • 240 pgs.
ABOUT THE BOOK:
A popular history of Joshua Chamberlain, a college professor from Maine who became a decorated Union Army officer known for his leadership in the Battle of Gettysburg, and went on after the war to serve as Republican governor of Maine and president of Bowdoin College. 
PRAISE:
"Joshua Chamberlain was much more than a war hero, and Pullen's thoughtful book fills out the picture of his remarkable life. An entertaining and inspiring story."
Senator George J. Mitchell
"Pullen's book is a worthy tribute to Chamberlain's lasting legacy."
Charles F. Herberger, Civil War Book Review
"Pullen's presentation is more complete in revealing a complicated character, without diminishing the almost mythic status he has assumed."
Edward C. Smith, The Washington Times
OTHER WORKS BY THIS AUTHOR:
 The Twentieth Maine: A Classic, the Story of Joshua Chamberlain and his Volunteer Regiment
ABOUT THE AUTHOR:
John J. Pullen, a renowned Civil War historian, lived in Maine, writing about the Civil War until his death in 2003.
RIGHTS INFORMATION:
For all languages and territories, please contact Taryn Fagerness at Taryn Fagerness Agency.
See here for a list of Taryn Fagerness's foreign subagents.