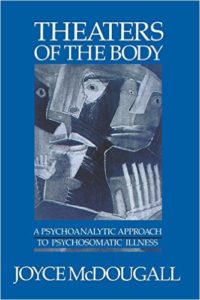 THEATERS OF THE BODY
A Psychoanalytic Approach to Psychosomatic Illness
Joyce McDougall
W.W Norton and Company (September 1989, worldwide including Canada, but excluding the British Commonwealth)
Paper • ISBN 9780393700824 • US $22.95 • 192 pages
ABOUT THE BOOK:
Theaters of the Body is a landmark contribution to the study of the psychosoma by one of the world's most important psychoanalytic thinkers and clinicians.
In this book, Joyce McDougall presents a bold and exciting recasting of the psychoanalytic approach to the fascinating question of the relationship between the mind and the body. McDougall looks at people who react to psychological distress through somatic manifestations, and at the psychosomatic potential of individuals in those moments when habitual psychological ways of coping are overwhelmed, and the body pantomimes the mind's distress.
PRAISE:
"A landmark contribution to the study of psychosomatics"
The Guardian
"A mature, considered presentation of [McDougall's] current thinking on sexuality . . . simultaneously impassioned and dispassionate, erudite and plain-spoken, conservative in her insistence on basic psychoanalytic assumptions and radical in her celebration of intimate human diversity."
Contemporary Psychology
"'Human sexuality is inherently traumatic,' begins The Many Faces of Eros (1996). As McDougall demonstrated convincingly, the psychic conflicts arising from the tensions between the inner world of primitive drives and the constraining and denying forces of the external world begin in earliest infancy, but have ramifications throughout life."
The Guardian
OTHER BOOKS BY THIS AUTHOR:
ABOUT THE AUTHOR:
Joyce McDougall was an internationally renowned psychoanalyst, who made original theoretical and clinical contributions to understanding sexuality, perversions, psychosomatic symptoms, addictions, and creativity. As The Guardian wrote upon her death, "Her clinical insights, theoretical originality, open-mindedness and lack of dogmatism made her unique throughout her 60-year career and enabled her to create a valuable link connecting the Anglo-Saxon and French psychoanalytical schools." McDougall was a supervising and training analyst at the Paris Psychoanalytic School, and was an honorary member off the Association for Psychosomatic Medicine in New York, the New York Freudian Society, and teacher at the Object Relations Institute of New York. Her many books, including the landmark Theaters of the Body, were translated into 10 languages. McDougall died in 2011.
RIGHTS INFORMATION:
For all languages and territories, please contact Taryn Fagerness at Taryn Fagerness Agency.
See here for a list of Taryn Fagerness's foreign subagents.