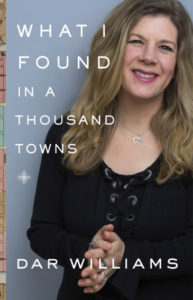 WHAT I FOUND IN A THOUSAND TOWNS
A Wandering Minstrel's Guide to Building Better Towns
Dar Williams
Basic Books (October 2017)
Hardcover • ISBN-13: 9780465098965 • US $27.00
ABOUT THE BOOK:
A beloved folk singer presents an impassioned account of the fall and rise of the small American towns she cherishes.

Dubbed by the New Yorker as "one of America's very best singer-songwriters," Dar Williams has made her career not in stadiums, but touring America's small towns. She has played their venues, composed in their coffee shops, and drunk in their bars. She has seen these communities struggle, but also seen them thrive in the face of postindustrial identity crises.
Here, Williams muses on why some towns flourish while others fail, examining elements from the significance of history and nature to the uniting power of public spaces and food. Drawing on her own travels and the work of urban theorists, Williams offers real solutions to rebuild declining communities.
What I Found in a Thousand Towns is more than a love letter to America's small towns, it's a deeply personal and hopeful message about the potential of America's lively and resilient communities.

ABOUT THE AUTHOR:
Dar Williams is a folk singer-songwriter based in the Hudson Valley. She has recorded nine studio albums and released two live albums, and has been touring non-stop across the US for over twenty years. Williams is also a well-known environmental, feminist, and social justice activist; she works with children on planting bee-friendly gardens, wrote a series of green living columns for the Huffington Post, champions progressive gender and sexual politics, and performs at many benefit concerts including one to support the prisoner rights group Bread and Roses. In 2012, she taught "Music Movements in a Capitalist Democracy" at Wesleyan University. In 2013, she started leading a songwriting retreat called "Writing a Song That Matters" at the Garrison Institute in Garrison, New York. Williams is the author of two young adult novels, Amalee and Lights, Camera, Amalee.
RIGHTS INFORMATION:
Please contact subagents for the following languages and territories:
| Language/Territory | Subagent |
| --- | --- |
| China, Taiwan, Indonesia, Malaysia, and Vietnam | Big Apple Agency |
| English outside North America | David Grossman Literary Agency |
| German | Paul & Peter Fritz AG Literatur Agentur |
| Greek | Read n' Right Agency |
| Hebrew | The Deborah Harris Agency |
| Italian | The Nabu International Literary Agency |
| Japanese | The English Agency (Japan) Ltd |
| Korean | Best Literary & Rights Agency, or Korea Copyright Center |
| Portuguese | RIFF Agency |
| Russia/Baltics/Eastern Europe | Prava I Prevodi |
| Scandinavia: Sweden, Norway, Finland, Denmark, Iceland | Brandt New Agency |
| Spanish in Latin America | International Editors' Co., S.A. |
| Spanish in Spain | International Editors' Co., S.A. |
| Turkish | Anatolialit Agency |
For all other languages/territories, please contact Roam Agency.