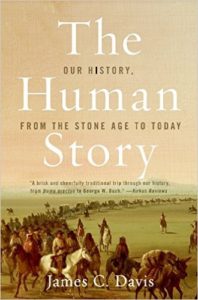 THE HUMAN STORY
Our History, From the Stone Age to Today
James C. Davis
Harper Perennial (July 2005, reprint ed. World English rights)
Trade Paper • ISBN 9780060516208 • US $15.99 • 480 pgs
ABOUT THE BOOK:
In The Human Story, James C. Davis takes us on a journey to ancient times, telling how peoples of the world settled down and founded cities, conquered neighbors, and established religions, and continues over the course of history, when they fought two nearly global wars and journeyed into space.
Davis's account is swift and clear, never dull or dry. He lightens it with pungent anecdotes and witty quotes. Although this compact volume may not be hard to pick up, it's definitely hard to put down.
For example, on the death of Alexander the Great, who in a decade had never lost a single battle, and who had staked out an empire that spanned the entire Near East and Egypt, Davis writes: "When they heard how ill he was, the king's devoted troops insisted on seeing him. He couldn't speak, but as his soldiers—every one—filed by in silence, Alexander's eyes uttered his farewells. He died in June 323 B.C., at the ripe old age of thirty-two."
In similar fashion Davis recounts Russia's triumph in the space race as it happened on an autumn night in 1957: "A bugle sounded, flames erupted, and with a roar like rolling thunder, Russia's rocket lifted off. It bore aloft the earth's first artificial satellite, a shiny sphere the size of a basketball. Its name was Sputnik, meaning 'companion' or 'fellow traveler' (through space). The watchers shouted, 'Off. She's off. Our baby's off!' Some danced; others kissed and waved their arms."
Though we live in an age of many doubts, James C. Davis thinks we humans are advancing. As The Human Story ends, he concludes, "The world's still cruel; that's understood, / But once was worse. So far so good."
PRAISE:
"At his best, Davis does for human history what Stephen Hawking did for the atom and the universe—take a step back from the details and translate them into common terms. . . . It is refreshing to have a treatment of human life at once learned and optimistic, and one that so forcefully focuses on the primacy of ideas in our triumphant story."
Publishers Weekly
"Davis is an academic historian reaching for a mass readership. . . . However, there's nothing simplistic about his prose style. Every average reader of Davis' survey will likely have detailed familiarity with some subject and will sense that the author's grasp of it (whether of the history of health, religions, or empires) reveals him to be a reliable pathfinder to the central facts and narrative of unfamiliar terrain as well. Regarding history as a progressive process overall, Davis' reconnoitering of humanity's record of depravity and enlightenment is a wise choice as an introduction to world history."
Booklist
"A brisk and cheerfully traditional trip through our history, from homo erectus to George W. Bush"
Kirkus Reviews
ABOUT THE AUTHOR:
James C. Davis taught history at the University of Pennsylvania for thirty-four years. He is the author of four other books, dealing with Venice, the early history of European nations, and the lives of peasants and blue-collar workers.
RIGHTS INFORMATION:
For English-language inquiries, please contact Roam Agency at roam[at]roamagency.com
For all other languages and territories, please contact Taryn Fagerness at Taryn Fagerness Agency.
See here for a list of Taryn Fagerness's foreign subagents.