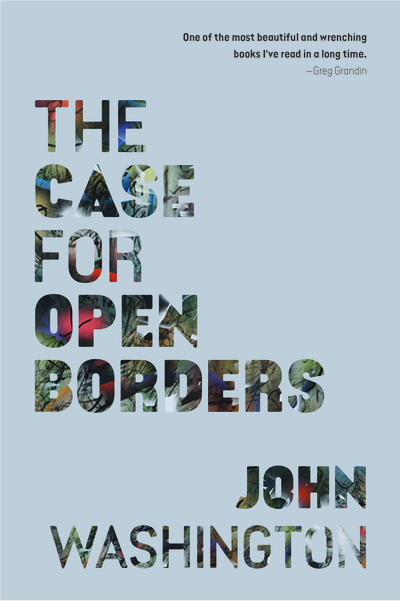 THE CASE FOR OPEN BORDERS
John Washington
Haymarket Books (6 February, 2024)
Trade paper• ISBN-13: 9798888900727•5.5 in x 8.5 in•304 pgs.
ABOUT THE BOOK:
A beautifully-written, broadly accessible, and forthright argument for a solution to the migration crisis: open the gates.
Because of restrictive borders, human beings suffer and die. Closed borders force migrants seeking safety and dignity to journey across seas, trudge through deserts, and clamber over barbed wire. In the last five years alone, at least 60,000 people have died or gone missing while attempting to cross a border. As we deny, cast out, and crack down, we have stripped borders of their creative potential — as lines of contact, catalyst, and blend — turning our thresholds into barricades.
Brilliant and provocative, The Case for Open Borders deflates the mythology of national security through border lockdowns by revisiting their historical origins; it counters the conspiracies of immigration's economic consequences; it urgently considers the challenges of climate change beyond the boundaries of narrow national identities.
This book grounds its argument in the experiences and thinking of those on the frontlines of the crisis, spanning the world to do so. In each chapter, through detailed reporting, journalist and translator John Washington profiles a character impacted by borders. He adds to those portraits provocative analyses of the economics and ethics of bordering, concluding that if we are to seek justice or sustainability we must fight for open borders.
In recent years, important thinkers have begun to urge a profoundly different approach to migration, but no book has made the argument as accessible or as compelling. Washington's case shines with the multitudinous voices of people on the move, a portrait in miniature of what a world with open borders will give to our common future.
PRAISE:
"John Washington makes a strong, eloquent and even inspiring case for the relaxation and ultimately the abolition of border controls."
JM Coetzee, recipient of the 2003 Nobel Prize in Literature
"The Case for Open Borders offers an accessible and passionate case against border controls. Highlighting the complex stories and lived experiences of displaced and immobilized migrants in the crosshairs of violent bordering regimes, Washington shows how borders structure global difference across economies and ecosystems and ends with a multi-faceted and air-tight 21 arguments for open borders for people across the political spectrum."
Harsha Walia
"John Washington provides us with an essential evidence based, politically sophisticated, and ethically compelling tool to address one of the most important issues of our time."
Alex Vitale, author of The End of Policing
The Case for Open Borders reveals the extent to which today's global borders have become, at their very core, irredeemably inhumane. Through riveting reporting and wide-ranging citations and case studies, John Washington deconstructs a host of broken metaphors, facile analogies, and fallacious arguments—deconstructing modern notions of scarcity, enforcement, and "order." This is essential reading, a powerhouse manual for re-imagining a world without walls."
Francisco Cantú, author of The Line Becomes a River
"John Washington's The Case for Open Borders is a compelling, empathetic argument, a far-reaching look into the origins of borders. Washington is one of our most thoughtful, creative, and humane journalists, and this new work will make people think differently about what they think they already know, about what divides and unites the world in new, surprising ways. Highly recommended." —Greg Grandin
"Perhaps the most profound book you'll read this year. Washington cleaves through all the cruel obfuscations and militaristic cant that derange our border and immigration politics and offers a better human alternative. Borders will not save us, or our rapidly broiling planet, but Washington's reportorial courage and ethical clarity just might."
Junot Díaz, Pulitzer Prize-winning author of The Brief Wondrous Life of Oscar Wao
ABOUT THE AUTHOR:
John Washington is a staff writer at Arizona Luminaria, a community-focused media outlet where he writes about the border, climate change, democracy, and more. He has written for The Atlantic, The Washington Post, The Nation, The Intercept, and other outlets. His first book, "The Dispossessed: A Story of Asylum at the US-Mexico Border and Beyond," was published in 2020 by Verso Books. Washington is also a translator of books by Anabel Hernandez, Sandra Rodriquez Nieto, and others. His most recent translations include The Hollywood Kid, by Óscar Martínez and Juan Martínez, and Blood Barrios, by Alberto Arce, which won a PEN Translates Award. He lives in Tucson, Arizona.
RIGHTS INFORMATION:
Audio book:
Languages & Territories Where Rights Have Been Sold:
Please contact subagents for the following languages and territories:
For all other languages/territories, please contact Roam Agency.