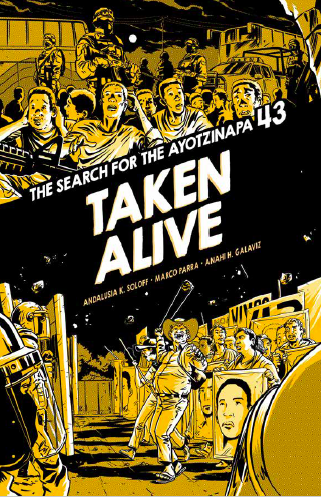 TAKEN ALIVE:
The Search for the 43 Ayotzinapa Students
By Andalusia K. Soloff
Illustrations by Marco Parra and Anahí H. Galaviz
Plan B: Penguin Random House (March, 2020)
Trade paper • ISBN-13: 9786073183475 • US $16.95 • 6 in x 9 in • 193 pgs.
ABOUT THE BOOK:
In a crime that stunned the world, on September 26, 2014, in Iguala, Guerrero, Mexican police kidnapped 43 student teachers from the Ayotzinapa college. There is still no trace of them.

This graphic novel, originally published in Spanish, illustrates this cruel moment in Mexican history through first person testimonies by the young men who dodged bullets, the parents who tirelessly search for their missing children and the brave journalists who report on the case.

Ayotzinapa is an open wound where reality surpasses fiction. This mass disappearance revealed the failures of the "war on drugs" and the ongoing battle for public education while inspiring thousands of people across the globe to demand that the students who were TAKEN ALIVE, be brought home, ALIVE.
ABOUT THE AUTHORS:
Andalusia Knoll Soloff is a multimedia journalist based in Mexico City. Her reporting focuses on human resilience and dignity in the face of disappearances, state violence, land struggles and gender-based murders in Latin America. She is a freelance video producer for Al Jazeera, VICE News, Democracy Now!, HBO, ZDF, and NBC Latino. Her work has also appeared in The Intercept, Teen Vogue, Latino USA, and New York Magazine. On the daily, she attempts to explain Mexican current events in 140 characters via her twitter handle @andalalucha and as a correspondent for radio and television stations in Turkey, The United Kingdom, Canada, France, India and China. She was awarded the Intercept/Double Exposure/ Screening Group Investigative Film Grant, The Adelante Fellowship with the IWMF, The Leonard C. Goodman Fellowship and the PRENDE Judicial Reporting scholarship at the Iberoamerican University. Knoll Soloff published the first extensive English language article on the disappearance of the 43 Ayotzinapa students in 2014 and has been reporting on it ever since.
Marco Parra is a graphic novel illustrator from Mexico City. His projects are inspired by the social transformation that is currently happening in Mexico. He has participated in the independent graphic collectives, Editorial Perro Muerto (2017-2019) and La Puntita Magazine (2018). He has been awarded with a grant by the Fondo Nacional para la Cultura y las Artes to make his comic book series Pax Mexicana (2020).
Anahi Hernandez Galaviz, is a visual artist who studied at the UNAM. She has participated in more than 10 group exhibitions and two individual ones, including the individual exhibition Genealogy of Suffering at Casa Galería in 2015, and collective exhibition "The Cause of Causes" at the Museum of Modern Art, the exhibition "Suprema Felicidad" with the ARID collective of which he is a member and founder. She was Project Coordinator at Casa Galería (2015-2016). She is currently the director of educational outreach at TACO Talleres de Arte Contemporáneo and director of the independent publishing house Atópica Editorial, under which she teaches workshops and self-publishing clinics.
RIGHTS INFORMATION:


Please contact subagents for the following languages and territories:
For all other languages/territories, please contact Roam Agency.