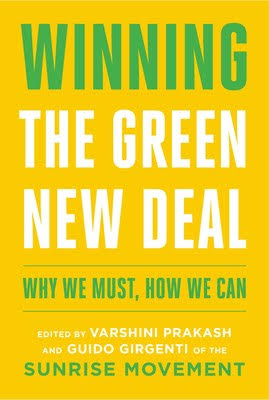 WINNING THE GREEN NEW DEAL
Why We Must, How We Can
Edited by Guido Girgenti and Varshini Prakash
Simon & Schuster (July 7, 2020)
Trade Paper • ISBN-13:9781982142438 • US $18 • 256 pgs.
ABOUT THE BOOK:
An urgent and definitive collection of essays from leaders and experts championing the Green New Deal—and a detailed playbook for how we can win it—including contributions by leading activists and progressive writers like Varshini Prakash, Rhiana Gunn-Wright, Bill McKibben, Rev William Barber II, and more.
In October 2018, scientists warned that we have less than 12 years left to transform our economy away from fossil fuels, or face catastrophic climate change. At that moment, there was no plan in the US to decarbonize our economy that fast. Less than two years later, every major Democratic presidential candidate has embraced the vision of the Green New Deal—a rapid, vast transformation of our economy to avert climate catastrophe while securing economic and racial justice for all.
What happened? A new generation of leaders confronted the political establishment in Washington DC with a simple message: the climate crisis is here, and the Green New Deal is our last, best hope for a livable future. Now comes the hard part: turning that vision into the law of the land.
In Winning a Green New Deal, leading youth activists, journalists, and policymakers explain why we need a transformative agenda to avert climate catastrophe, and how our movement can organize to win. Featuring essays by Varshini Prakash, cofounder of Sunrise Movement; Rhiana Gunn-Wright, Green New Deal policy architect; Joseph Stiglitz, Nobel Prize–winning economist; Bill McKibben, internationally renowned environmentalist; Mary Kay Henry, the President of the Service Employees International Union, and others we'll learn why the climate crisis cannot be solved unless we also confront inequality and racism, how movements can redefine what's politically possible and overcome the opposition of fossil fuel billionaires, and how a Green New Deal will build a just and thriving economy for all of us.
For anyone looking to understand the movement for a Green New Deal, and join the fight for a livable future, there is no resource as clear and practical as Winning the Green New Deal.
PRAISE:
"[An] urgent collection…. These incisive essays provide a clear blueprint for creating solutions regarding the climate crisis, standing up for appropriate representation, and uniting disparate forces to build a better world…. A clear demonstration that the kids are alright. Now lead, follow, or get out of their way."

Kirkus
"By selecting contributors wisely, Prakash and Girgenti offer both a comprehensive representation of the climate movement and a practical road map for change. Young progressives will be especially affected by this impassioned and eloquent plea for progress."
Publishers Weekly
ABOUT THE AUTHORS:
Guido Girgenti is a Founding Board Member of the Sunrise Movement, a youth-led movement to stop climate change and win a Green New Deal. As a strategist and advisor to progressive Democrats, and formerly a campaigner at the environmental organization 350, Guido has over a decade of political organizing experiences in the movement for climate and economic justice.
Varshini Prakash is the Executive Director and co-founder of Sunrise, a movement of young people working to stop climate change, take back our democracy from Big Oil, and elect leaders who will fight for our generation's health and wellbeing. As an undergrad at the University of Massachusetts, she took on the fossil fuel industry by pushing her university to stop investing in coal, oil, and gas. She led the campaign to victory after a 2-week long escalation involving thousands of students, alumni, and faculty. Varshini has been a leading voice for young Americans, including last fall when she helped lead a mass demonstration for the Green New Deal that went viral and put climate change on the map for Congress. Varshini's work has been featured in the New Yorker, Democracy Now, TeenVogue, BBC, Washington Post and more. She was recently named to the Grist Top 50 Fixers for "people cooking up the boldest, most ambitious solutions to humanity's biggest challenges."
RIGHTS INFORMATION:
Languages & Territories Where Rights Have Been Sold:
Please contact subagents for the following languages and territories:
For all other languages/territories, please contact Roam Agency.