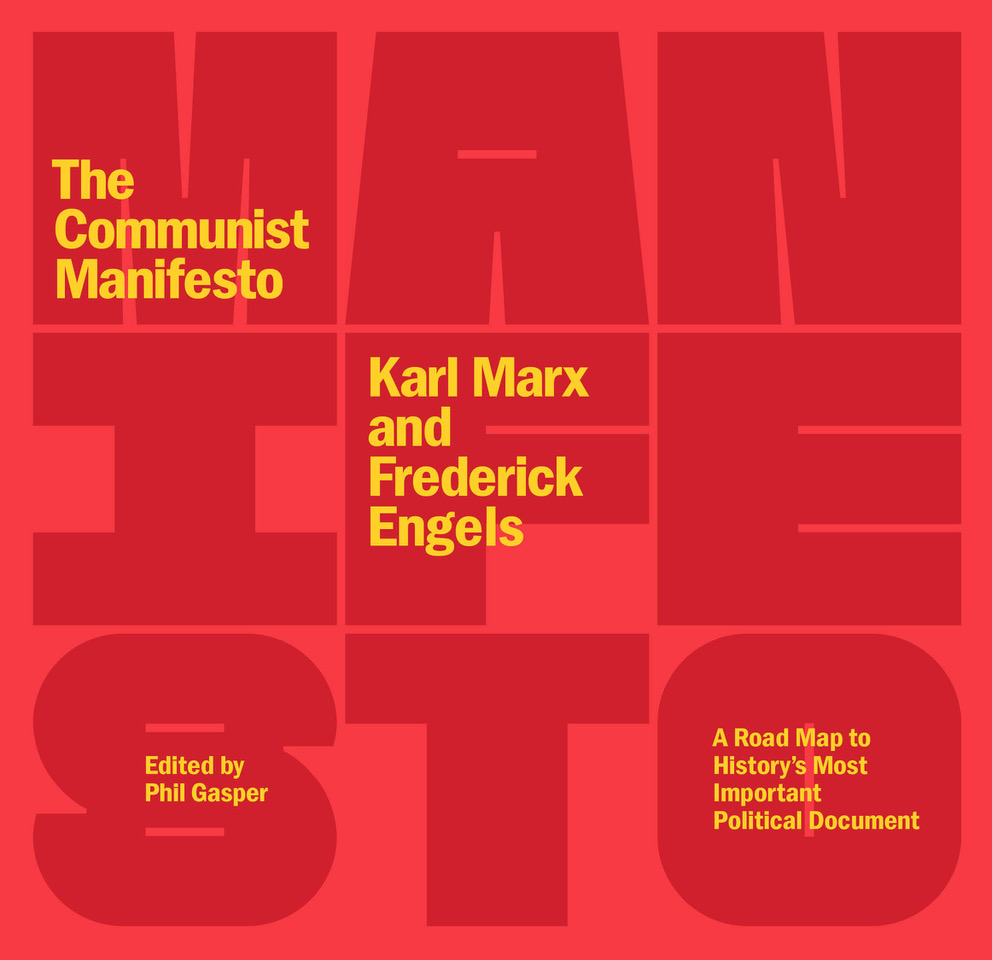 THE COMMUNIST MANIFESTO
A Road Map to History's Most Important Political Document
By Karl Marx and Frederick Engels
Edited by Phil Gasper
Haymarket Books (March 12, 2024)
Paper • ISBN-13: 9781642599787 • US $15.95 • 7.5 in x 6.0 in • 224 pgs.
ABOUT THE BOOK:
The definitive introduction to history's most influential and controversial political document, updated for a new generation of readers.
Since it was first written in 1848, The Communist Manifesto has been translated into more languages than any other modern text. All across the world—in countless places and idioms—it has been debated, shared, brandished, invoked, banned, burned, and even declared "dead." But in an era of escalating political, economic, health, and environmental crises, Marx and Engels' fierce indictment of capitalism is more relevant than ever, and their Manifesto remains required reading from the classroom to the picket line.
Scholar Phil Gasper draws on his decades of teaching and organizing experience to produce a beautifully organized edition of the Manifesto that brings the text to life. By fully annotating the Manifesto with clear historical references and explication, a glossary, and including additional related texts, Gasper provides an accessible and comprehensive reference edition suited to first-time readers and dedicated partisans alike.
PRAISE:
"Phil Gasper's new edition of The Communist Manifesto comes at a critical moment in world history, when a global capitalism which Marx described with amazing accuracy a hundred and fifty years ago shows all the signs of disarray that he predicted. What Gasper does is to remind us how relevant the Manifesto is to our world today. His Introduction and Afterword are useful guides to the Manifesto and to its importance in our time. His notes give us fascinating tidbits of information which a thoughtful reader of the Manifesto will find extremely valuable. Gasper brings alive one of the great classics of modern political thought, an indispensable addition to anyone's library."
Howard Zinn, author of A People's History of the United States
"The more those in power reject and ignore Marx and his ideas, the more the world comes to resemble the barbaric social system Marx predicted capitalism was in the process of becoming. Therefore, Marx's ideas are becoming more and more relevant to understand what we see before us. This new edition of The Communist Manifesto, with its excellent informative notes and commentaries, enables the reader to appreciate this document both historically and theoretically, both in relation to its own time and in relation to the realities around us."
Allen Wood, Stanford University
"Distinguished from all other English-language editions currently in print in two critical ways: (1) it is a fully annotated edition, and (2) it provides much needed corrections to the 1888 Samuel Moore translation supervised by Engels. Gasper has also Americanized the spelling and modernized the punctuation and capitalization. In addition to the text of the Manifesto itself and the annotations, the book includes a clear, accessible introduction by Gasper entitled 'History's Most Important Political Document' and a useful afterword, also by him, entitled 'Is the Manifesto Still Relevant?' In the latter he replies to criticisms of the Manifesto (some emanating from the left) and demonstrates its continuing relevance. The numerous appendices to the book include all the prefaces to the Manifesto, Engels's 'Principles of Communism', and a generous collection of extracts from Marx and Engels' writings."
Monthly Review
ABOUT THE AUTHOR:
Phil Gasper is professor emeritus at Notre Dame de Namur University in Belmont, California. He previously taught at Cornell University, the University of Michigan (Ann Arbor), Middlebury College, the University of California San Diego, and Stanford University. He currently lives and works in Madison, Wisconsin.
Gasper is co-editor of The Philosophy of Science (MIT Press, 1991), and a contributor to Explanation and Its Limits (Cambridge, 1990), The Cambridge Dictionary of Philosophy (2nd ed., 1999), The Struggle for Palestine (Haymarket, 2002), Enduring Freedom or Enduring War? (Maisonneuve, 2005), Encyclopedia of Activism and Social Justice (Sage, 2007), Encyclopedia of the Israeli-Palestinian Conflict (Lynne Rienner, forthcoming) and Encyclopedia of Race and Crime (Sage, forthcoming). His academic publications have also appeared in The Philosophical Review, Philosophy of Science, The Radical Philosophy Review of Books and Hypatia.
He is a on the editorial board of — and writes the bimonthly "Critical Thinking" column for — the International Socialist Review, and is a contributor to Socialist Worker, CounterPunch, ZNet, and MRzine.
RIGHTS INFORMATION:
Languages & Territories Where Rights Have Been Sold:
| Language/Territory | Publisher |
| --- | --- |
| English/Hindi/Malayam/India | Penguin India |
| Turkish/worldwide | Versus Kitap |
Please contact subagents for the following languages and territories:
For all other languages/territories, please contact Roam Agency.