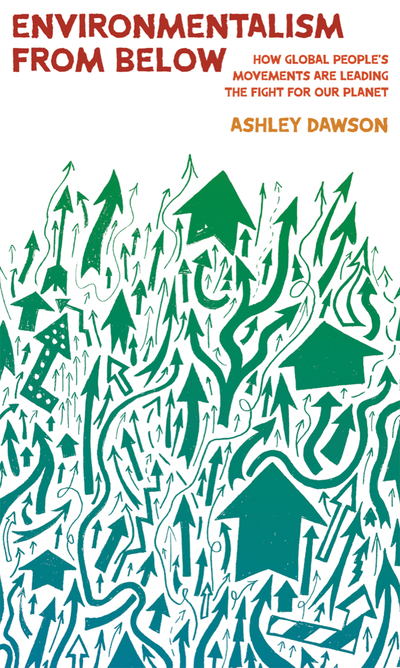 ENVIRONMENTALISM FROM BELOW
How Global People's Movements Are Leading the Fight for Our Planet
Ashley Dawson
Haymarket Books (January 16, 2024)
Trade paper • ISBN-13: 9781642599701 •US $22.95 • 6 in x 9 in • 336 pgs.
ABOUT THE BOOK:
A global account of the grassroots environmental movements on the frontlines of the climate crisis.

Environmentalism from Below takes readers inside the popular struggles for environmental liberation in the Global South. These communities—among the most vulnerable to but also least responsible for the climate crisis—have long been at the forefront of the fight to protect imperiled worlds. Today, as the world's forests burn and our oceans acidify, grassroots movements are tenaciously defending the environmental commons and forging just and sustainable ways of living on Earth.

Scholar and activist Ashley Dawson constructs a gripping narrative of these movements of climate insurgents, from international solidarity organizations like La Via Campesina and Shack Dwellers International to local struggles in South Africa, Colombia, India, Nigeria, and beyond. Taking up the four critical challenges we face in a warming world—food, urban sustainability, energy transition, and conservation—Dawson shows how the unruly power of environmentalism from below is charting an alternative path forward, from challenging industrial agriculture through fights for food sovereignty and agroecology to resisting extractivism using mass nonviolent protest and sabotage.

An urgent, essential intervention, Environmentalism from Below offers a hopeful alternative to the gridlock of UN-based climate negotiations and the narrow nationalism of some Green New Deal efforts. As Dawson reminds us, the fight against ecocide is already being waged worldwide. Building on longstanding traditions of anticolonial struggle, environmentalism from below is a model for a people's movement for climate justice—one that demands solidarity.
PRAISE:
"Environmentalism from Below is a much-needed and important book. In it, Dawson goes beyond narrow and technocratic imaginaries rooted in the nation-state, but also takes us past abstract romantic appeals to clearly trace the emancipatory potentials of global peoples' environmental movements. Carefully researched and accessibly written, the book connects food, cities, energy, conservation, debt and borders in a narrative that manages to be both a sharp wake-up call and an optimistic assessment of what our common liberation can look like. This book is a must-read for anyone who feels there must be more to environmental justice than climate accords."
Gianpaolo Baiocchi, director of the Urban Democracy Lab, New York University, and author of We, the Sovereign
"Environmentalism from Below offers a politically erudite and passionate cacophony of momentum drawing from the world's variegated yet articulated grassroots, all attempting in solidarity to upend the transgression of key planetary ecological relations. Deploying an intersectional form of analysis and mobilization, the book powerfully examines the interplay among how food is produced, cities inhabited, space enclosed, and energy generated in an effort to abolish the debilitating indebtedness of the majority to capital's voracious calculations and their entrapment amidst borders. The book embodies the exigencies for the synergies of multiple movements underway—of people, affordances, collective capacities, rights, and resources—toward more just dispositions and the prospect of attaining a livable world."
AbdouMaliq Simone, Senior Professorial Fellow at the Urban Institute, University of Sheffield, and author of The Surrounds: Urban Life Within and Beyond Capture
"Environmentalism from Below brims with fresh insights and new approaches to some of the most vexing issue of our time. In lucid, passionate prose, Ashley Dawson charts the global alliances forged from below against unregulated plunder and ecocide. Few scholars can match Dawson's vast transnational experience as an environmental scholar-activist. His global yet textured understanding of resistance movements from Bolivia, South Africa, India, Brazil, the U.S. and far beyond makes this a profound contribution to our understanding of how common struggles are forged. Environmentalism from Below is sure to become a staple in the environmental classroom as well as a guiding light for activists."
Rob Nixon, Barron Family Professor of Environment and Humanities, Princeton, and author of Slow Violence and the Environmentalism of the Poor
"Ashley Dawson takes us on a wondrous tour of communities working for life after capitalism. These grassroots ecologies are so potent, and their promise so profound, they've elicited lethal violence from the state and private sector. For that reason, Environmentalism from Below is also an atlas of the world's most important global struggles."
Raj Patel, Research Professor, University of Texas at Austin, and co-author of Inflamed: Deep Medicine and the Anatomy of Injustice

"On a global scale humankind faces multiple existential crises as a result of climate change and the systematic environmental degradation that has brought us collectively to the brink. Populations in the global south are most at risk, owing to decades of austerity measures imposed on peasant and indigenous communities by the cruel alliances of neocolonial and neoliberal authoritarian governments, transnational corporations, and a host of multilateral NGOs. Ashley Dawson reframes these grim realities to instead emphasize how grassroots communities proactively resist the privatization and toxic exploitation of the natural world in innovative and empowering ways. Altogether, their examples stand as roadmaps for what many more of us will likely face in coming years."
Dina Gilio-Whitaker, author of As Long as Grass Grows: The Indigenous Fight for Environmental Justice from Colonization to Standing Rock

"True to its aim, this book celebrates ideas and actions that come from below. It is a book that deserves to be celebrated as it presents clear evidence of active organizing and resistance by climate victims and the dispossessed against manifestations of neocolonial and oppressive policies and actions. Environmentalism from Below is a book that fossil fuel tycoons and other purveyors of fictional environmental optimism will hate." 
Nnimmo Bassey, author of To Cook a Continent: Destructive Extraction and the Climate Crisis in Africa

"Though debates rage on the climate left about what language or strategy ought to be taken in order to confront the climate crisis, those involved in such conversations frequently seem to have their minds in the clouds and no grounded connection to existing class struggles. Dawson stands these critics on their head by foregrounding the wildly diverse, actually-existing, and ineluctably global people's movements for climate justice. In these scattered movements of urban squatters, migrants, industrial workers, peasant farmers, feminists, and Indigenous nations, one finds more comprehensive strategies for confronting imperialism and capitalism, which are the roots of environmental crises. Environmentalism From Below is a readable, practical, and inspiring guide to building ecological counterpower." 
Kai Bosworth, author of Pipeline Populism: Grassroots Environmentalism in the 21st Century

"Ashley Dawson's book focuses on environmentalism from below and enlightens us on all those central issues such as the food model, agroecology, the debates on the just energy transition, the question of the sustainability of life in big cities, and climate debt. Written with commitment and elegance, this is an indispensable book for understanding the re-existence process and the organizational fabric, especially in the global south." 
Maristella Svampa, Ecosocial and Intercultural Pact from the South


Praise for Extinction:
"An elegant, controversial thesis"

The Guardian
"A welcome contribution to the growing literature on this slow-motion calamity."
Los Angeles Review of Books
"Dawson's searing report on species loss will sober up anyone who has drunk the Kool-Aid of green capitalism."

Andrew Ross
"Fusing social and ecological challenges to power is the only way forward … a long-awaited, elegant and comprehensive expression of why the time is right to make these links."

Patrick Bond
Praise for Extreme Cities:

Named One of the Top 10 Books of the Year by Publishers Weekly and Planetizen

"Extreme Cities is a ground-breaking investigation of the vulnerability of our cities in an age of climate chaos. We feel safe and protected in the middle of our great urban areas, but as Sandy and Katrina made clear, and as this fine book reveals anew, the massive shifts on our earth increasingly lay bare the social inequalities that fracture our civilization."
Bill McKibben, author and founder of 350.org
ABOUT THE AUTHOR:
Ashley Dawson is Professor of English at the Graduate Center / City University of New York and the College of Staten Island. He is the author of several books on key topics in the environmental humanities, including People's Power: Reclaiming the Energy Commons, Extreme Cities: The Peril and Promise of Urban Life in the Age of Climate Change, and Extinction: A Radical History. A member of the Public Power NY campaign and the founder of the CUNY Climate Action Lab, he is a long-time climate justice activist. Dawson lives in Queens, New York.
RIGHTS INFORMATION:
Please contact subagents for the following languages and territories:
For all other languages/territories, please contact Roam Agency.