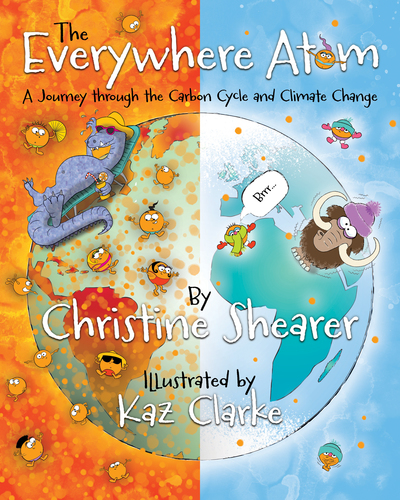 THE EVERYWHERE ATOM
A Journey Through the Carbon Cycle and Climate Change
Christine Shearer. Illustrated by Kaz Clarke
Haymarket Books (March 5, 2024)
Hardcover • ISBN-13: 9781642599695 •US $18.95 • 8 in x 10 in • 32 pgs.
ABOUT THE BOOK:
Journey with the carbon atom through a history of Earth's wild climate, from dinosaurs to wooly mammoths to today's climate crisis.
The Everywhere Atom blends facts, humor, cartoons, and simple narration to explain how the carbon cycle affects the climate, now and throughout Earth's history. The carbon cycle is often missing from children's climate books, yet it is fundamental to laying the conceptual groundwork for understanding climate science. This engaging guide uses creatures that kids love, like dinosaurs and wooly mammoths, as an entry point for understanding climate science and the climate crisis. The book ends with a message of hope: only broad-scale social change and collective action can possibly address the scale of the climate crisis.
Balancing the heaviness of the climate crisis with dynamic illustrations and humor, the book's cartoon carbon atoms are designed to not only engage younger audiences and bring some comic relief to the subject, but also drive home a central point: carbon is not bad per se, it's how humans affect the movement of carbon that can make it so powerful and damaging—which also means the climate crisis can be reversed.
ABOUT THE AUTHOR:
Christine Shearer, PhD, has been working on climate and energy for over 15 years. She is currently a researcher at the Climate Imperative Foundation. Her previous professional experience includes working as an energy analyst and program director at the think tank Global Energy Monitor; as a researcher for Project Drawdown; and as a postdoctoral scholar in Earth System Science at UC Irvine. Her academic work has appeared in Earth's Future, AGU Advances, and Nature, and has been featured in the Economist, the New York Times, and the Washington Post, among others. She is a Lannan fellow and author of Kivalina: A Climate Change Story (Haymarket Books, 2011), which was recipient of the Rachel Carson Environment Book Award. She has a PhD in Sociology from UC Santa Barbara.
RIGHTS INFORMATION:
Please contact subagents for the following languages and territories:
For all other languages/territories, please contact Roam Agency.