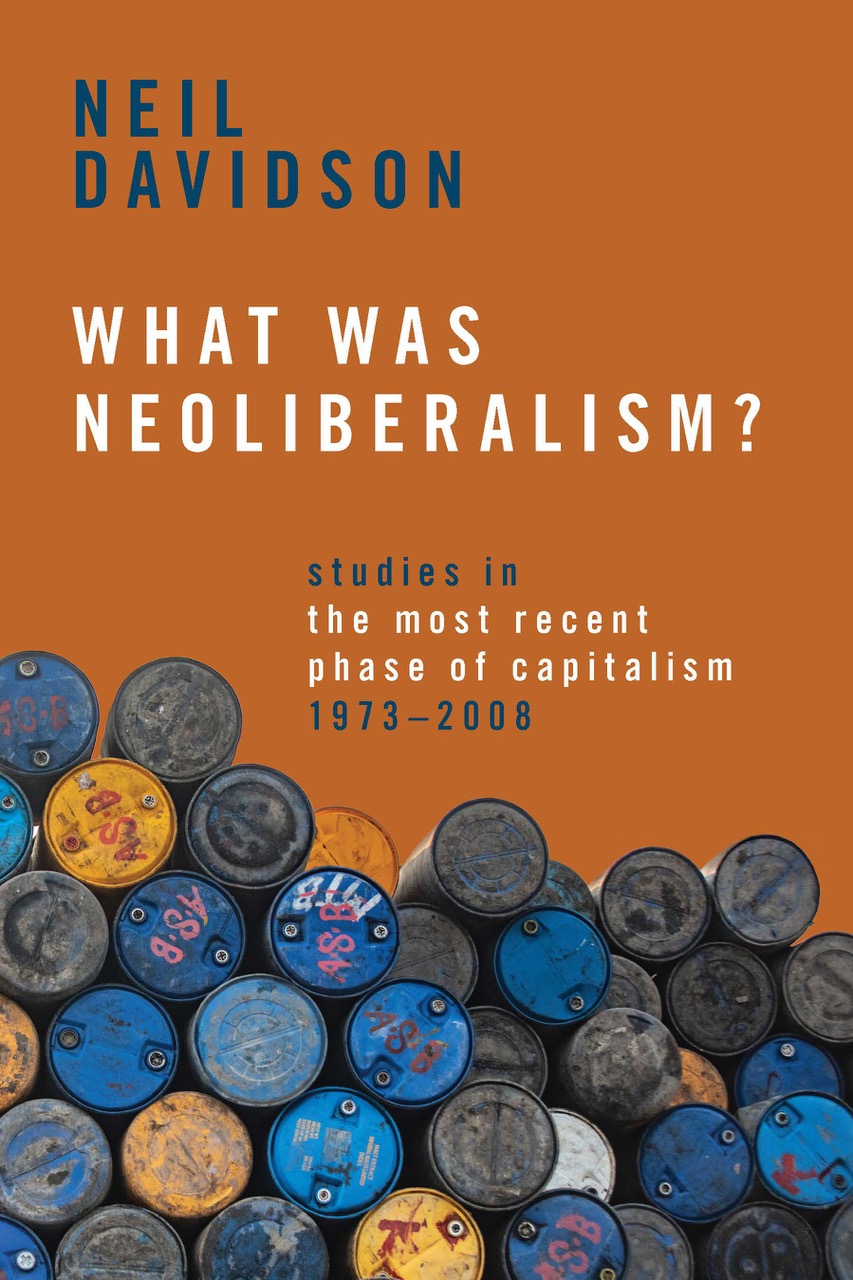 WHAT WAS NEOLIBERALISM?
Studies in the Most Recent Phase of Capitalism, 1973-2008
Neil Davidson
Haymarket Books (August 1, 2023)
Trade paper • ISBN-13: 9781642599152 • US $22.95 • 5.5 in x 8.5 in • 270 pgs.
ABOUT THE BOOK:
Eminent scholar-activist Neil Davidson's brilliance is on full display in this posthumous work, a timely and prescient introduction to the neoliberal era.

While it is widely agreed that neoliberalism arose in the wake of the global economic crisis of the 1970s, there remains much debate about how to understand its significance and even how to define it. Is it best seen as an ideology of free market fundamentalism, a series of policy decisions gutting the public sector and breaking unions, or as an era of capitalist development with its own logic?

Bringing his considerable intellectual breadth and characteristic generosity to bear on this question, in What Was Neoliberalism? Neil Davidson addresses the most common answers and offers some of his own. While other commentators have built their concept of neoliberalism around its economic tenants, Davidson shows that to truly appreciate both what is unique about neoliberalism, and what marks it out as a continuation of capitalism more generally, it is necessary to examine its social dimensions—specifically what layer of society has this particular regime of accumulation most depended upon.

What Was Neoliberalism? holds fast to Davidson's conviction that thoroughly understanding the past means being better prepared for the struggles of the future.
PRAISE:
Praise for How Revolutionary Were the Bourgeois Revolutions

"I was frankly pole-axed by this magnificent book. Davidson resets the entire debate on the character of revolutions: bourgeois, democratic and socialist. He's sending me, at least, back to the library."
Mike Davis, author of Planet of Slums

"This is, quite simply, the finest book of its kind."
Tony McKenna, Marx and Philosophy Review of Books

"What should our conception of a bourgeois revolution be, if it is to enlighten rather than to mislead ? Neil Davidson's instructive and provocative answer is given through a history both of a set of concepts and of those social settings in which they found application.His book is an impressive contribution both to the history of ideas and to political philosophy."
Alasdair MacIntyre, author, After Virtue
ABOUT THE AUTHOR:
Neil Davidson (1957-2020) lectured in Sociology at the School of Social and Political Science at the University of Glasgow. He authored The Origins of Scottish Nationhood (2000), Discovering the Scottish Revolution (2003), for which he was awarded the Deutscher Memorial Prize, How Revolutionary Were the Bourgeois Revolutions? (2012), Holding Fast to an Image of the Past (2014) and We Cannot Escape History (2015). Davidson was on the editorial boards of rs21 and the Scottish Left Project website, and was a member of the Radical Independence Campaign.
RIGHTS INFORMATION:
Please contact subagents for the following languages and territories:
For all other languages/territories, please contact Roam Agency.