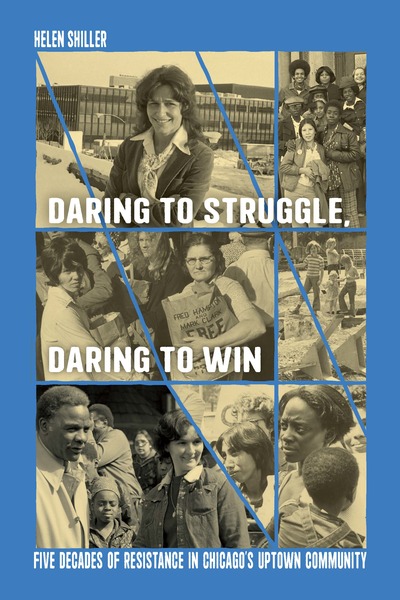 DARING TO STRUGGLE, DARING TO WIN
Five Decades of Resistance in Chicago's Uptown Community
Helen Shiller
Haymarket Books (November 15, 2022)
Trade paper • ISBN-13: 9781642598421 • US $24.95 • 5.5 in x 8.5 in • 500 pgs.
ABOUT THE BOOK:
Daring to Struggle, Daring to Win tells the fascinating true story of an individual radical organizer turned independent Chicago city council member, and her forty year struggle for justice in Chicago.

Helen Shiller went from radical anti-war activist in Wisconsin, to a member of a collective of white allies of the Black Panther Party in Chicago, to an elected city council person who helped break the back of the racialized opposition to Harold Washington, Chicago's first Black mayor.

Shiller participated, when few others did, in the historic fight against the gentrification of a unique economically and racially mixed Chicago community on the Northside. With insight into historic community organizing and political battles in Chicago from the 1970s through 2010, this book details numerous policy fights and conflicts in Chicago during this time, illuminating recurrent political themes and battles that remain relevant to this day.

Daring to Struggle, Daring to Win is a compelling, insightful, must-read for all those struggling for a better world today.
PRAISE:
"I salute my good friend and comrade Helen Shiller for the broad vivid picture of her extraordinary life's journey, filled with personal challenges, and her decades of exceptional social justice work with and for the poor and oppressed communities. Helen worked tirelessly with the Illinois chapter of the Black Panther Party and its Intercommunal Survival Committee for racial and social justice during the 1970's. She is as a true servant of the people."
Emory Douglas, Revolutionary Artist/Minister of Culture, The Black Panther Party 1967/1980

"As a journalist who has covered Helen Shiller, off and on, throughout her half-century of community activism, I have long wondered how she would tell her own epic story. Daring to Struggle, Daring to Win answers that question poignantly and powerfully. Her epic journey takes us from the era of SDS, Black Panthers and school desegregation, through both Mayors Daley to the rise of Mayor Harold Washington, President Barack Obama and finally her own election to Chicago City Council—for 24 years. From outside agitator to insider alderperson, Shiller earned respect even from her political rivals for her savvy and resilience. For those who wonder whether they can "buy in" to the system without selling out, this story is a great place to start."

Clarence Page, Pulitzer-prize-winning columnist and editorial board member at the Chicago Tribune
ABOUT THE AUTHOR:
Helen Shiller, raised by migrant Jewish parents, was radicalized by the anti-war and civil rights movements. Shiller was in a collective of whites aligned with the Black Panther Party in Chicago. Beginning in 1987, Shiller was a radical Chicago alderperson for 24 years.
RIGHTS INFORMATION:
Audio book:
Please contact subagents for the following languages and territories:
For all other languages/territories, please contact Roam Agency.