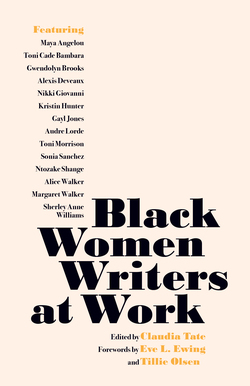 BLACK WOMEN WRITERS AT WORK
Edited by Claudia Tate
Foreword by Tillie Olsen
Haymarket Books (January 10, 2023)
Trade paper • ISBN-13: 9781642598407 • US $24.95 • 5.5 in x 8.5 in • 288 pgs.

ABOUT THE BOOK:
"Black women writers and critics are acting on the old adage that one must speak for oneself if one wishes to be heard." —Claudia Tate, from the introduction

Long out of print, Black Women Writers at Work is a vital contribution to Black literature in the 20th century.
Through candid interviews with Maya Angelou, Toni Cade Bambara, Gwendolyn Brooks, Alexis De Veaux, Nikki Giovanni, Kristin Hunter, Gayl Jones, Audre Lorde, Toni Morrison, Sonia Sanchez, Ntozake Shange, Alice Walker, Margaret Walker, and Sherley Anne Williams, the book highlights the practices and critical linkages between the work and lived experiences of Black women writers whose work laid the foundation for many who have come after.

Responding to questions about why and for whom they write, and how they perceive their responsibility to their work, to others, and to society, the featured playwrights, poets, novelists, and essayists provide a window into the connections between their lives and their art.

Finally available for a new generation, this classic work has an urgent message for readers and writers today.
PRAISE:
"This compilation of interviews with literary legends like Toni Morrison, Alice Walker, and Audre Lorde is a crucial resource for any person trying to be creative in our current moment of political and economic chaos. Originally published in 1983, the book feels surprisingly timely: Each woman's discussions of struggles to balance their craft, families, friends, and political visions mirrors the commonly discussed difficulties of work-life balance today. That the innermost thoughts of these literary giants have been collected in one place already makes this book a critical cultural artifact."
New York Magazine, "Best Books of 2023 (So Far)"
"First published in 1984, this collection gathers Tate's conversations with notable writers, from Gwendolyn Brooks to Toni Morrison, in interviews that focus on their audiences, responsibilities and the overlap between their work and lived experiences as Black women in America."

New York Times Book Review
"Black Women Writers at Work features conversations with 14 Black writers from across the bounds of literary form. Tate pulls together Black women playwrights, novels, poets, and essayists to compile one of the most textured collections in the 20th century. Writers like Maya Angelou, Sonia Sanchez, and Toni Morrison share space under one cover thanks to Tate's editorial creativity. Black Women Writers at Work joins works like The Black Woman, Homegirls, and But Some of Us Are Brave as a landmark Black feminist text featuring the words of some of the most notable literary figures in the tradition."
Baltimore Beat
"When this classic collection was published in 1984, the writers Claudia Tate interviewed were engaged in the creative work that produced new Black feminist terrains. Today Black Women Writers at Work serves as a much-needed reminder that the imagination always blazes trails that lead us toward more habitable futures."

Angela Y. Davis, author of Freedom is a Constant Struggle

"This is a gorgeous and essential collection of writings from a group of the most important Black women writers. I have turned to repeatedly over the past thirty years and I'm thrilled that Haymarket has republished it for another generation to treasure."

Imani Perry, author of Looking for Lorraine

"[A] rare, rich source books for writers, readers, teachers, students—all who care about literature and the creation of it… This collection transcends its genre. It becomes a harbinger book, a book of revelation, of haunting challenge, opening on to central concerns not only of writing, but of life, of living, today."

Tillie Olson, from the Foreword

"Tate's probing, provocative and insightful questions set a new standard for the interview as a genre."

Valerie Smith, Princeton University
ABOUT THE AUTHORS:
Claudia Tate was a professor of English and African-American studies at Princeton University, known for her innovative contributions to African-American literary criticism. Black Women Writers at Work was Tate's first book.
RIGHTS INFORMATION:
Audio book:
Languages & Territories Where Rights Have Been Sold:
Please contact subagents for the following languages and territories:
For all other languages/territories, please contact Roam Agency.