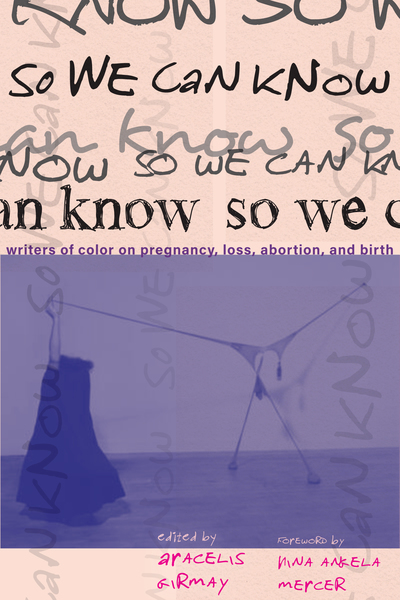 SO WE CAN KNOW
Writers of Color on Pregnancy, Loss, Abortion, and Birth
Aracelis Girmay, editor
Haymarket Books (February 7, 2023)
Trade paper • ISBN-13: 9781642598391 • US $21.95 • 5.5 in x 8.5 in • 320 pgs.
ABOUT THE BOOK:
In this brave and devastatingly beautiful anthology, the illustrious poet and editor Aracelis Girmay gathers complex and intimate pieces that illuminate the nuances of personal and collective histories, analyses, practices, and choices surrounding pregnancy.
Featuring the brilliant voices of writers such as Cheryl Boyce-Taylor, Patricia Smith, Elizabeth Alexander, and more, this book is a lighthouse—a tool and companion—for those navigating pregnancy, abortion, miscarriage, birth, loss, grief, and love.
In So We Can Know: Writers of Color on Pregnancy, Loss, Abortion, and Birth, pieces range from essays to poems to interviews, with a broad entanglement of various themes, from many different perspectives including Black, Indigenous, Asian, Latinx, and more. At a time when people are becoming more and more limited in their choices surrounding pregnancy and abortion, this record is increasingly urgent and indispensable.
PRAISE:
"Audre Lorde once told Joy Harjo that she imagined her poems being spoken to a circle of women gathered around a fire. In this book we find that gathering, a gathering of those of us who know our stories belong to each other. And the fire that calls us is the very fire of creation moving through us and changing us all. I recommend this book to everyone. Come for the warmth of communion, stay for the miracle of never being the same."

Alexis Pauline Gumbs, co-editor of Revolutionary Mothering: Love on the Frontlines

"So We Can Know is a striking anthology of essays, poetry, and visual art on the often-harrowing experience of pregnancy for women of color. The work as a whole is thick with grief and trauma, but the graceful reflections and breadth of experiences make sticking with it more than worthwhile. This one's not to be missed."

Publishers Weekly. Starred Review

ABOUT THE AUTHOR:
Aracelis Girmay grew up in Southern California. She earned a degree in Documentary Studies from Connecticut College in 1999 and apprenticed in oral history work with el Centro de Derechos Humanos, Ciudadanos, y Autonómicos (CEDEHCA) on Nicaragua's Atlantic Coast. She went on to earn an MFA in poetry from NYU in 2003. She is the author of the black maria (BOA Editions, 2016), Kingdom Animalia (BOA Editions, 2011), winner of the Isabella Poetry Award and a finalist for the National Books Critics Circle Award, and Teeth (Curbstone Press, 2007). For this work she was a finalist for the Neustadt International Prize in Literature (2018). Girmay is also the author / collagist of the picture book, changing, changing (George Braziller, 2005), and, with her sister, collaborated on the picture book What Do You Know? (Enchanted Lion, 2021). She has received fellowships from Cave Canem, the Whiting Foundation, Civitella Ranieri, and the National Endowment for the Arts, among others. Girmay is the editor of How to Carry Water: Selected Poems of Lucille Clifton (BOA, 2020). She is currently the Editor-at-Large for BOA Editions' Blessing the Boats Selections, and she is on the editorial board of the African Poetry Book Fund. She lives and teaches in New York City.
RIGHTS INFORMATION:
Please contact subagents for the following languages and territories:
For all other languages/territories, please contact Roam Agency.