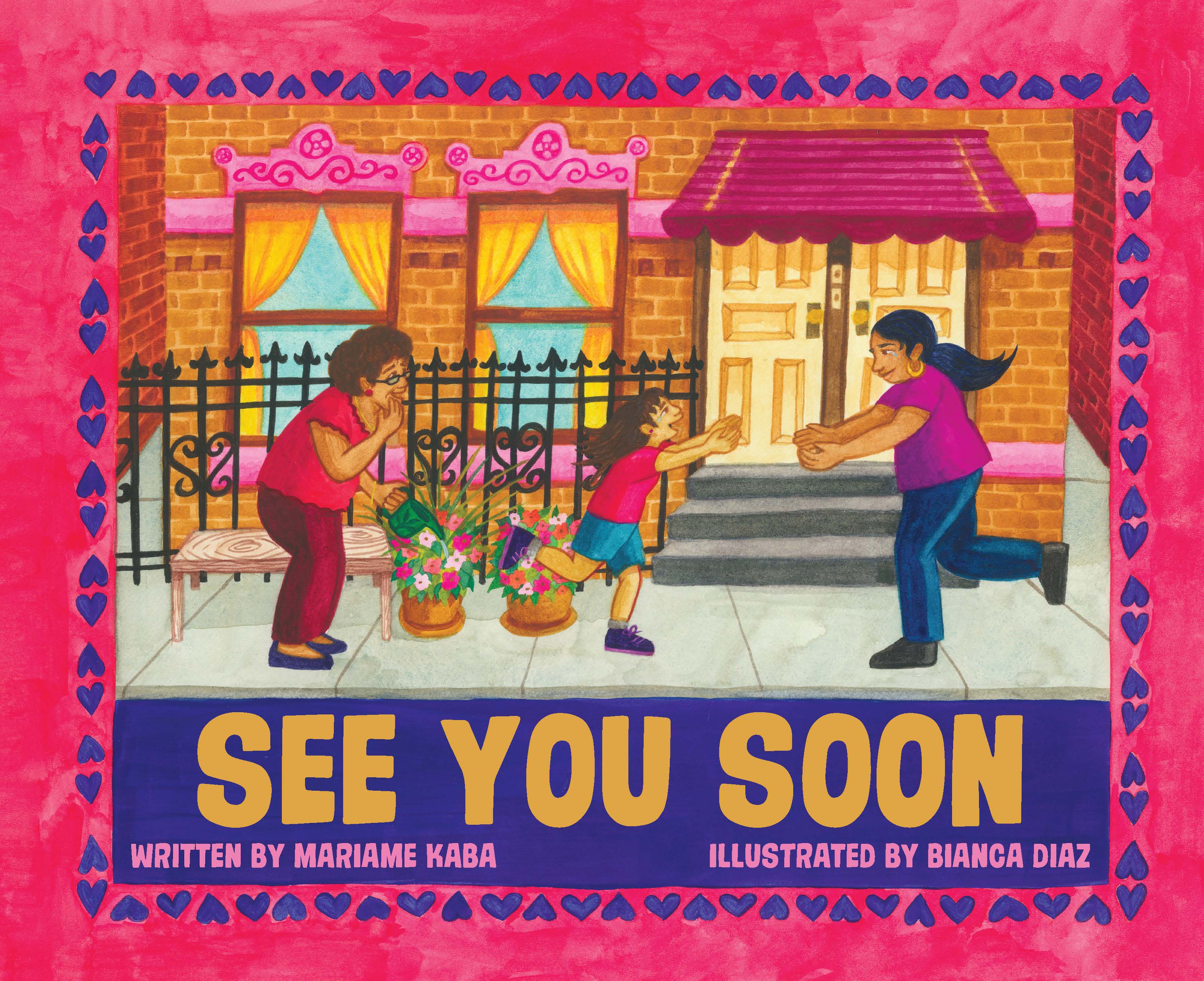 SEE YOU SOON
Mariame Kaba, Illustrated by Bianca Diaz
Haymarket Books (March 1, 2022)
Hardcover • ISBN-13: 9781642597639 • 32 pgs.
ABOUT THE BOOK:
From New York Times Bestselling Author Mariame Kaba, a poignant, beautifully illustrated story of a little girl's worries when her Mama goes to jail, and the love that bridges the distance between them.

Even though I'm away,
My love is always here to stay.
See you soon, Queenie.
Love, Mama
Queenie loves living with Mama and Grandma Louise. Together, they go to the grocery store, eat ice cream, and play games in the park. Mama braids Queenie's hair and helps her with her homework.
Sometimes, when Mama is sick, she has to go away. One day, Queenie and Grandma ride the bus with Mama to the county jail.
Queenie is worried about what will happen when Mama goes to jail. She's afraid to ask questions, and overcome with feelings of worry and sadness. Does Mama have a warm bed to sleep in? When will Queenie see her again?
Soon after she and Grandma return home, Queenie opens a letter from Mama, and savors every word. She knows her Mama loves her, and looks forward to their upcoming visit.
OTHER TITLES BY THIS AUTHOR:
We Do This 'Til We Free Us: Abolitionist Organizing and Transforming Justice
ABOUT THE AUTHOR:
Mariame Kaba is an organizer, educator and curator who is active in movements for racial, gender, and transformative justice. Kaba is the recipient of the 2020 Lannan Cultural Freedom Fellowship, for her work as a leading voice in the Mutual Aid movement. She is the founder and director of Project NIA, a grassroots organization with a vision to end youth incarceration. Mariame is currently a researcher at Interrupting Criminalization: Research in Action at the Barnard Center for Research on Women, a project she co-founded with Andrea Ritchie in 2018. Mariame has co-founded multiple other organizations and projects over the years including We Charge Genocide, the Chicago Freedom School, the Chicago Taskforce on Violence against Girls and Young Women, Love & Protect, the Just Practice Collaborative and Survived & Punished. Mariame serves on the advisory boards of the Chicago Torture Justice Memorials, Critical Resistance and the Chicago Community Bond Fund. Her writing has appeared in numerous publications including The New York Times, The Nation Magazine, The Guardian, The Washington Post, In These Times, Teen Vogue, The New Inquiry and more. She co-authored the guidebook Lifting As They Climbed and published a children's book titled Missing Daddy about the impacts of incarceration on children and families.
RIGHTS INFORMATION:
Please contact subagents for the following languages and territories:
For all other languages/territories, please contact Roam Agency.