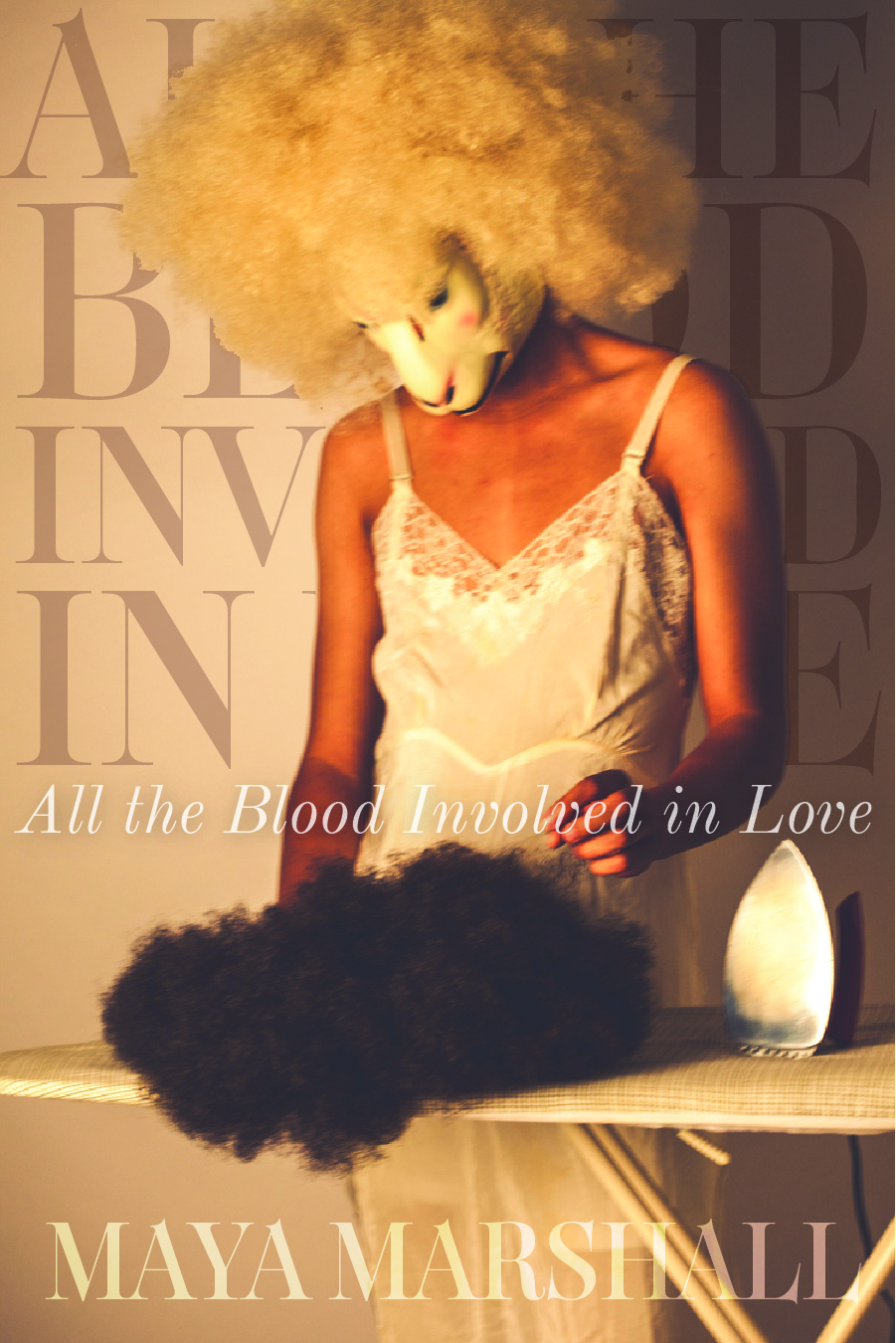 ALL THE BLOOD INVOLVED IN LOVE
Maya Marshall
Haymarket Books (June 28, 2022)
Trade paper • ISBN-13: 9781642597431 • US $16.00 • 6 in x 9 in • 80 pgs.
ABOUT THE BOOK:
Marshall's poems traverse familial mythography to investigate contemporary politics, Blackness, and reproductive justice, and the stakes of race and interracial partnership, queerness and love. With an unflinching seriousness she interrogates womanhood, meditates on race, queerness, and considers the monetary, mental, and physical costs of adopting or birthing a Black child.
PRAISE:
"All the Blood Involved in Love is at once the most Southern, most feminist, and Blackest book I have ever read. Maya Marshall witnesses the way we used that word in the old church, through a language so polished and exact that we feel cleansed by it as readers. This is a beautiful debut from a game-changing poet."

Jericho Brown, author of The Tradition
"All the Blood Involved in Love is a lyrical work of psychological and temporal complexity gripped by questions of freedom, trauma, desire, imagination, and possibilities of Black girlhood and womanhood in the U.S. It is at once sensuous and terrifying, taut and lush, as in: 'Do these trees know? / Do these trees know the grazing hem, the line / between sweet heat and deep sweat? // The woman('s) sex. Her hanging. They must. / Her hair is made of them.' I'm saying, this stunningly shiftful, strange, and exact book interrogates the histories with which our blood and time are written. It insists that there is power in such scrutiny. I'm saying, her Eye's on this: 'To save my life, I undress this disarray.'"

Aracelis Girmay, author of the black maria
"Maya Marshall's All the Blood Involved in Love sounds the breadth and depth of embodied Black womanhood. This poet holds her pen to the fire and writes in flame, lines that are passionate, yet brutally precise. Black women move through the poems in relation to their various families—biological, chosen, longed for, remembered, imagined, or barely escaped. Hear me: Marshall's poetry collects and confronts some of our knottiest questions, our hardest truths. But it also illuminates the connections that buoy and strengthen us, the knowing that enables us to thrive."

Evie Shockley, author of semiautomatic
"Intimate and understated in unflinching private, public mourning, All the Blood Involved in Love courses with an undeniable steady intensity throbbing at its tender jugular. Delivered with unnerving focus— almost unbearable—declarative observations, we don't just read Maya Marshall's poems, we breathe with them, and bleed with them: Tenderness is the impulse to protect /what you know you could destroy. /This is the gift of my father's neck. This is a harrowing and illuminating book surging with intelligence and pulsing with new music. Maya Marshall writes with life force."

Robyn Schiff, author of Revolver
ABOUT THE AUTHOR:
Maya Marshall is the author of the debut full-length poetry collection All the Blood Involved in Love and the chapbook Secondhand .
A long-time Chicagoan, she currently lives in Decatur, Georgia, where she serves as faculty for Emory University. Formerly, she served as faculty for Northwestern University and Loyola University Chicago. She's earned fellowships from MacDowell, and Cave Canem, among others.
Marshall is a cofounder of underbelly, the journal on the practical magic of poetic revision. Her writing has appeared or is forthcoming in Boston Review, Academy of American Poets's Poem-a-Day, Crazyhorse, Best New Poets 2019, Callaloo, and elsewhere.
RIGHTS INFORMATION:
Please contact subagents for the following languages and territories:
For all other languages/territories, please contact Roam Agency.