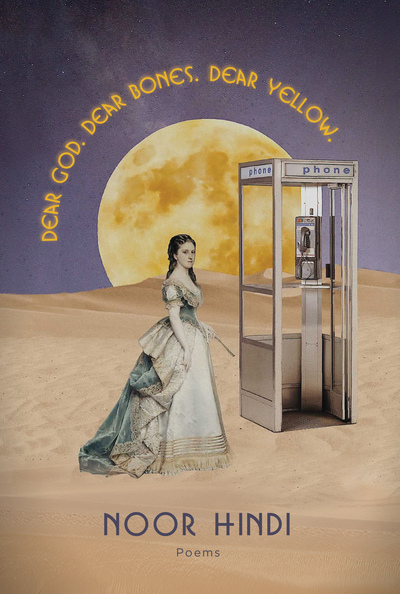 DEAR GOD. DEAR BONES. DEAR YELLOW.
Noor Hindi
Haymarket Books (31 May, 2022)
Trade paper • ISBN-13: 9781642596960 • US $28.95 • 5.5 in x 8.5 in • 80 pgs.
ABOUT THE BOOK:
What is political poetry and linguistic activism? What does it mean to bear witness through writing? When language proves insufficient, how do we find and articulate a pathway forward?

Dear God. Dear Bones. Dear Yellow. interrogates, subverts, and expands these questions through poems that are formally and lyrically complex, dynamic, and innovative. With rich intertextuality and an unwavering eye, Noor Hindi explores and interrogates colonialism, religion, patriarchy, and the complex intersections of her identity.
Featuring her widely circulated poem, "Fuck Your Lecture on Craft, My People Are Dying," this book is an incomparable force of fury and precision from a powerful and unstoppable poet. Noor Hindi's collection is ultimately a provocation: on trauma, on art, and on what it takes to truly see the world for what it is/isn't and change it for the better.
PRAISE:
"Noor Hindi wields her poetry with passion and righteous anger in this powerful, striking collection that touches the heart and the head, the body and the mind."
Viet Thanh Nguyen, author of The Committed

"In this powerful debut, Noor Hindi's searing poems navigate memory, violence, and inheritance with a candid and critical eye. Filled with heartache, tenderness, love, anger, and humor, they interrogate what it's like to be woman, Palestinian, and American in today's world."

Zeina Hashem Beck, author of O

"Urgent and searing, these poems are both jocular and declamatory in all the most memorable of ways–delivering crackles of energy long after you close the book."
Aimee Nezhukumatathil, author of World of Wonders

"Armed with a journalist's heart and a poet's mind, Noor Hindi has written blazingly towards a future where "what's real/is us."
Tarfia Faizullah, author of Registers of Illuminated Villages

"This collection takes in history both unfolded and unfolding, yet still barrels toward the light. Where has this book been all my life? But also? Here it is. And we are so lucky."
Jess Rizkallah, author of the magic my body becomes

"Scalding, humorous, unbearable, revolutionary, Noor Hindi's poetry collection embodies a blind wager that poems might contribute to rendering the impassive American mind alive, at last, to Palestine."

Sophie Lewis, author of Abolish the Family: A Manifesto for Care and Liberation
ABOUT THE AUTHOR:
Noor Hindi (she/her/hers) is a Palestinian-American poet and reporter. She is a 2021 Ruth Lilly and Dorothy Sargent Rosenberg Poetry Fellow. Dear God. Dear Bones. Dear Yellow is her debut collection of poems. She lives in Dearborn.
RIGHTS INFORMATION:
Please contact subagents for the following languages and territories:
For all other languages/territories, please contact Roam Agency.