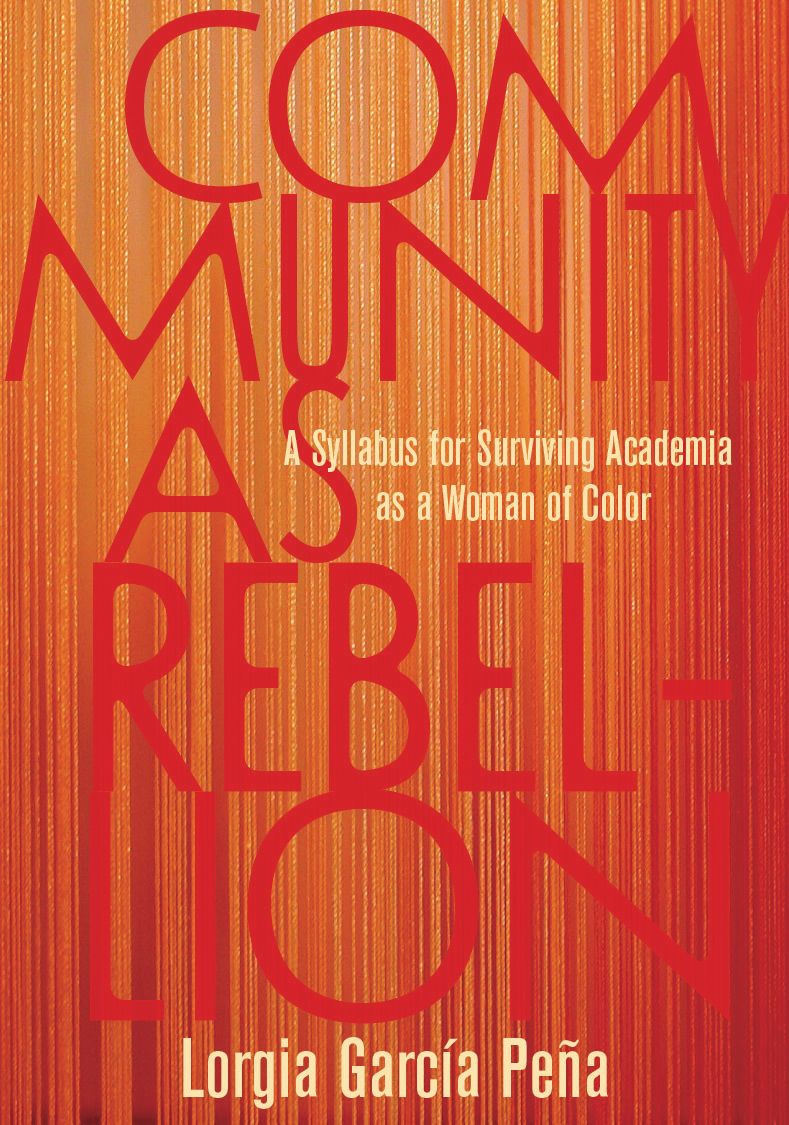 COMMUNITY AS REBELLION
A Syllabus for Surviving Academia as a Woman of Color
Lorgia García Peña
Haymarket Books (May 31, 2022)
Trade paper • ISBN-13: 9781642595680 • US $14.95 • 5.5 in x 8.5 in • 120 pgs.
ABOUT THE BOOK:
Weaving personal narrative with political analysis, Community as Rebellion offers a meditation on creating liberatory spaces for students and faculty of color within academia.
Much like other women scholars of color, Lorgia García Peña has struggled against the colonizing, racializing, classist, and unequal structures that perpetuate systemic violence within universities. Through personal experiences and analytical reflections, the author invites readers—in particular Black, Indigenous, Latinx, and Asian women—to engage in liberatory practices of boycott, abolition, and radical community-building to combat the academic world's tokenizing and exploitative structures.
García Peña argues that the classroom is key to freedom-making in the university, urging teachers to consider activism and social justice as central to what she calls "teaching in freedom": a progressive form of collective learning that prioritizes the subjugated knowledge, silenced histories, and epistemologies from the Global South and Indigenous, Black, and brown communities. By teaching in and for freedom, we not only acknowledge the harm that the university has inflicted on our persons and our ways of knowing since its inception, but also create alternative ways to be, create, live, and succeed through our work.
PRAISE:
"A life-saving and life-affirming text, Community as Rebellion offers us the trenchant analysis and fearless strategy radical scholar-activists have long needed. But Lorgia García Peña's intervention is especially valuable at this moment, as we collectively consider how our most important social institutions might be reimagined beyond the strongholds of white supremacy, heteropatriarchy, and racial capitalism more broadly."
Angela Y. Davis

''Lorgia García Peña is one of the few courageous and brilliant intellectuals grounded in rigorous and visionary grassroots education. This pedagogical guide for genuine freedom struggles is so badly needed in our neo-fascist times!"
Cornel West
"Community as Rebellion is a must read for anyone serious about confronting institutional racism, sexism, and elitism, Lorgia García Peña, one of her generation's most brilliant scholar-activists, challenges us to confront academia as a 'colonial and colonizing' space as the first step toward resistance and transformation. Her own experiences undergird her analysis and serve as a powerful call to action."

Barbara Ransby, author, Ella Baker and the Black Freedom Movement: A Radical Democratic Vision
"Unflinching, brilliant, and absolutely necessary. In these pages, Lorgia Garcia Peña shares her experiences – and others'- to reflect on what it means to be "the stranger" in academia: that sole symbol for diversity that still remains an outsider. Unwavering in its clarity and compassion, this powerful book reminds us that true belonging comes from actively building communities unafraid to center care and rebellion. Everyone should read this."
Maaza Mengiste, author of The Shadow King, shortlisted for the 2020 Booker Prize
"With characteristic clarity, courage, and conviction, Lorgia Garcia-Peña draws on her remarkable history as an engaged scholar and committed activist to demonstrate the necessity of living in community and accompanying others as keys to both personal liberation and social transformation."

George Lipsitz, author of The Possessive Investment in Whiteness
"What does it mean to teach for freedom?' Dr. García Peña asks and boldly beckons us toward its practice across the policed borders of discipline, nation, theoretical traditions, and entrenched racial categories. A capacious thinker, rigorous researcher, brilliant activist, and path-breaking scholar, Dr. García Peña calls on us not simply, as she writes, to "mind the historical gaps" for long-subjugated stories but alerts us to the ways these gaps have been historically mined in extractive ways in the service of colonial projects and neoliberal calls for diversity. Her astonishing work gathers us under its broad canopy to plot and persevere toward communal rebellion and renewal."

Deborah Paredez
ABOUT THE AUTHOR:
Lorgia García is a first generation Latinx Studies scholar. Dr. García Peña is the Mellon Associate Professor of Race, Colonialism and Diaspora Studies at Tufts University. She studies global Blackness, colonialism, migration and diaspora with a special focus on Black Latinidad. Dr. García Peña is the co-founder of Freedom University Georgia and of Archives of Justice (Milan-Boston). Her book The Borders of Dominicanidad (Duke University Press 2016) won the 2017 National Women's Studies Association Gloria Anzaldúa Book Prize, the Isis Duarte Book Award in Haiti and Dominican Studies and the 2016 Latino/a Studies Book Award. She is the author of Translating Blackness (Duke University Press) and the co-editor of the Texas University Press Series Latinx: The Future is Now. She is a regular contributor to The Boycott Times, Asterix Journal and the North American Council on Latin America (NACLA).
RIGHTS INFORMATION:
Audio book:
Please contact subagents for the following languages and territories:
For all other languages/territories, please contact Roam Agency.