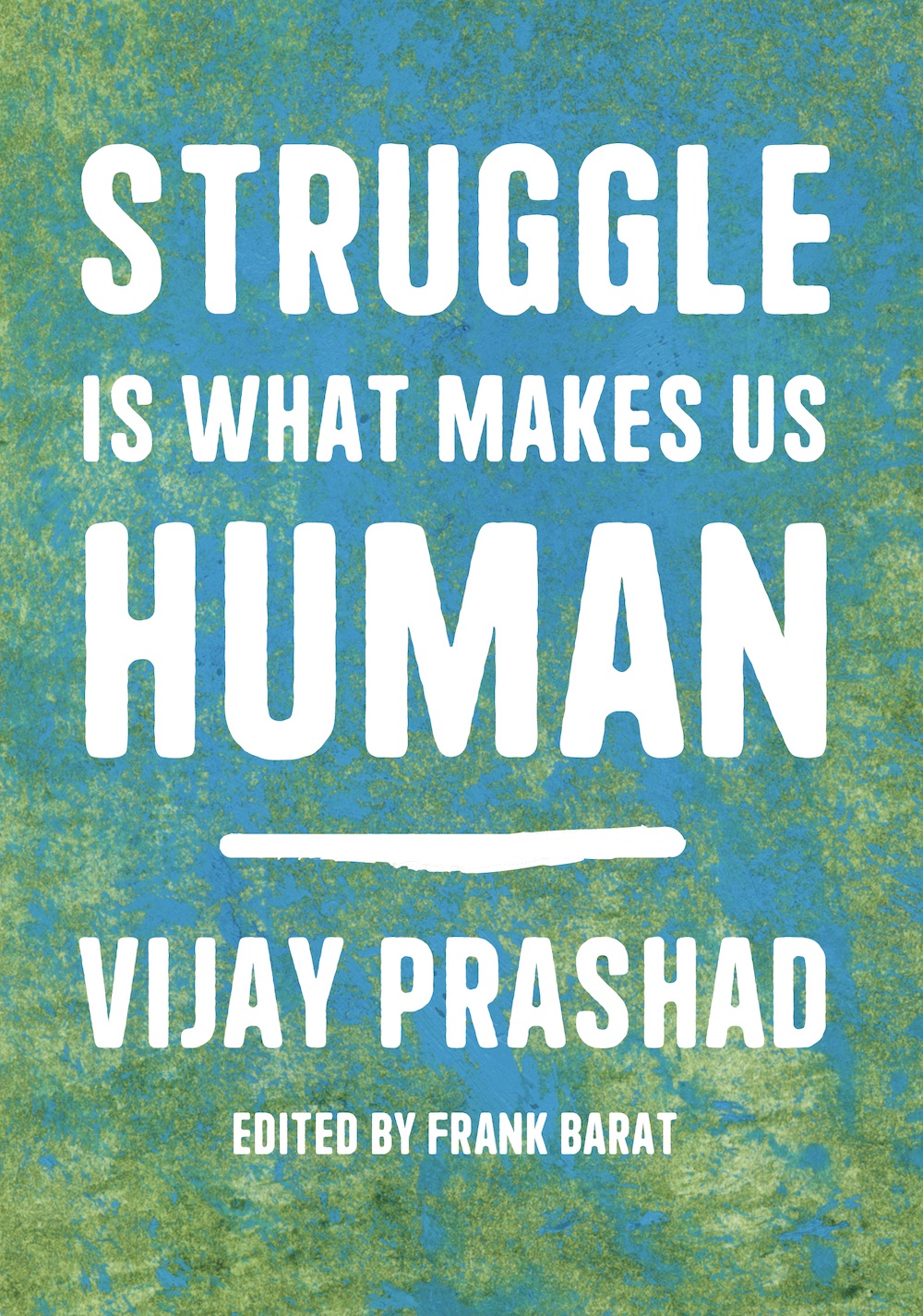 STRUGGLE IS WHAT MAKES US HUMAN
Learning from Movements for Socialism
Vijay Prashad with Frank Barat
Haymarket Books (May 31, 2022)
Trade paper • ISBN-13: 9781642596908 • US $15.95 • 5.5 in x 8.5 in • 150 pgs.
ABOUT THE BOOK:
Two brilliant and influential minds look beyond capitalism, and chart a roadmap for a planet ravaged by pandemics, a climate crisis, and wars.

Frank Barat, who has co-authored books with such luminaries as Angela Davis and Noam Chomsky, sits down with renowned author and academic Vijay Prashad, to explore topics such as debt cancellation, a wealth tax, austerity, the pandemic, the arms industry, the climate crisis, socialism, working-class social movements and much more.

Barat and Prashad take an honest look at the challenges involved in overcoming the grip the neoliberal world order has on the planet; and the ability of the wealthy elite to continue to carry out policies that are destroying the lives of millions. Yet, they don't leave the reader in despair, Barat and Prashad masterfully show us a path towards hope and liberation by highlighting the often ignored worker's struggles and victories that are taking place around the world in countries such as: India, Kenya, Peru, Tunisia, and Argentina.
PRAISE:
"An essential, brilliant revolutionary post pandemic conversation and primer about everything that matters and how we can move from the devastation of capitalism to a living breathing working socialism. Informative and profoundly inspirational."

V (formerly Eve Ensler), author of The Vagina Monologues and The Apology
ABOUT THE AUTHORS:
Vijay Prashad is the Director of Tricontinental: Institute for Social Research, Chief Correspondent at Globetrotter, and Editor at LeftWord Books. He won the Muzaffar Ahmad Memorial Prize in 2009 for his book Darker Nations: A People's History of the Third World.
Frank Barat was the coordinator of the Russell Tribunal on Palestine. His books include Gaza in Crisis, On Palestine, Freedom Is a Constant Struggle, and We Still Here.
RIGHTS INFORMATION:
Languages & Territories Where Rights Have Been Sold:
Audio book:
Please contact subagents for the following languages and territories:
For all other languages/territories, please contact Roam Agency.