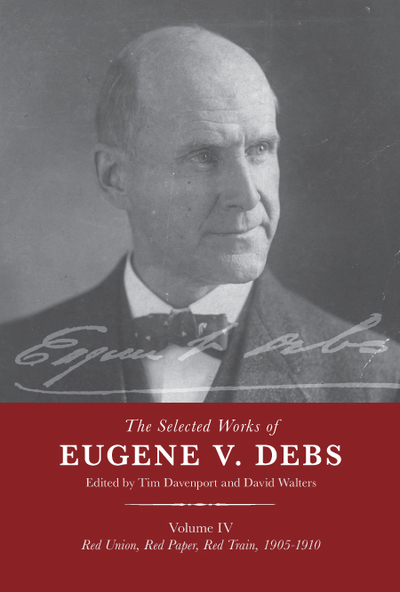 SELECTED WORKS OF DEBS, VOL IV
Edited by Tim Davenport and David Walters
Haymarket Books (January 2022)
Trade paper • ISBN-13: 9781642595901 • US $36 • 6 in x 9 in • 650 pgs.
ABOUT THE BOOK:
Volume 4 of Eugene V. Debs's selected works explores the founding of the Industrial Workers of the World, Deb's move from freelance oratory to employment on the staff of the mass circulation Appeal to Reason (the red paper), and his coast-to-coast 1908 campaign for president of the United States aboard the legendary Socialist Red Special.
ABOUT THE AUTHORS:
Tim Davenport is an independent scholar from Corvallis, Oregon. He holds a bachelor's degree in Economics from Oregon State University. He is the creator of the Early American Marxism website (marxisthistory.org) and a long-time volunteer with Marxists Internet Archive (marxists.org) and regularly contributes scans of rare material to the Internet Archive (archive.org) He co-edited The "American Exceptionalism" of Jay Lovestone and His Comrades, 1929-1940 with Paul LeBlanc [Haymarket, 2018] and The Selected Works of Eugene V. Debs with David Walters [in six volumes, Haymarket, 2019–]. Davenport is a member of the Organization of American Historians, Historians of American Communism, Society for Historians of the Gilded Age and Progressive Era, and the Labor and Working Class History Association. He is also an active collector of political books and pamphlets.
David Walters lives in Pacifica, California, originally hails from New York City. Having been formally a member of several socialist organizations since High School in 1972, David was active in the labor movement and is now a retired member of IBEW 1245. He now dedicates himself toward the building of the Marxists Internet Archive which he helped found in the mid-1990s. Additionally he is the Director of the San Francisco based Holt Labor Library, a brick-and-mortar library for papers, documents and journals of the labor and revolutionary left.
RIGHTS INFORMATION:
Please contact subagents for the following languages and territories:
For all other languages/territories, please contact Roam Agency.