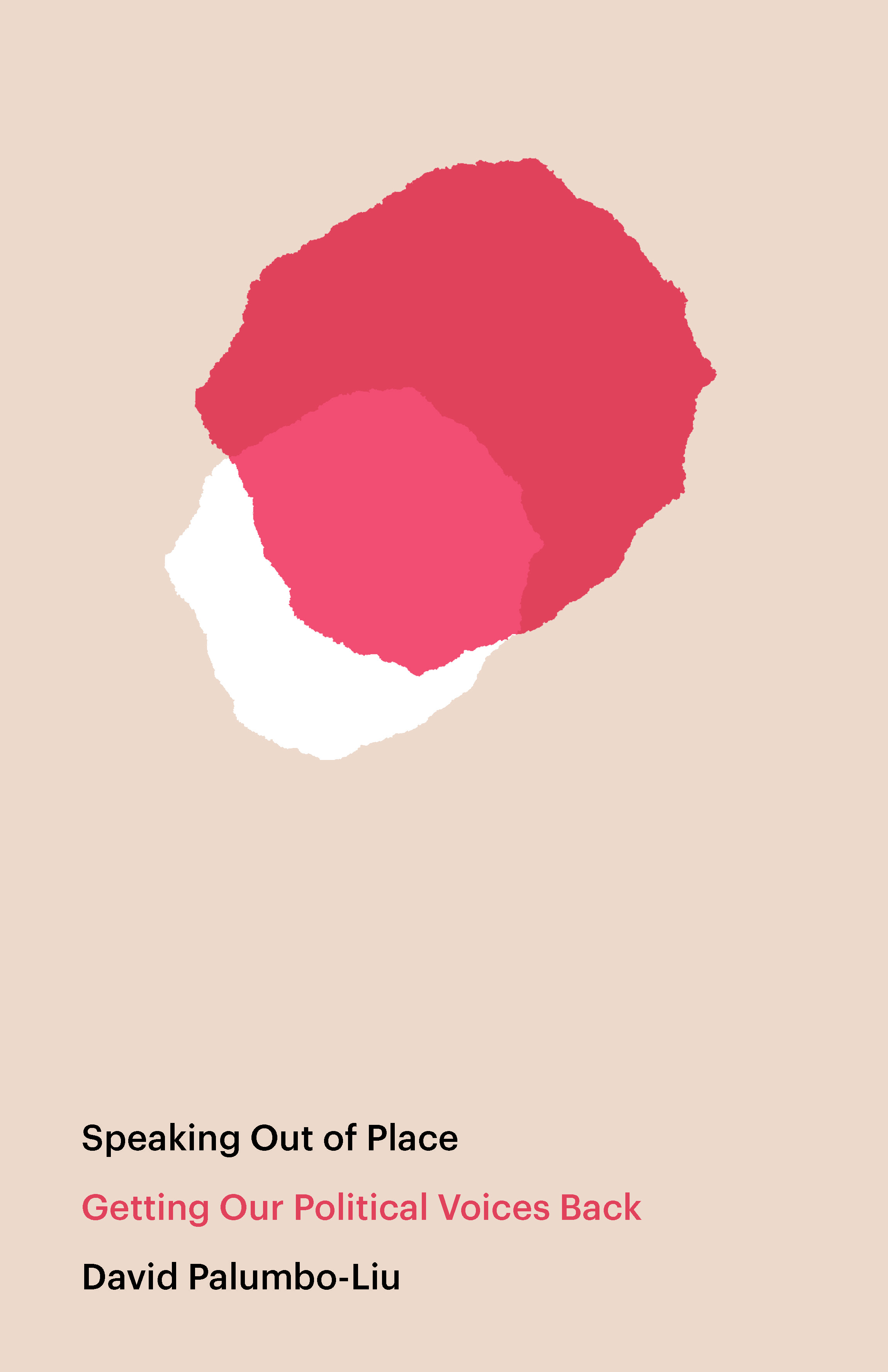 SPEAKING OUT OF PLACE
Making the Humanities Active
David Palumbo- Liu
Haymarket Books (January 2022)
Trade paper • ISBN-13: 9781642595857 • US $16.95 • 5.25 in x 7.5 in • 150 pgs.
ABOUT THE BOOK:

Speaking Out of Place asks us to reconceptualize both what we think "politics" is, and our relationship to it. Especially at this historical moment, when it is all too possible we will move from Trump's fascistic regime to Biden's anti- progressive centrism, we need ways to build off the tremendous growth we have seen in democratic socialism, and to gather strength and courage for the challenges, and opportunities that lie ahead.
PRAISE:
"Months after the most historic protests in our lifetimes, we continue to confront the same stubborn inequities, crises and catastrophes. This stubborn continuity compels us to reevaluate our common assumptions about the nature of the problem. It compels us to renew our political commitments to change but not necessarily in the same ways that we have before. Most of all, the ongoing suffering and despair in our societies compel us to think anew and creatively for effective, sometimes new and sometimes drawing on the historical ways that ordinary people have confronted the powerful. It compels us to be radical by grabbing hold at the root of our problem—a neoliberal, capitalist world order built on human suffering and abject inequality. David Palumbo-Liu's Speaking Out of Place is a deeply moral and utterly human meditation on the nature of our despair but the means by which it can be transformed. Most of all, he argues that what is missing is our sense of place, belonging and mutuality that, when intact, showcases our connection and potential for solidarity in our shared struggle for a humane and just world. Is the exact book we need for the troubled historical moment through which we are living."
Keeanga-Yamahtta Taylor, author of From #BlackLivesMatter to Black Liberation
"In the face of accelerating fascism and a planet on fire, David Palumbo-Liu provides a road map for finding our political voices by speaking "out of place." This is an urgent call to seize the moment before it's too late."
Roxanne Dunbar-Ortiz, author of Not "A Nation of Immigrants," Settler-Colonialism, White Supremacy, and a History of Erasure and Exclusion
"It's not enough to be against the rising tide of authoritarianism and climate chaos. David Palumbo-Liu examines how only through "a positive obsession with justice" and a collective willingness to learn to speak a new language and remake the places do we have a chance at saving the planet and building the world we all need."
Nick Estes, author of Our History is the Future: Standing Rock Versus the Dakota Access Pipeline, and the Long Tradition of Indigenous Resistance
"David Palumbo-Liu's Speaking Out of Place is a wake-up call to the twin dangers of fascism and a no-less cruel and ecocidal neoliberalism. Brilliant, clear-eyed, wide-ranging and erudite without being esoteric, this book is a vital assault on the repressive amnesia that obliterates the memory of even our most recent struggles. Palumbo-Liu reminds us that we already have all that we need to reimagine our societies and ourselves, to re-forge the solidarity necessary to get us through such catastrophic times, to make this planet a place where voices clamor outside of the violent control of capital, loudly and freely, alive."
Ben Ehrenreich, author of Desert Notebooks: A Roadmap for the End of Time and The Way to the Spring: Life and Death in Palestine
"Speaking Out of Place is a radical and original reassessment of democratic deliberation and political transformation. Instead of treating "free speech" in simplistic terms, Palumbo-Liu examines the triad of voice, place, and space. This holistic analysis helps us understand who gets heard, where, and why. True democracy, Palumbo-Liu shows, is a raucous polyphony, a chorus emanating from specific communities and contexts and struggles that reverberates widely, unsettling and challenging those accustomed to controlling the terms of the debate."
Astra Taylor, author of Remake the World
"David Palumbo-Liu's most recent work is a clarion call, an incisive commentary on our times, and an impressive work of passion and moral clarity. Focusing on forms of contemporary oppression and new social movements, Palumbo-Liu insists upon the centrality of voice and place to the most pressing issues of our time. His writing draws on social and political theory, poetry, activist writing, to show us that the ideologies that still clutch us have as their primary concern "the individual" as economic actor, and "the market" and its profit-driven values as a poor way to define the public sphere. In contrast, he allies with those who are generating the value of human and humane interdependence, of commonly shared goods, and ideals of social and economic equality so often brutally dismissed as fairy tales. But in this work we see how every critical analysis of homelessness, displacement, internment, violence, and exploitation is countered by emergent and intensifying social movements that move beyond national borders to the ideal of a planetary alliance. As an activist and a scholar, Palumbo-Liu shows us what vigilance means in these times. This book takes us through the wretched landscape of our world to the ideals of social transformation, calling for a place, the planet, where collective passions can bring about a true and radical democracy."
Judith Butler

"Fearless, timely, and necessary. In this bracing, multivalent analysis of our troubled political culture, David Palumbo-Liu offers us a clarion call to action. Reading it, I feel emboldened, encouraged, and powerfully amplified."
Ruth Ozeki, author of Booker Finalist novel, A Tale for the Time Being"In Speaking out of Place David Palumbo-Liu has brought to the fore the type of text that is rare in our current culture. There is a sort of transversal vector in play that brings with it the unexpected and at the same time the familiar. It is a gem. I loved reading it."
Saskia Sassen, author of Expulsions: Brutality and Complexity in the Global Economy

"David Palumbo-Liu gives us hope for a world on fire. Digging deep into our common humanity, he urges us to speak, to organize and to fight for justice wherever we live, and to stand down reaction wherever it resides. From Palestine to the Amazon, Palumbo-Liu reminds us to take back the planet that belongs to us, to love ourselves, and each other."
Bill V. Mullen

"David Palumbo-Liu masterfully paints a global picture of the daunting challenges to our very survival. Rather than use the weight of that challenge to terrify us into action or to crush our hope, he pieces together the most quotidian stories of courage and resistances to show us that revolution is latent within us and that the technologies of our salvation are ones that we have long known and fiercely protected. Speaking Out of a Place is profoundly humane, self-aware in its humility, and generous in its thoughtful offerings. Palumbo-Liu reminds us that the horizon before us is not an end but an opportunity for new beginnings."
Noura Erakat, author of Justice for Some: Law and the Question of Palestine
"The historical and contemporary stories in Speaking Out of Place are as instructive as they are inspiring. Palumbo-Liu gives us a global landscape of many dimensions, pulling us into the infinite number of spaces we can disrupt, reshape, and build when we find the courage to insert our "unauthorized" voices,. The activists in this book, both well known and not, speak in words, in dance, in pictures, in food and even in silence. Read this, and raise your voice."
Rinku Sen
ABOUT THE AUTHOR:
David Palumbo-Liu is the Louise Hewlett Nixon Professor, and Professor of Comparative Literature, at Stanford University. Besides his academic books on race, culture, ethics and politics, he writes for Jacobin, Truthout, The Nation, the Guardian and other venues.
RIGHTS INFORMATION:
Please contact subagents for the following languages and territories:
For all other languages/territories, please contact Roam Agency.