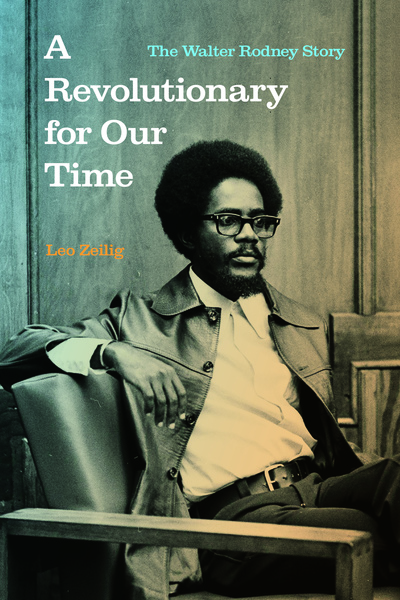 A REVOLUTIONARY FOR OUR TIME
The Walter Rodney Story
Leo Zeilig
Haymarket Books (March 22, 2022)
Trade paper • ISBN-13: 9781642595819 • US $22.95 • 5.25 in x 7.5 in • 254 pgs.
READ: "His Effectiveness Did Not Go Unnoticed": On the Radical Politics of Walter Rodney (New York Times)
READ: New Books | The Walter Rodney Story (New Frame)
ABOUT THE BOOK:
Walter Rodney was a scholar, working class militant, and revolutionary from Guyana. Strongly influenced by Marxist ideas, he remains central to radical Pan-Africanist thought for large numbers of activists' today. Rodney lived through the failed –though immensely hopeful -socialist experiments in the 1960s and 1970s, in Tanzania and elsewhere.
The book critically considers Rodney's contribution to Marxist theory and history, his relationship to dependency theory and the contemporary significance of his work in the context of movements and politics today. The first full-length study of Rodney's life, this book is an essential introduction to Rodney's work.
PRAISE:
"Zeilig is not stretching when he calls Rodney, 'A revolutionary for our time.'"
—New York Times
"This book is a welcome addition to the composition on the life and death of Walter Rodney and deals with the cover up of his assassination in the most authentic way since the C of I report of 2016."

Donald Rodney
"Seeing, listening to or reading Walter Rodney, before and after his unfortunate death, something always puzzled and stayed with me – The How of Walter Rodney. How did this relatively young brother from a small Caribbean nation gain such a vast world view? How was he able to grasp the conditions of the Pan African world so firmly and translate those conditions through his socialist worldview? How was Rodney able to move so fluidly through communities in the Caribbean, the US, the UK, Africa and literally the whole of the Pan African world? How was he accepted and loved as kin in all of those communities? And how did he become the number one target of a Guyanese government desperately plotting to end his life? And of late, my big one, how does Walter Rodney still endure timelessly in the immediate consciousness of so many Pan-African activists and thinkers today? Without fail Leo Zeilig's enduring A Revolutionary for Our Time answered these and so many other "how's" beyond my considerations."

Paul Coates, Black Classic Press
"Leo Zeilig takes readers through the choices that Walter Rodney made. Choices both small and large, but all taking Rodney to the heights of scholarship, organization, family, comradeship. Zeilig offers a compelling narrative and an incisive analysis of Rodney's ferocious commitments to revolutionary change. This is a fascinating and vital study of Rodney's life."

Diane C. Fujino, professor and author, Heartbeat of Struggle: The Revolutionary Life of Yuri Kochiyama
"The Black Lives Matter movement's embrace of radical and pan-Africanist ideas has introduced Walter Rodney to a new generation of activists. A Revolutionary for Our Time is an urgently-needed contribution, one that situates the importance of Rodney's Marxism, his life and work, in working-class and anti-racist struggle. It is a must-read account of a revolutionary who understood that nothing short of socialism could bring liberation."

Lee Wengraf, author, Extracting Profit: Imperialism, Neoliberalism, and the New Scramble for Africa
"The book connects Rodney's thinking to his lived experiences across the world and the decades in which he lived. At a time when context is particularly essential, Zeilig's book provides an essential narrative that situates Rodney not only in the history of revolutionary thought, but also at our contemporary moment, arguing that Rodney's ideas make him a revolutionary not only for his but for our time."

Erin MacLeod, Vanier College
"Through exacting research, exacting presentation, and careful analysis, Leo Zeilig offers a remarkable contribution to radical thought and practice worthy of Walter Rodney's legacy."

Olúfẹ́mi O. Táíwò, assistant professor of philosophy at Georgetown University and author of Reconsidering Reparations, and Elite Capture
"This is a splendid narrative of Walter Rodney's legendary life and work across three continents. Leo Zeilig's singular achievement is to have brilliantly located Rodney, the Black Power Marxist, at the intersection of the politics of radical nationalism and visionary socialism that suffused the pan-African world in the 60s and 70s. An unforgettable read.''

Issa Shivji, Emeritus Professor, University of Dar es Salaam
"A Revolutionary for Our Time is both timely and necessary. Through Walter Rodney's ideas and actions, it engages the weighty issues of the current moment. More than a biography of a remarkable individual, we get the optics of a family committed to radical, worldwide transformation and the crosscurrent of people who embraced them as well as the local-global networks of power they dared to challenge."

Kwasi Konadu, John D. and Catherine T. MacArthur Endowed Chair, Colgate University
ABOUT THE AUTHOR:
Leo Zeilig is a writer and researcher. He has written extensively on African politics and history, including books on working-class struggle and the development of revolutionary movements and biographies on some of Africa's most important political thinkers and activists. Leo is an editor of the Review of African Political Economy—the radical African-studies journal founded by activists and scholars in 1974. Leo is a Research Associate at the Society, Work and Politics Institute (SWOP) at the University fo the Witwatersrand in Johannesburg, South Africa
RIGHTS INFORMATION:
Languages & Territories Where Rights Have Been Sold:
| Language/Territory | Publisher |
| --- | --- |
| Portuguese in Brazil | Kazimira |
Please contact subagents for the following languages and territories:
For all other languages/territories, please contact Roam Agency.