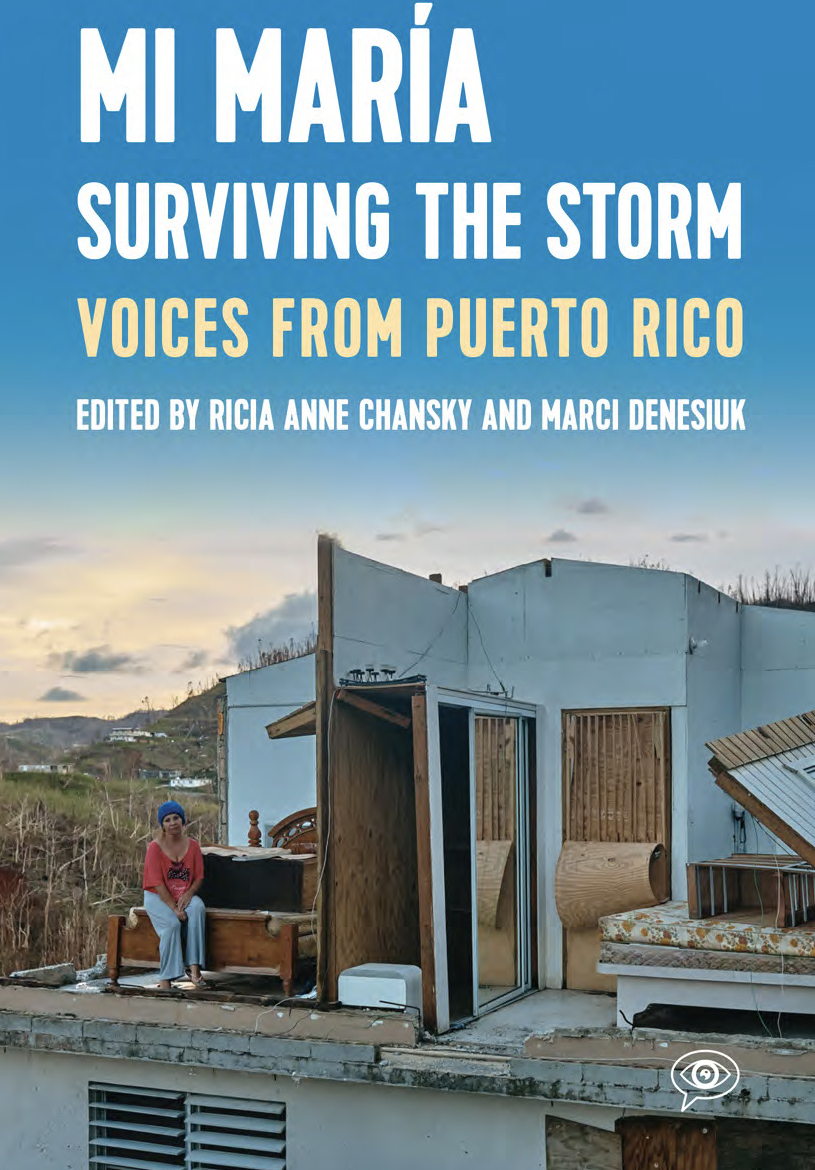 MI MARIA
Surviving the Storm
Edited by Ricia Anne Chansky and Marci Denesiuk
Haymarket Books (September 2021)
Trade paper • ISBN-13: 9781642595796 • US $15.95 • 5.25 in x 7.5 in • 330 pgs.
ABOUT THE BOOK:
When Hurricane María made landfall in Puerto Rico in September 2017, it left no part of the archipelago unscathed. The hurricane triggered floods and mudslides, washed out roads, destroyed tens of thousands of homes, farms, and businesses, caused the largest blackout in US history, knocked out communications, led to widespread food, drinking water, and gasoline shortages, and caused thousands of deaths.

The seventeen oral histories collected in Mi María: Surviving the Storm share stories of surviving the storm and its long aftermath as people waited for relief and aid that rarely arrived. Zaira and her husband floated on a patched air mattress for sixteen hours while floodwaters rose around them. The road washed out in front of Emmanuel as he desperately tried to drive his pregnant wife who had begun labor to the hospital. Luis and his father anxiously counted the days that the dialysis clinic remained closed and lifesaving treatment was unavailable, while Miliana's mother was sent home from the hospital —undiagnosed— only to fall critically ill in her own home.

Weaving together long-form oral histories and shorter testimonios, the book offers a multivocal peoples' history of disaster that fosters a greater understanding of the failures of governmental disaster response and the correlating perseverance of the people impacted by these failures, highlighting the colonial relationship between Puerto Rico and the United States. Ultimately, the ways in which these oral histories demonstrate the strength of community response to disaster in Puerto Rico are pertinent to other parts of the world that are being impacted by our current climate emergency.
PRAISE:
"This latest volume of the brilliant Voice of Witness series is this collection of 17 oral histories from people who survived Hurricane Maria which hit Puerto Rico in 2017. This book is not only an illustration of the resiliency and community needed to survive a storm like this, but a testament to people around the world for whom climate change hits hardest."
Ms. Magazine
"A crucial oral history by Puerto Ricans surviving the twin disasters of Hurricane María and colonialism."

Molly Crabapple, author, Drawing Blood and Brothers of the Gun (with Marwan Hisham)

"For a disaster born at the intersection of colonization and the climate crisis, only a first-person plural account can truly do justice in a post-tragedy landscape where there has been no justice. Mi María: Surviving the Storm is a triumph of eyewitness accounts that centers survivors and tells a three-dimensional truth that can only be pieced together from multiple perspectives."

Aya de León, author, Side Chick Nation

"Through first-person narratives and biographical profiles Mi María offers a kaleidoscope of experiences and personal stories that take readers behind the headlines of Hurricane María. The book offers an important archive of experiences, challenges, and stories that are otherwise absent from mainstream coverage of Puerto Rico and is sure to be of interest to both current audiences and future generations of readers interested in the lived experience of one of the largest political and environmental disasters in US history. The chance to hear directly from those left out of national headlines is at once moving, unsettling, and eye-opening."

Yarimar Bonilla, coeditor, Aftershocks of Disaster: Puerto Rico Before and After the Storm

"Passionate and urgent; heart-wrenching and deeply infuriating. Mi María holds space for us to process the multiple and ongoing traumas of Hurricane María—the violence and devastation of the storm itself, yes, but also the deep-seated traumas of state failure, colonial neglect, and capitalist corruption Puerto Ricans found themselves forced to find solutions to while rebuilding their communities in the aftermath of the storm. These are stories not just of resilience. They are stories of resistance, solidarity, and the ethos of mutual aid—the daring to radically reimagine our world in new ways when confronted with our own survival."

Sara Awartani, Committee on Ethnicity, Migration, and Rights at Harvard University

"Though the narrators in Mi María endure great hardship, their stories soar with strength and resolve and love of their fellow humans. Anyone who loves Puerto Rico must read this book."

Dave Eggers, writer, cofounder of Voice of Witness
RIGHTS INFORMATION:
Please contact subagents for the following languages and territories:
For all other languages/territories, please contact Roam Agency.