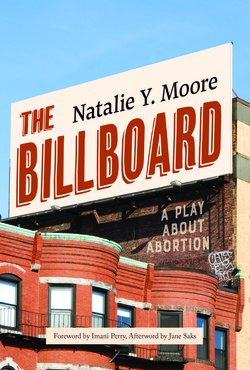 THE BILLBOARD
Natalie Y. Moore
Foreword by Imani Perry
Haymarket Books (March, 2022)
Trade paper • ISBN-13: 9781642595734 • US $16 • 6 in x 9 in • 100 pgs.
ABOUT THE BOOK:
The Billboard is about a fictional Black women's clinic in Chicago's Englewood neighborhood on the South Side and its fight with a local gadfly running for City Council who puts up a provocative billboard: "Abortion is genocide. The most dangerous place for a Black child is his mother's womb," spurring on the clinic to fight back with their own provocative sign: "Black women take care of their families by taking care of themselves. Abortion is self-care. #Trust Black Women." The book also has a foreword and afterword and Q&A with a founder of reproductive justice. As a play and book, The Billboard is a cultural force that treats abortion as more than pro-life or pro-choice.
ABOUT THE AUTHOR:
Natalie Y. Moore is an award winning Chicago-based author and journalist. Her last book "The South Side: A Portrait of Chicago and American Segregation" won the 2016 Chicago Review of Books award for nonfiction. She is a 2021 USA Fellow. The Pulitzer Center named her a 2020 Richard C. Longworth Media Fellow for international reporting.
RIGHTS INFORMATION:
Please contact subagents for the following languages and territories:
For all other languages/territories, please contact Roam Agency.