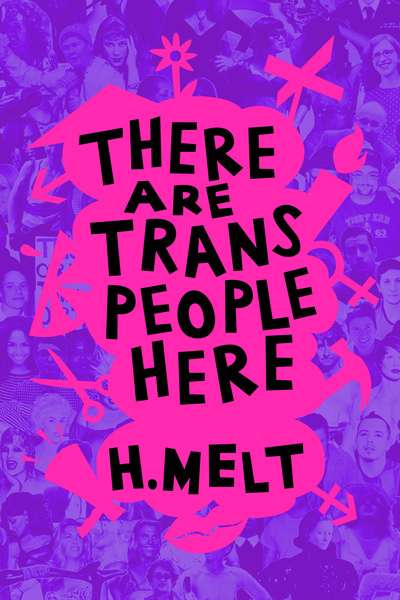 THERE ARE TRANS PEOPLE HERE
H. Melt
Haymarket Books (November, 2021)
Trade paper • ISBN-13: 9781642592580 • US $16 • 6 in x 9 in • 100 pgs.
READ: I Don't Want A Trans President (via Hooligan Mag)
ABOUT THE BOOK:
There Are Trans People Here is a testament to the healing power of community and the beauty of trans people, history, and culture.

In this highly- anticipated collection, H. Melt focuses on the resilience of trans communities, as well as trans joy. This book will help readers better understand the connections between trans activism and other movements for liberation. Tender and fierce, this work pushes against the belied silence of folks who want to live fully and uninterrupted. With humor, sarcasm, and direct language, here is the hand joined by the many: ancestors and comrades.To lead us out of the dark.

History and the intimate converse, knowing one is nothing without the other. What does it mean to live and fight at the intersections of binary gender, capital-ism and consumption? And yes, the love of the Midwest. The love of friendship and joy. In conversation with Lou Sullivan's radical work, H. Melt proves that resistance work in building a new world cannot be done without the groundwork laid before us. In care. In absolute acceptance, H. Melt abolishes borders and invokes the all- knowing magic we possess.
ABOUT THE AUTHOR:
H. Melt is a poet, artist and educator who celebrates trans liberation. They are the author of The Plural, The Blurring and editor of Subject to Change: Trans Poetry & Conversation. Lambda Literary awarded them the Judith A. Markowitz Award for Emerging LGBTQ Writers.
RIGHTS INFORMATION:
Please contact subagents for the following languages and territories:
For all other languages/territories, please contact Roam Agency.