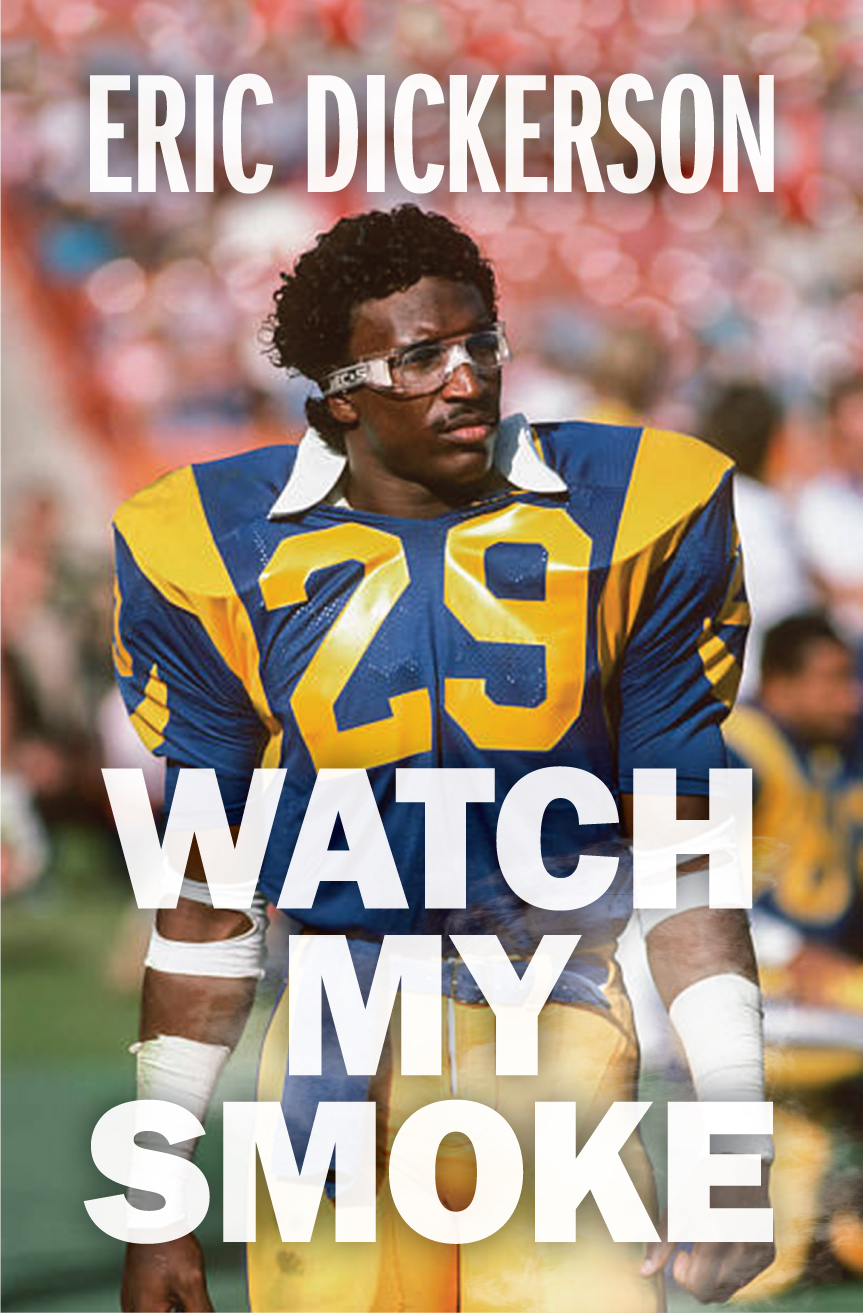 WATCH MY SMOKE
The Eric Dickerson Story
Eric Dickerson and Greg Hanlon
Haymarket Books (October 2021)
Trade paper • ISBN-13: 9781642595697 • US $26.95 • 5.5 in x 8.5 in • 220 pgs.
ABOUT THE BOOK:
For the first time, Dickerson is telling his story. And he's not holding anything back.
"Eric Dickerson has never shied away from telling the truth: About life in the NFL, about being a Black celebrity, about racism. You might not like what he's saying, but you know it's true. Straight drink, no chaser."
—Lawrence Taylor
"[Dickerson] spills it all in a book that reads nearly as fast as he was. Prepare for a jaw-dropper every other page."
—Skip Bayless
His style was iconic, and vintage '80s: aviator goggles, Jheri curls, neck roll, boxy pads. Eric Dickerson is the greatest player in Los Angeles Rams history and the NFL's single season record holder for most rushing yards. In 2019, Dickerson was named to the National Football League's 100th Anniversary All-Time Team.
With an elegant upright running style that produced some of football's most watched highlights, it was said he was so smooth you couldn't hear his pads clack as he glided past you. But during his Hall of Fame career, his greatness was often overshadowed by disputes with Rams management and tensions over his exploitative contract often overshadowed his accomplishments. What's his problem? went the familiar refrain from the media. Can't he just shut up and run? It's time to reexamine how Eric Dickerson was portrayed. For the first time, he's telling his story. And he's not holding anything back.
ABOUT THE AUTHORS:
Eric Dickerson is an analyst for Fox Sports 1 and Vice President of Business Development for the Los Angeles Rams.
Greg Hanlon is an editor at People. He has written for Sports Illustrated and the New York Times.
RIGHTS INFORMATION:
Please contact subagents for the following languages and territories:
For all other languages/territories, please contact Roam Agency.