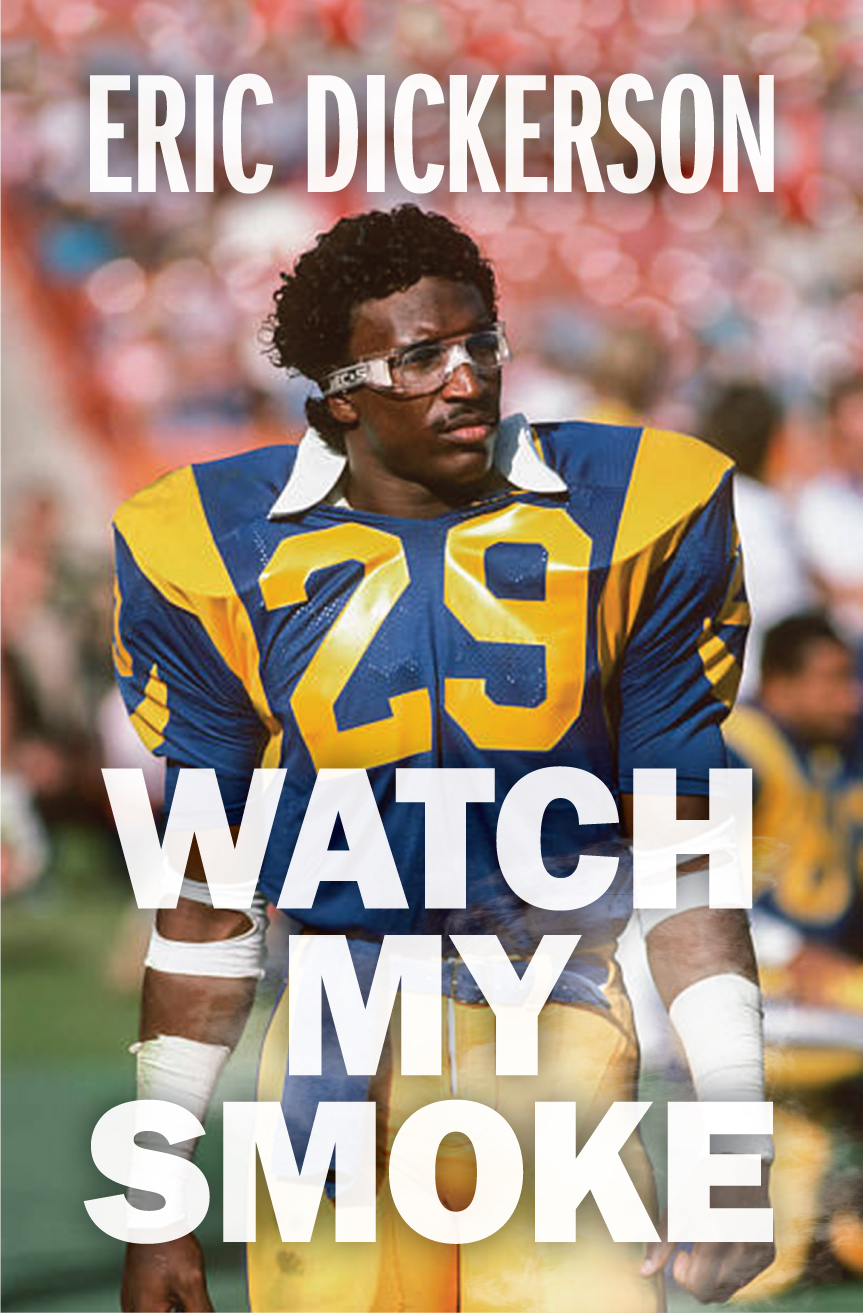 WATCH MY SMOKE
The Eric Dickerson Story
Eric Dickerson and Greg Hanlon
Haymarket Books (15 August, 2023)
Trade paper• ISBN-13: 9781642599046 • US $19.95 • 5.5 in x 8.5 in • 205 pgs, 16 images
ABOUT THE BOOK:
Eric Dickerson is the record-holder for most rushing yards in a season, and his prime was the best of any running back in NFL history. Yet an aura of negativity trailed him his entire career.

His style was iconic, and vintage '80s: aviator goggles, Jheri curls, neck roll, boxy pads.
Eric Dickerson is the greatest player in Los Angeles Rams history and the NFL's single season record holder for most rushing yards. In 2019, Dickerson was named to the National Football League's 100th Anniversary All-Time Team. With an elegant upright running style that produced some of football's most-watched highlights, it was said he was so smooth you couldn't hear his pads clack as he glided past you.

But during his Hall of Fame career, his greatness was often overshadowed by his contentious disputes with Rams management about his contract. In the pre-free agency era, tensions over his exploitative contract often overshadowed his accomplishments. What's his problem? went the familiar refrain from the media. Can't he just shut up and run?

It's 2021. America is undergoing a racial reckoning. It's time to reexamine how Eric Dickerson was portrayed. For the first time, he's telling his story. And he's not holding anything back.
PRAISE:
"Dickerson scores points in his takedown of a system, then and now, that chews players up and spits them out."
Kirkus

"Watch My Smoke is the story of a great athlete who deals with the problematic parts of sports and celebrity, and who does so in an open, memorable way."
Foreword Reviews
"There was no runner quite like Eric, and, it turns out, there's no author like him either. His life story has page after page of 'wow!' moments — and he's one of the best storytellers I've ever been around. Eric looked effortless as a runner, gliding through the defense. When I read his book I got the same feeling: The pages seemed to turn themselves. His story, from his account, reflects where we are today as a society: Divided, uncomfortable. People have to do a self-awareness check to determine who they are and where they stand on fundamental principles. Eric's story is his experience — people have to reckon with it, and nobody can deny it until they walk or run a mile in his shoes."

Emmitt Smith
"Eric Dickerson has never shied away from telling the truth: About life in the NFL, about being a Black celebrity, about racism. You might not like what he's saying, but you know it's true. Straight drink, no chaser."

Lawrence Taylor

"Eric was one of the most graceful running backs ever to play in the NFL. It's refreshing to know that as a writer and a friend, his integrity and sense of humor equals or surpasses that grace!"

Clyde Drexler

"Honestly, I hated watching Eric run — maybe that's because he was a Ram and I was a 49er. But seriously, his style and grace were unique, and his upright running style, while criticized by many was damn fun to watch. Now that we're friends, I can finally stomach watching old footage of him tearing us apart. Watch My Smoke is a great read. It's the book football fans deserve about one of history's greatest runners, and more importantly, my friend."

Joe Montana

"Eric is a lot like me: He's straight to the point and he tells you what he thinks, even if it's something you don't want to hear. We played in different eras but after meeting Eric I realized the similarities in our upbringings. I appreciate his friendship along with his straightforward and downhill approach with this book — which was the same approach as when he had the ball in his hands. Want to know the real Eric Dickerson? Read Watch My Smoke."

Terrell Owens

"In all the years I have known Eric Dickerson as a friend, and as an incredible Hall of Fame Football Player. I was stunned as he was revealing the level of racism that he encountered early in his life and how he rose above those circumstances. Eric sharing is the strength we need so our world can be changed going forward. Think about it, Eric's overcome every obstacle and still our country is affected by racism. My friend, I love you and I think you for sharing your innermost thoughts, Watch My Smoke is courageous."

Nancy Lieberman

"As a newspaper columnist in Dallas, I spent a lot of time around Eric Dickerson's SMU teams and always considered him a mysterious figure. Now, reading Watch My Smoke, I realize he was a shy kid from small-town Sealy, Texas wary of the mostly white media and haunted by the racism he experienced throughout his career. Now he spills it all in a book that reads nearly as fast as he was. Prepare for a jaw-dropper every other page."

Skip Bayless

"As a running back, Eric Dickerson never tiptoed or showed any fear. As an author, he's the exact same way: Fearless, and tough enough to take on any issue. He's been one of my best friends since 1983, so I know that Eric will always tell you the truth."

Rickey Jackson
ABOUT THE AUTHORS:
Eric Dickerson is an analyst for Fox Sports 1 and Vice President of Business Development for the Los Angeles Rams.
Greg Hanlon is an editor at People. He has written for Sports Illustrated and the New York Times.
RIGHTS INFORMATION:
Audio book:
Please contact subagents for the following languages and territories:
For all other languages/territories, please contact Roam Agency.