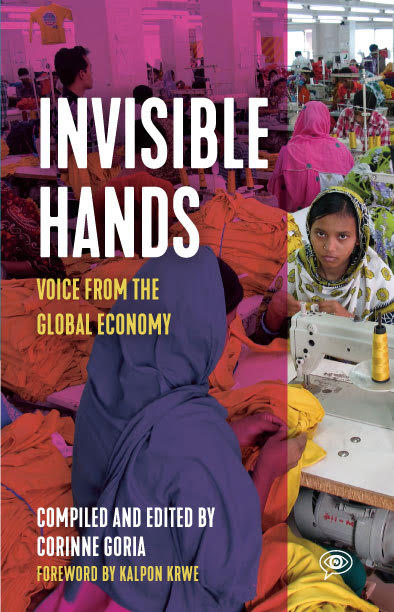 INVISIBLE HANDS
Voices from the Global Economy

Edited by Corrine Goria
Foreword by Kalpona Akter
Haymarket Books (15 November 2022)
Trade paper • ISBN-13: 9781642595383 • US $25.95 • 5.5 in x 8.5 in • 364 pgs.
ABOUT THE BOOK:
The men and women in Invisible Hands reveal the human rights abuses occurring behind the scenes of the global economy. These narrators — including phone manufacturers in China, copper miners in Zambia, garment workers in Bangladesh, and farmers around the world — reveal the secret history of the things we buy, including lives and communities devastated by low wages, environmental degradation, and political repression. Sweeping in scope and rich in detail, these stories capture the interconnectivity of all people struggling to support themselves and their families. Narrators include Kalpona, a leading Bangladeshi labor organizer who led her first strike at 15; Han, who, as a teenager, began assembling circuit boards for an international electronics company based in Seoul; Albert, a copper miner in Zambia who, during a wage protest, was shot by representatives of the Chinese-owned mining company that he worked for; and Sanjay, who grew up in the shadow of the Bhopal chemical disaster, one of the worst industrial accidents in history.
PRAISE:
"Powerful and revealing testimony to the injustices of manual labor, infused with inspiration for global change."

Kirkus Reviews
"Compiled and edited by lawyer Goria, these oral accounts of labor abuses and the struggles of the working poor cover most corners of the globalized economy. Stories from workers and labor activists in far-flung locations, including Mexico, Zambia, Bangladesh, China, and South Korea, convey a sobering uniformity of harsh working conditions, low wages, coerced labor, and ruthless retribution against unions and advocates for workers' rights. Readers hear from Bangladeshi garment workers who struggled to get monthly minimum wages raised from $15 in 1994 to $43 by 2010; Indian farmers trapped in a cycle of borrowing, debt, and bankruptcy; and the Chinese factory worker whose journey to the electronics manufacturing hub of Shenzhen started with excitement and ended with an accident that cost him a hand. A more hopeful strain about the resilience of labor emerges in some narratives: 'Never think that you're less than the boss,' counsels Ana Juarez, a Mexican garment worker and activist. As Kalpona Akter, a Bangladeshi labor rights advocate, says: 'It was hard for me to tell my story for this book and to make my life so public' but . . . 'if it lets another woman who has faced exploitation and repression feel that she is not alone, and even encourages her to speak up, then it is worth it."

Publishers Weekly
"This book, edited by attorney Goria, uses oral history to introduce readers to 16 disadvantaged employees working in agriculture, the garment industry, natural resources, and electronics manufacturing in countries including India, Zambia, and the United States. These workers discuss their experiences with unsafe workplace conditions, organized labor, poor wages, and immigration. The interviews serve to educate readers about the working conditions of low-wage workers around the world and draw their attention to the challenges faced by employees toiling in less than desirable—and often unsafe—conditions. The book includes a time line of modern industrialization, a glossary, historical capsules providing context for the oral histories in the book, and an overview of the global decline of garment-industry wages. Readers interested in the plight of disadvantaged workers worldwide as well as the undesirable effects of globalization will be likewise interested in this book. VERDICT: Recommended for a wide range of readers, from those served by high school libraries and public and academic ones as well."
Library Journal
RIGHTS INFORMATION:
Please contact subagents for the following languages and territories:
For all other languages/territories, please contact Roam Agency.