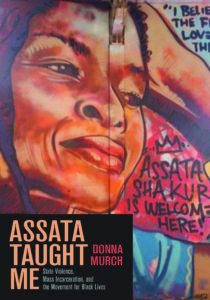 ASSATA TAUGHT ME
State Violence, Mass Incarceration, and the Movement for Black Lives
Donna Murch
Haymarket Books (August 2021)
Trade Paper • ISBN-13: 9781642595161 • US $18.95 • 5 1/2 in x 8 1/2 in • 224 pgs.
ABOUT THE BOOK:
Black Panther and Cuban exile Assata Shakur has inspired multiple generations of radical protest, including our contemporary Black Lives Matter movement. Drawing its title from one of America's foremost revolutionaries, this collection of thought- provoking essays by award- winning Panther scholar Donna Murch explores how social protest is challenging our current system of state violence and mass incarceration.
This timely and urgent book shows how a youth-l ed political movement has emerged since the killing of Trayvon Martin that challenges the bi- partisan consensus on punishment and looks to the future through a redistributive, queer, and feminist lens. Murch frames the contemporary Black Lives Matter movement in relation to earlier struggles for Black liberation, while excavating the origins of mass incarceration and the political economy that drives it.
Assata Taught Me offers a fresh and much- needed historical perspective on the fifty years since the founding of the Black Panther Party, in which the world's largest police state has emerged.
ABOUT THE AUTHOR:
Donna Murch is an associate professor of history at Rutgers, the State University of New Jersey, and sits on the executive council of the Rutgers AAUP- AFT. She is the author of Living for the City: Migration, Education, and the Rise of the Black Panther Party in Oakland, California.
RIGHTS INFORMATION:
Please contact subagents for the following languages and territories:
For all other languages/territories, please contact Roam Agency.