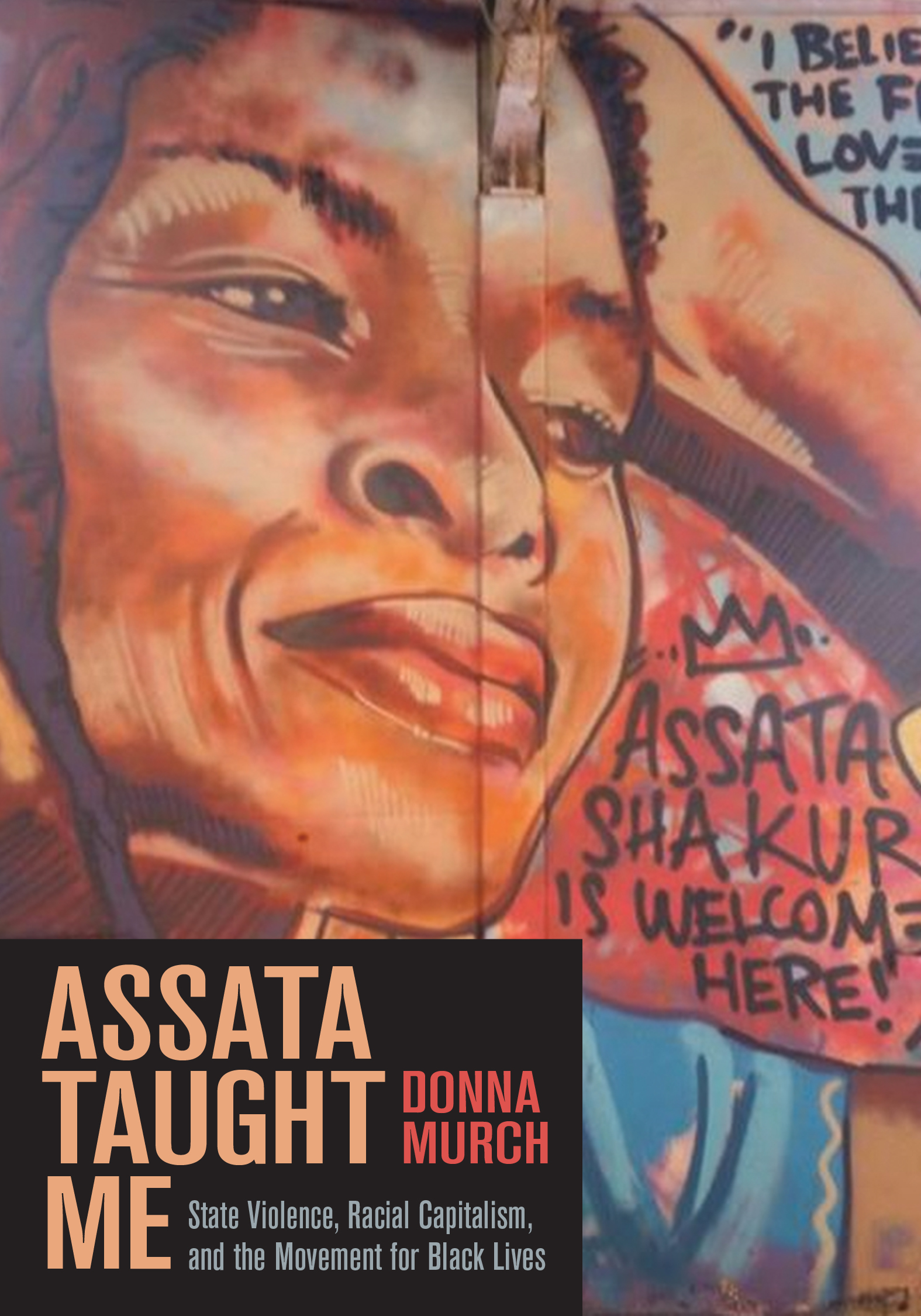 ASSATA TAUGHT ME
State Violence, Mass Incarceration, and the Movement for Black Lives
Donna Murch
Haymarket Books (March 8, 2021)
Trade Paper • ISBN-13: 9781642595161 • US $18.95 • 5 1/2 in x 8 1/2 in • 224 pgs.
ABOUT THE BOOK:
Assata Taught Me offers a fresh historical perspective on the fifty years since the founding of the Black Panther Party, in which the world's largest police state has emerged.
Black Panther and Cuban exile Assata Shakur has inspired generations of radical protest, including the contemporary movement for Black lives. Drawing its title from one of America's foremost revolutionaries, this collection of thought-provoking essays by award-winning Panther scholar Donna Murch explores how social protest is challenging our current system of state violence and mass incarceration.
Murch exposes the devastating consequences of overlapping punishment campaigns against gangs, drugs, and crime on poor and working-class populations of color. Through largely hidden channels, these punishment campaigns generate enormous revenues for the state. Under such conditions, organized resistance to the advancing tide of state violence and mass incarceration has proven difficult.This timely and urgent book shows how a youth-led political movement has emerged in recent years to challenge the bipartisan consensus on punishment and looks to the future through a redistributive, queer, and feminist lens. Murch frames the contemporary movement in relation to earlier struggles for Black Liberation, while excavating the origins of mass incarceration and the political economy that drives it.
PRAISE:
"Assata Taught Me is a masterclass on the Black Radical Tradition. From the extractive structures of the world's largest police state to the revolutionary resistance, Donna Murch meticulously traces the history and contours of the current Movement for Black Lives. This is a seminal book like its namesake, Assata Shakur."Ibram X. Kendi, author, How to Be an Antiracist"Donna Murch is one of our most brilliant thinkers and a committed scholar activist. In Assata Taught Me, she offers powerful insights about the Black freedom movement and Black radical politics, past and present. I always learn and am inspired when I read her work. This book is essential reading for historians, organizers and people interested in making sense of this historical moment, and more importantly, in changing the world."

Barbara Ransby, author of Ella Baker and the Black Freedom Movement"To feel anything other than fatalistic about the moment in which we currently live, and to see the future as anything less than perilous, might seem utterly foolish—unless, that is, one has sat with Donna Murch's latest. With her rigorous rescuing, remembering, and reckoning with past histories of trauma, struggle, and resistance that current pundits and progressives alike too easily forget, as well as her searing reminders of present-day possibilities for a better world, Murch, like Assata Shakur before her, teaches us much we desperately need to learn in this time of momentous upheaval."

Heather Ann Thompson, author of Blood in the Water: The Attica Prison Uprising of 1971 of 1971 and its Legacy
"Donna Murch is one of the sharpest, most incisive, and elegant writers on racism, radicalism, and struggle today. In this collection of essays assessing the most current contours of the contemporary movement against racism in the United States, Murch combines a historian's rigor with a cultural critic's insights and the passionate expression of someone deeply engaged with the politics, debates, and key questions confronting activists and organizers today. This is a smart and sophisticated book that should be read and studied by everyone in search of answers to the profound crises that continue to confront this country."Keeanga-Yamahtta Taylor, author of From #BlackLivesMatter to Black Liberation""Assata Shakur was a prisoner of war. Donna Murch understands this profoundly, which is why she wrote a book about a half century of overlapping domestic wars in the United States. Each essay forcefully drives home the point that to be Black in America—to be Black in the world—is to live in a state of war under a warfare state. She writes history with fire, burning through decades of liberal obfuscation to reveal a world, not of 'activists' and 'interest groups,' but of combatants, collateral damage, refugees, and POWs. Assata HAS taught all of us, and her key lessons are found in these pages."Robin D. G. Kelley, author of Freedom Dreams: The Black Radical Imagination"In this essential collection of essays, Donna Murch sheds new light on the relationship between the Movement for Black Lives and the earlier practices and ideals of Black Power. She shows how the emergence of the largest police state with its spectacular and mundane violence in the intervening years has shaped the demands, organizations, and futures etched under the banner of Black Lives Matter. Written with verve and clarity, this is a book for our times."Adom Getachew, author of Worldmaking after Empire: The Rise and Fall of Self-Determination"Donna Murch is one of the most astute, fearless, and brilliant US historians working today. These essays are necessary to understand who we are now and how we got here."

Jason Stanley, author of How Fascism Works
ABOUT THE AUTHOR:
Donna Murch is associate professor of history at Rutgers University. Her newest book, Assata Taught Me: State Violence, Racial Capitalism, and the Movement for Black Lives, was released in March 2022 from Haymarket Books. In October 2010, Murch published the award-winning monograph Living for the City: Migration, Education and the Rise of the Black Panther Party in Oakland, California with the University of North Carolina Press, which won the Phillis Wheatley prize in December 2011. Professor Murch is currently completing a new trade press book entitled Crack in Los Angeles: Policing the Crisis and the War on Drugs. She has written for the Sunday Washington Post, Guardian, New Republic, Nation, Boston Review, Jacobin, Black Scholar, Souls, the Journal of Urban History, Journal of American History, Perspectives and New Politics and appeared on BBC, CNN, Democracy Now and in Stanley Nelson's documentary, Black Panthers: Vanguard of the Revolution and Sam Pollard's MLK/FBI.
RIGHTS INFORMATION:
Audio book:
Please contact subagents for the following languages and territories:
For all other languages/territories, please contact Roam Agency.