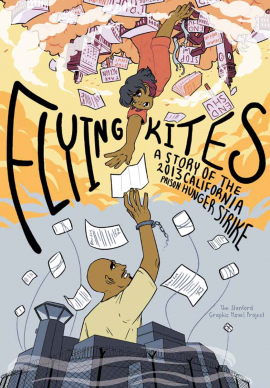 FLYING KITES:
A Story of the 2013 California Prison Hunger Strike
Stanford Graphic Novel Project
Haymarket Books (June 8, 2021)
Trade paper • ISBN-13: 9781642595130 • US $17.95 • 6 in x 9 in • 144 pgs.
ABOUT THE BOOK:
A beautifully illustrated graphic novel about resilience, forgiveness, hope, and what it means to find your own voice behind prison walls
After guards find a book in his cell containing the pencilled name of a suspected gang member, Rodrigo Santiago is "validated" for gang affiliation and sent to indefinite solitary confinement in the Pelican Bay State Prison Secure Housing Unit, or SHU.

Life in the SHU is monotonous, isolating, and enraging. It literally drives prisoners insane. Rodrigo resolves to survive. He struggles to maintain a connection to his daughter, Luz, through letters that are his only happiness. As Luz grows up, though, she presses Rodrigo for more insight into his daily life. She wants the real him. Willing to give her anything she asks, but finding himself at a loss for words, Rodrigo makes a mistake that threatens to destroy the trust between them. Meanwhile a bold, state-wide hunger strike in California prisons gathers force. Gang enmities are set aside. Improbable alliances are forged. Activists and prisoner families organize on the outside. Finding herself increasingly politicized over this issue, Luz fears she can never help her dad. Rodrigo fears he's lost his daughter forever. On opposite sides of the prison walls they fight to end the torture of endless isolation.

Based on the events of the historic 2013 California prison hunger strike, Flying Kites is a story about resilience, forgiveness, hope, and what it means to find your own voice.
PRAISE:
"One of the best pieces of graphic storytelling I have read in a while, on top of being about a topic close to my heart. Truly, it was brilliant."

Thi Bui, author of The Best We Could Do
RIGHTS INFORMATION:
Please contact subagents for the following languages and territories:
For all other languages/territories, please contact Roam Agency.