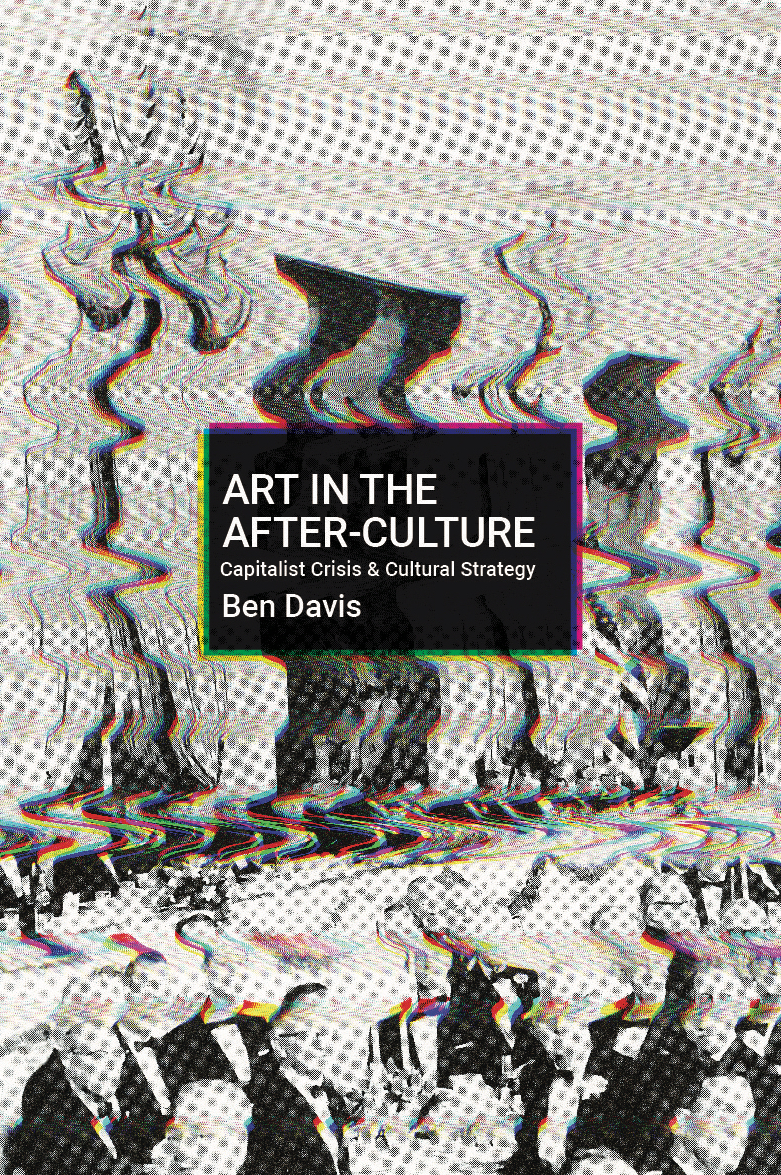 ART IN THE AFTER-CULTURE
Capitalist Crisis and Cultural Strategy
Ben Davis
Haymarket Books (February 8, 2022)
Trade paper • ISBN-13: 9781642594621 • US $19.95 • 6 in x 9 in • 180 pgs.
ABOUT THE BOOK:
It is a scary and disorienting time for art, as it is a scary and disorienting time in general. Aesthetic experience is both overshadowed by the spectacle of current events and pressed into new connection with them. The self-image of art as a social good is collapsing under the weight of capitalism's dysfunction.
In these incisive essays, art critic Ben Davis makes sense of our extreme present as an emerging "after-culture"—a culture whose forms and functions are being radically reshaped by cataclysmic events. In the face of catastrophe, he holds out hope that reckoning with the new realities of art, technology, activism, and the media, can help us weather the super-storms of the future.
PRAISE:
"When future art historians seek perspectives on our era of billion-dollar auctions, carbon-footprint art fairs, and market-driven diversity, this collection of essays by the American critic Ben Davis is a text they'll consult. An alert data hoarder, a shrewd analyst, and a propulsive stylist, Davis views the hot-air balloon called the art world in a broad political context. He writes with the coolness of a sociologist, the passion of someone with a horse in the race, and the smarts to avoid both cheerleading and snootiness."
New York Times, Best Art Books of 2022
"Art in the After-Culture: Capitalist Crisis and Cultural Strategy is worth it for the chillingly ingenious prologue alone. This book is for everyone who cares about art and anyone who is concerned with culture in the digital age. Contemporary art might seem like a bewildering indulgence for the rich, but, as explored in Davis's glistening, passionate yet coolly precise prose, its power to shape our perceptions and our politics extends far beyond the art-fair cocoon. In a world of AI-enabled "prosumers", "the technological society that has made plausible the promise that everyone can be an artist" has become "a new instrument of alienation" via which the aesthetic and hence the real has come to be defined by an ever more powerful technocracy. Brilliant, revelatory, urgent."

Times Literary Supplement Best Books of the Year 2022
"Ben Davis understands that you can't truly understand art without an analysis of the economic system that created the artist. He understands that movements create change and that artists only create change if they are involved with that movement in other ways than being the expert observer. Here's to art criticism with an axe to grind."

Boots Riley
"Ben Davis is the only art critic I read. These erudite and entertaining essays take the reader on a mind-bending tour through our fragmented, confounding, and commodified cultural landscape, providing welcome historical and political context to many of the high-profile controversies and existential challenges that define our age. Ever attuned to questions of power and profit, Davis never yields to cynicism or forecloses the possibility of creativity's role in our collective liberation. This kaleidoscopic collection will help you see and comprehend the world anew—which is, in my book, what good art should do."

Astra Taylor
"Amid the cultural sandstorm of infinite memes and ravenous engagement algorithms, rare sneakers and mythic NFTs, made-for-Instagram immersive installations and the relentless firehose of TikTok clips, Ben Davis asks a simple question "What about Art?" What follows is an indispensable series of provocations on the future of culture, politics, and society that speak to some of the most urgent issues facing societies where culture, capitalism, and identity have become nearly indistinguishable from one another. Following in the footsteps of theorists like John Berger, Stuart Hall, and Lucy Lippard, Ben Davis is an essential guide to the politics of culture in the 21st Century."

Trevor Paglen
Praise for 9.5 Theses on Art and Class:

"Just when it seemed that contemporary art writing and the subject of real-life politics had permanently parted ways, along comes the young New York critic Ben Davis with a book that brings them together. No cheerleading here, no swoony prosody, no easy kiss-offs; just smart, ardent, illusion-puncturing observation and analysis on the intersection of art, commerce, and the elephant in the art-fair VIP lounge class. None of this would matter much if he didn 't tell us why we should care, but he does. Under all his excoriations lies a faith in art as an agent of transformation toward a post-neoliberal, post-greed society that could be, should be."

The New York Times

"Like watching an expert pole-vaulter ply his craft, witnessing this critic reach for first principles in this day and age constitutes its own reward… On 9.5 Theses, the verdict is crystal: This is one helluva pamphlet."

The Village Voice

"…a riveting manifesto…"

New York Magazine

"By reminding artists where they really stand, Davis hopes, in the end, to put them on firmer footing, both politically and creatively."

BOOKFORUM

"Davis is an intellectually clearheaded critic dishing out some tough truths, often backed up with statistics, to the rarefied 'art world.' . . . The book reframes the production and sale of art in tough terms, which is why the collection 's centerpiece, 9.5 Theses on Art and Class, should be required reading for art professionals. In this first book, Davis proves himself a critic to be reckoned with."

Publishers Weekly

"9.5 Theses on Art and Class is the first book I 've read by an art critic that spoke to the world I lived and worked in as an artist. Incisive, irreverent, and intellectually fearless. A truth-bomb of a book."

Molly Crabapple, artist

ABOUT THE AUTHOR:
Ben Davis is author of 9.5 Theses on Art and Class, and essays for The Baffler, Jacobin, the New York Times, and elsewhere. A 2019 survey of art writers ranked him as the fifth most influential critic in the United States.
RIGHTS INFORMATION:
Please contact subagents for the following languages and territories:
For all other languages/territories, please contact Roam Agency.