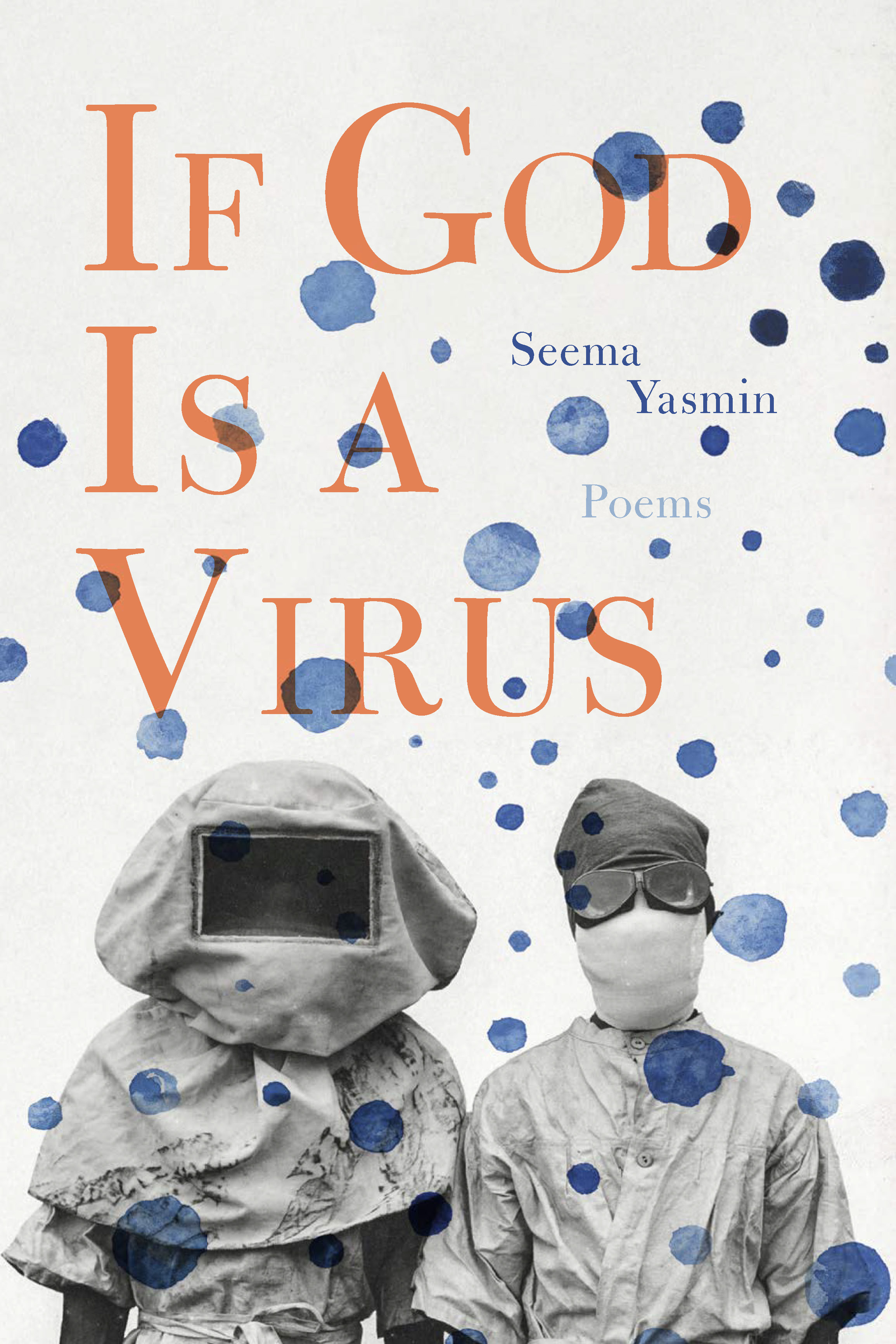 IF GOD IS A VIRUS
Seema Yasmin
Haymarket Books (April 6, 2021)
Hardcover • ISBN-13: 9781642594591 • US $16.00 • 6 in x 9 in • 80 pgs.
ABOUT THE BOOK:
Merging documentary poetry from the epicenter of an epidemic with the story of viruses in the evolution of humanity, If God Is a Virus gives voice to the infected and the virus.

Based on original reporting from West Africa and the United States, and the poet's experiences as a doctor and journalist, If God Is a Virus charts the course of the largest and deadliest Ebola epidemic in history, telling the stories of Ebola survivors, outbreak responders, journalists, and the virus itself. Documentary poems explore which human lives are valued, how editorial decisions are weighed, what role the aid-industrial complex plays in crises, and how medical myths and rumor can travel faster than microbes.
These poems also give voice to the virus. Eight percent of the human genome is inherited from viruses and the human placenta would not exist without a gene descended from a virus. If God Is a Virus reimagines viruses as givers of life and even authors of a viral- human self- help book.
PRAISE:
"Yasmin, a medical doctor who investigated outbreaks for the Epidemic Intelligence Service from the CDC and was a finalist for the Pulitzer Prize, brings considerable experience and a poet's vision and sense to her depiction of Ebola's spread through Liberia. To read this work during the coronavirus pandemic is to recognize Yasmin's prescience, and her ability to unpack how disease intersects with prejudice, race, myth, and poverty."

The Millions
"If God is a Virus proves that poetry and public health together make and contain medical language, which makes the language of an epidemic more visible, more veracious. What breaks through is a voice of interiority telling us what's not told about our bodies and what it means to function."

Janice Lobo Sapigao, poet laureate, Santa Clara County, author of like a solid to a shadow
"In a time of heartbreak and devastation due to the world pandemic, Seema Yasmin's brilliant If God Is a Virus takes a timely and critical look at disease and its sociopolitical contexts, including multi various forms of domination and hubris: colonization, White supremacy, patriarchy, capitalism. This is a necessary book for our times. Read it and be changed."

Cathy Linh Che, author of Split, executive director, Kundiman
"Seema Yasmin's fantastic hybrid poetry collection overthrows the dry mindlessness of scientific halls, their power points and false Gods in the face of racism and global domination. God is a virus, and she teaches us to see through data while teaching us to love."

Fady Joudah, author of Tethered to Stars
"One always wants a poem to have such high stakes, wants a book to feel inevitable, that it couldn't have been written and that no one else but the poet could have written it, so unique to an individual experience it is. Well, this is such a book. And only Seema Yasmin could have written it."

Kazim Ali, author of The Voice of Sheila Chandra
"In her hands, a sole headline in Scientific American becomes a poem, as does the Hippocratic oath, the Broca's region. Every journalist should read this book, every doctor, every patient. Gird your heart, though, she's on a mission to break it with her tongue."

Lulu Miller, co-host of Radiolab and author of Why Fish Don't Exist
"In If God Is a Virus, Seema Yasmin approaches describing viruses with an unusual combination of humility and confidence for such a nearly impossible task. She achieves what journalistic and scientific writing often fails to do: to sketch viruses with a sense of wonder. But Dr. Yasmin asks and poetically answers another question: if God is a virus, perhaps we must stop thinking of our relationship with viruses as "us" and "them," and understand that we are viruses, and they are us?

Steven W. Thrasher, PhD, professor and author of The Viral Underclass: How Racism, Ableism and Capitalism Plague Humans on the Margins
ABOUT THE AUTHOR:
Dr. Seema Yasmin is an Emmy Award- winning journalist, professor, medical doctor, and author of three books, including Muslim Women Are Everything. She teaches science journalism and global health storytelling at Stanford University, and is the director of the Stanford Health Communications Initiative. Her poetry has appeared in Foundry, The Literary Review, Ruminate, and Bateau, and in the anthology The BreakBeat Poets Vol. 4: Halal If You Hear Me. If God Is a Virus is her first book- length collection of poems
RIGHTS INFORMATION:
Please contact subagents for the following languages and territories:
For all other languages/territories, please contact Roam Agency.