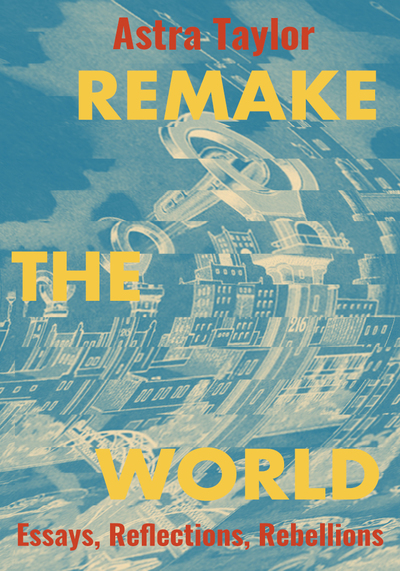 REMAKE THE WORLD
Essays, Reflections, Rebellions
Astra Taylor
Haymarket Books (May 4, 2021)
Trade paper • ISBN-13: 9781642594546 • US $17.95 • 5.5 in x 7 in • 200 pgs.
ABOUT THE BOOK:
An incisive collection of essays from an author who is consistently ahead of the curve.
Over the last decade, author and activist Astra Taylor has helped shift the national conversation on topics including technology, inequality, indebtedness, and democracy. The essays collected here reveal the range and depth of her thinking, with Taylor tackling the rising popularity of socialism, the problem of automation, the politics of listening, the possibility of rights for the natural and non-human world, the future of the university, the temporal challenge of climate catastrophe, and more. Addressing some of the most pressing social problems of our day, Taylor invites us imagine how things could be different while never losing sight of the strategic question of how change actually happens.

Curious and searching, these historically informed and hopeful essays are as engaging as they are challenging and as urgent as they are timeless. Taylor's unique philosophical style has a political edge that speaks directly to the growing conviction that a radical transformation of our economy and society is required.
PRAISE:
"Astra Taylor is a rare public intellectual, utterly committed to asking humanity's most profound questions yet entirely devoid of pretensions and compulsively readable."

Naomi Klein
"One of the most incisive thinkers on participatory politics today."

Molly Crabapple
Praise for Democracy May Not Exist, but We'll Miss It When It's Gone:
"Astra Taylor will change how you think about democracy… She unpacks it, wrestles with it, with the question of who gets included and how…she excavates the invisible assumptions that have been bred into our idea of democracy… Taylor's work is alive to paradoxes, ambiguities, and hard questions that don't offer easy answers."

Ezra Klein, host, The Ezra Klein Show
"We live in an age that demands that we rethink democracy from the roots―and teach ourselves to think again as citizens. Smart and engaging, Astra Taylor's Democracy May Not Exist makes a formidable contribution to meeting those pressing generational challenges."

Danielle Allen, author of Our Declaration: A Reading of the Declaration of Independence in Defense of Equality
"What a lot of trouble democracy has been! Over the years it's been hijacked by its enemies, its reforms have backfired, it has evaded challenges, it has refused to heed its prophets. But as Astra Taylor reminds us in this timely and sagacious book, there is no substitute. The fate of the world depends on it."

Thomas Frank, author of Listen, Liberal
"What is this thing called Democracy? Google the question and you will exceed one million hits. But for an honest and illuminating answer, read this book―every single word. Searching, lucid, visionary, Astra Taylor takes a deep oceanic dive into the history, meaning, uses, and promise of democracy―moving from Plato's Greece to Syriza's Greece, from the Global South to post-Communist East, from slavery to fascism, liberalism to neoliberalism, Occupy to the Commons. She knows what most political scientists don't: that democracy is a promise unfulfilled, and in our strivings to achieve it nothing is guaranteed. But we can't live without it."

Robin D. G. Kelley, author of Freedom Dreams: The Black Radical Imagination
"Moths never reach the moon, but they navigate by it; we humans may never reach democracy, Astra Taylor tells us, but we navigate by its ideals. This is a beautiful, revelatory book about ideas and how they matter in everyday life, by the only writer who could herself navigate so gracefully among factory workers, contemporary economics, and ancient Athenian history."

Rebecca Solnit, author of Men Explain Things to Me
ABOUT THE AUTHOR:
Astra Taylor is a documentary filmmaker, writer, and political organizer. She is the director, most recently, of What Is Democracy? and the author of Democracy May Not Exist, but We'll Miss It When It's Gone and the American Book Award winning The People's Platform: Taking Back Power and Culture in the Digital Age. She is co-founder of the Debt Collective, a union for debtors, and contributed the foreword to the group's new book, Can't Pay, Won't Pay: The Case for Economic Disobedience and Debt Abolition.
RIGHTS INFORMATION:
Please contact subagents for the following languages and territories:
For all other languages/territories, please contact Roam Agency.