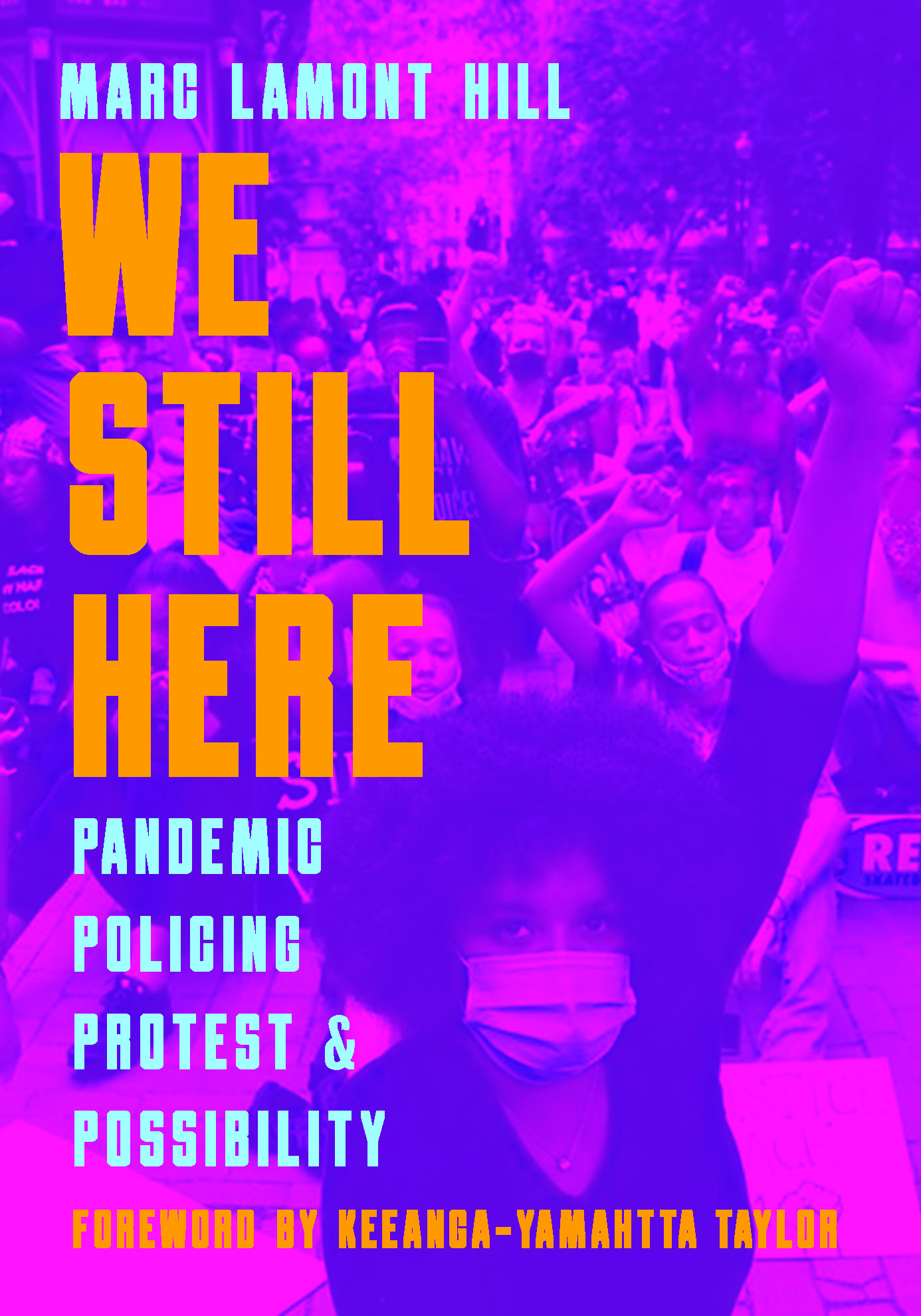 WE STILL HERE:
Pandemic, Policing, Protest, and Possibility
Marc Lamont Hill
Edited by Frank Barat
Foreword by Keeanga-Yamahtta Taylor
Haymarket Books (November 10, 2020)
Trade paper • ISBN-13: 9781642594539 • US $12.95 • 5.25 in x 7.5 in • 128 pgs.
ABOUT THE BOOK:
"In the United States, being poor and Black makes you more likely to get sick. Being poor, Black, and sick makes you more likely to die. Your proximity to death makes you disposable."
The uprising of 2020 marked a new phase in the unfolding Movement for Black Lives. The brutal killings of Ahmaud Arbery, George Floyd, and Breonna Taylor, and countless other injustices large and small, were the match that lit the spark of the largest protest movement in US history, a historic uprising against racism and the politics of disposability that the Covid-19 pandemic lays bare.
In the midst of loss and death and suffering, our charge is to figure out what freedom really means—and how we take steps to get there.
In this urgent and incisive collection of new interviews bookended by two new essays, Marc Lamont Hill critically examines the "pre-existing conditions" that have led us to this moment of crisis and upheaval, guiding us through both the perils and possibilities, and helping us imagine an abolitionist future.
PRAISE:
"Marc Lamont Hill offers critical insights into the whirlwind pandemic and racism have reaped. We Still Here appears at a time of intense study and debate about how we got here—and, most importantly, how we get out. Politics, history, strategy, and tactics are all that our side has. Read this book, and we'll see you in the streets."

Keeanga-Yamahtta Taylor, author of From #BlackLivesMatter to Black Liberation
"Marc Lamont Hill doesn't shy away from the difficult questions, and he is willing to tell the hard truth. In this powerful book, his insight and commitment to justice leap from every page. Read it, be informed, and feel fortified in these trying times. Hill models what Henry James called 'perception at the pitch of passion.'"

Eddie S. Glaude, Jr., author of Begin Again
"We Still Here is a brilliant, timely, and inspirational book. Marc Lamont Hill gives a critical intersectional analysis of what got us to the present moment, but also paints a beautiful picture of possibilities for the future. This is the perfect text for students, organizers, activists, and leaders."

Tarana Burke, founder of Me Too
ABOUT THE AUTHORS:
Marc Lamont Hill is the Steve Charles Professor of Media, Cities, and Solutions at Temple University. He is the author of five books, including Beats, Rhymes, and Classroom Life, The Classroom and the Cell (with Mumia Abu-Jamal), and the New York Times bestseller Nobody: Casualties of America's War on the Vulnerable, From Ferguson to Flint and Beyond. He is the host of BET News and the Coffee & Books podcast. Hill is the Owner of Uncle Bobbie's Coffee & Books in Philadelphia.
Frank Barat was the coordinator of the Russell Tribunal on Palestine. His books include Gaza in Crisis, On Palestine, Freedom Is a Constant Struggle, and We Still Here.
Keeanga-Yamahtta Taylor writes and speaks on Black politics, social movements, and racial inequality in the United States. She is author of From #BlackLivesMatter to Black Liberation, which won the Lannan Cultural Freedom Award for an Especially Notable Book in 2016. She is also editor of How We Get Free: Black Feminism and the Combahee River Collective, which won the Lambda Literary Award for LGBQT nonfiction in 2018. Her third book, Race for Profit: How Banks and the Real Estate Industry Undermined Black Homeownership, was a finalist for a National Book Award for nonfiction, and a finalist for the Pulitzer Prize for History. Taylor is a Contributing Opinion Writer for the New York Times and a columnist at The New Yorker. Her writing has appeared in the Los Angeles Times, Boston Review, Paris Review, Guardian, The Nation, Jacobin, and Souls: A Critical Journal of Black Politics, Culture, and Society, among others.


RIGHTS INFORMATION:
Please contact subagents for the following languages and territories:
For all other languages/territories, please contact Roam Agency.