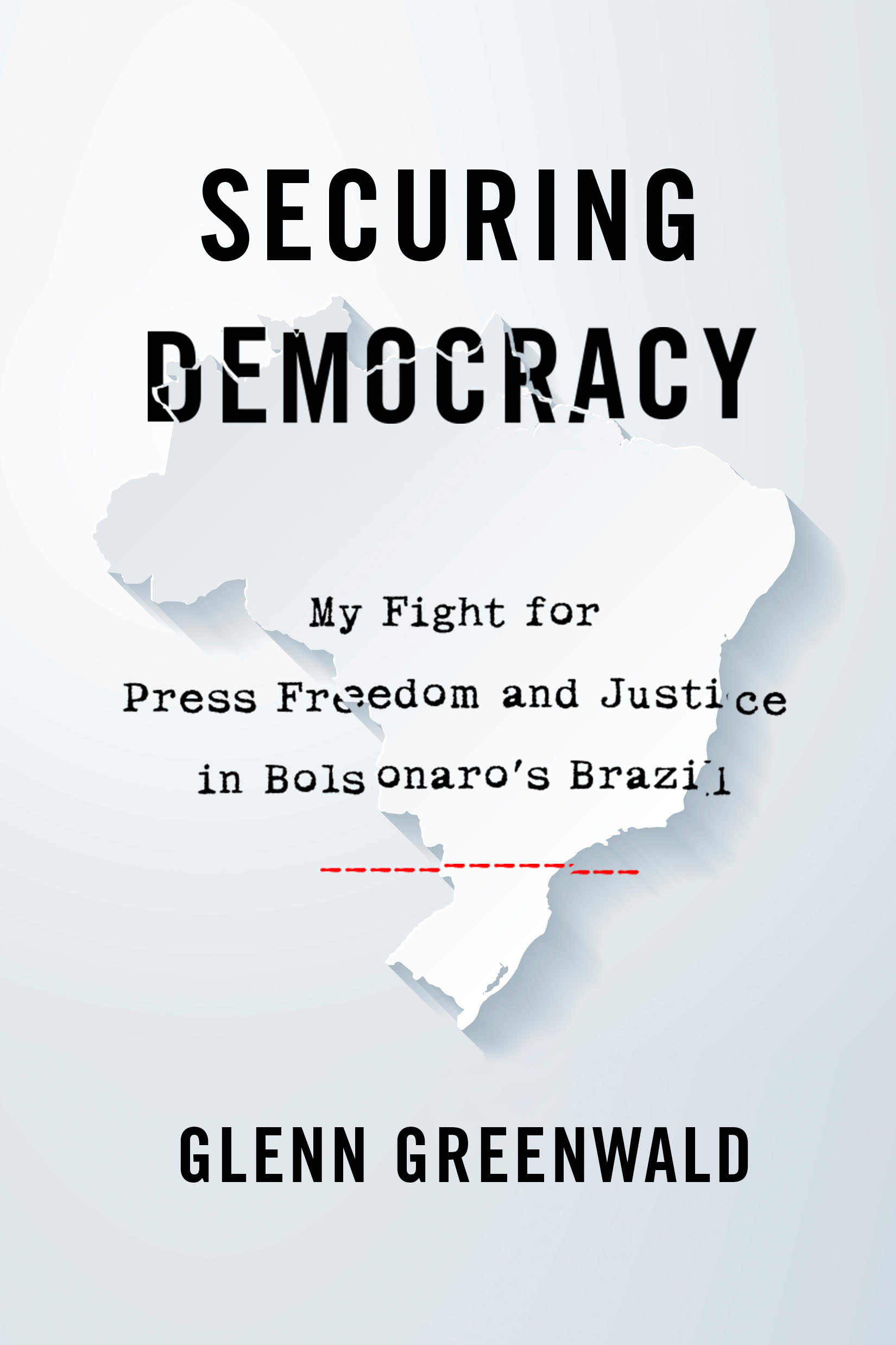 SECURING DEMOCRACY
My Battle to Expose Corruption in Bolsonaro's Brazil
Glenn Greenwald
Haymarket Books (April 6, 2021)
Hardcover • ISBN-13: 9781642594508 • US $27.95 • 6 in x 9 in • 280 pgs.
ABOUT THE BOOK:
In 2019, award-winning journalist Glenn Greenwald writes in this gripping new book, "a series of events commenced that once again placed me at the heart of a sustained and explosive journalistic controversy."

New reporting by Greenwald and his team of Brazilian journalists brought to light stunning information about grave corruption, deceit, and wrongdoing by the most powerful political actors in Brazil, his home since 2005.

These stories, based on a massive trove of previously undisclosed telephone calls, audio, and text shared by an anonymous source, came to light only months after the January 2019 inauguration of Brazil's far-right president, Jair Bolsonaro, an ally of President Trump.

The revelations "had an explosive impact on Brazilian politics" (The Guardian) and prompted serious rancor, including direct attacks by President Bolsonaro himself, and ultimately an attempt by the government to criminally prosecute Greenwald for his reporting. "A wave of death threats—in a country where political violence is commonplace—have poured in, preventing me from ever leaving my house for any reason without armed guards and an armored vehicle," Greenwald writes.

Securing Democracy takes readers on a fascinating ride through Brazilian politics as Greenwald, his husband, the left-wing Congressman David Miranda, and a powerful opposition movement courageously challenge political corruption, homophobia, and tyranny.

While coming at serious personal costs for himself and his family, Greenwald writes, "I have no doubt at all that the revelations we were able to bring to the public strengthened Brazilian democracy in an enduring and fundamental way. I believe we righted wrongs, reversed injustices, and exposed grave corruption."

The story, he concludes, "highlights the power of transparency and the reason why a free press remains the essential linchpin for securing democracy."
PRAISE:
"A courageous advocate for journalistic and democratic integrity strikes again."

Kirkus
"The book is a page-turner–not a sensationalized drama, but a detailed telling of a story about the struggle for press freedoms and other rights against a crypto-fascist regime and its supporters…The book will stand beyond the moment. The issues Greenwald raises–from press freedom to individual liberty to the tactics of the extreme right–are concerns that marked the last century, shape the current one and will outlast many of us…Securing Democracy ought to be read not only by people concerned about the future of Brazil, but those concerned about the future of the media and democracy throughout the world. While the story is about one country, the issues and themes it covers transcend borders – and will for a very long time, especially in an era of rising surveillance techniques and capacities."
Globe and Mail (Canada)
"Every whistleblower is different, but yet all are united by the common purpose of correcting an injustice. But when the system is broken, who can you trust? This is the incredible story of a journalist for whom lightning struck twice: Glenn Greenwald, who won a Pulitzer for his work with me to expose a top secret system of global mass surveillance, is contacted by a mysterious new whistleblower—and what he learns will shake a nation to its core."

Edward Snowden
"Glenn Greenwald has provided an extraordinary contribution to democracy. Together with the team at The Intercept, he exposed the secret mechanism of an operation that, under the pretext of fighting corruption, corrupted part of the judiciary, dismantled the national construction industry and the oil and gas chain, and paved the way for the arrival of the extreme right to power. With his journalistic exposés about Lava Jato, the misdeeds of Sergio Moro, Deltan Dallagnol, and their accomplices finally came to light."

Luiz Inácio Lula da Silva, former president of Brazil
"Glenn Greenwald has helped secure Brazilian democracy by revealing the truth about our country's recent history, which makes this book indispensable."

Dilma Rousseff, former president of Brazil
"Perhaps the most accomplished journalist of his time."

Dan Froomkin
ABOUT THE AUTHOR:
Glenn Greenwald, a former constitutional lawyer and co-founder of The Intercept and The Intercept Brasil, has earned numerous awards for his commentary and investigative journalism, including the 2013 Pulitzer Prize for Public Service, the George Polk Award for national security reporting and Brazil's Vladimir Herzog Human Rights Award in 2020. His 2014 book No Place to Hide: Edward Snowden, the NSA, and the US Security State (Metropolitan Books) was a New York Times bestseller. He currently publishes his journalism and commentary at Substack and is a columnist for the Brazilian journal Carta Capital.
RIGHTS INFORMATION:
Audio book:
Please contact subagents for the following languages and territories:
For all other languages/territories, please contact Roam Agency.