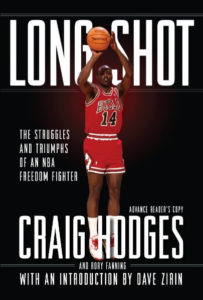 LONG SHOT
The Struggles and Triumphs of an NBA Freedom Fighter
By Craig Hodges and Rory Fanning
Foreword by Dave Zirin
Haymarket Books (August 11, 2020)
Paperback • ISBN-13: 9781642593778 • US $18.95 • 220 pgs.
READ: Craig Hodges: 'Jordan didn't speak out because he didn't know what to say'
WATCH an NBA on TNT broadcast on Craig Hodges, featuring interviews with Dr. Cornel West, Van Jones, Charles Barkley, and Shaquille O'Neal, as part of their Martin Luther King Jr. Day (2017).
ABOUT THE BOOK:
Black-balled NBA champion explores the challenges and rewards of using a celebrity platform to stand up against racism and exploitation.
As a member of the 1992 world-champion Chicago Bulls, a dashiki-clad Hodges delivered a handwritten letter to President George H. W. Bush demanding that he do more to address racism and economic inequality. Hodges was also a vocal union activist, initiated a boycott against Nike, and spoke out forcefully against police brutality in the wake of the Rodney King beating.
But his outspokenness cost him dearly. In the prime of his career, after ten NBA seasons, Hodges was blackballed from the NBA for using his platform as a professional athlete to stand up for justice.
In this powerful, passionate, and captivating memoir, Hodges shares the stories—including encounters with Nelson Mandela, Coretta Scott King, Jim Brown, R. Kelly, Michael Jordan, and others—from his lifelong fight for equality for African Americans.
PRAISE:
"Long Shot tracks Hodges's political awakening, from black-studies courses in college to his early run-ins with Donald Sterling, the notoriously racist owner of the San Diego (and later Los Angeles) Clippers. The trajectory is clear, and, despite the occasionally engrossing glimpse into the typical N.B.A. player's home life—Hodges's tumult involved R. Kelly—almost every detail is shared as context for his more radical turn in the late eighties and nineties."
The New Yorker
"Hodges has told his compelling life story with fiery passion, looping around a cast of characters stretching from Jordan, Magic Johnson and Phil Jackson back to Muhammad Ali, Arthur Ashe and Kareem Abdul-Jabbar, before returning to the present."
Then Guardian
"Craig has written a very in depth portrait of his struggles and triumphs in the NBA and beyond."
Kareem Abdul-Jabbar
"If people who think athletes speaking out began with Colin Kaepernick read this memoir of Chicago Bulls star and activist Craig Hodges, they'll learn that they were wrong."
Boston Globe, "Best Books of 2017"
"A skillfully told, affecting memoir of sports and social activism."
Kirkus Reviews
"Of all of the exiled, there is none more important in my mind than Craig Hodges. His story needs to be told and retold. Not only because it comprises a remarkable hidden history of what it was like to be a political athlete in an era when Nike had toppled Muhammad Ali as the new King of the World and undisputed champ. It matters because we now–finally–have a new generation of athletes trying to figure out how to leverage their star power to say something other than "Buy this flavored drink or swoosh-adorned crap. . . .Read this book so a new generation of NBA players and fans will know his true story. "
Dave Zirin, from the foreword
"Long Shot is a beautifully written, brutally honest book. If you loved the Michael Jordan-era Chicago Bulls, if you love black history, or if you are fascinated by the politics of sports, I highly recommend this book. Simply put: Craig Hodges' life is incredible and Long Shot is invaluable."
AETHLON: The Journal of Sport Literature
PRAISE FOR THE AUTHORS:
Praise for Worth Fighting For (Rory Fanning):
"[Fanning] shows us the imperial and harmful objective of U.S. foreign policy. He shows us the courage to walk away from it, and he shows us a path to a saner society."
Chicago Tribune
"More than anything, Worth Fighting For is about human beings' capacity for change — the way that Pat Tillman's story changes the people who hear it, the way that those people and their experiences transform the author as he gets closer to the Pacific, the ways that this book will impact the people who read it."
Socialist Worker
ABOUT THE AUTHORS:
Craig Hodges played in the NBA for 10 seasons, in which he led the league in three-point shooting percentage three times. He won two NBA championships with the Chicago Bulls in 1991 and 1992, and is a three-time Three Point Contest champion at All-Star weekend.
Rory Fanning walked across the United States for the Pat Tillman Foundation in 2008–2009, following two deployments to Afghanistan with the 2nd Army Ranger Battalion. He is the author of Worth Fighting For: An Army Ranger's Journey Out of the Military and Across America. His writing has appeared in The Guardian, The Nation, Mother Jones, Salon, TomDispatch, and others.
One of "50 Visionaries Who Are Changing Our World" (Utne), Dave Zirin is a columnist for The Nation, SLAM, and SI.com. He is host of Sirius XM's popular weekly show Edge of Sports Radio and a regular guest on ESPN's Outside the Lines, Democracy Now!, and on MSNBC. His previous books include The John Carlos Story, Brazil's Dance with the Devil, and What's My Name Fool? He lives near Washington, D.C.
RIGHTS INFORMATION:
Languages & Territories Where Rights Have Been Sold:
Please contact subagents for the following languages and territories:
For all other languages/territories, please contact Roam Agency.