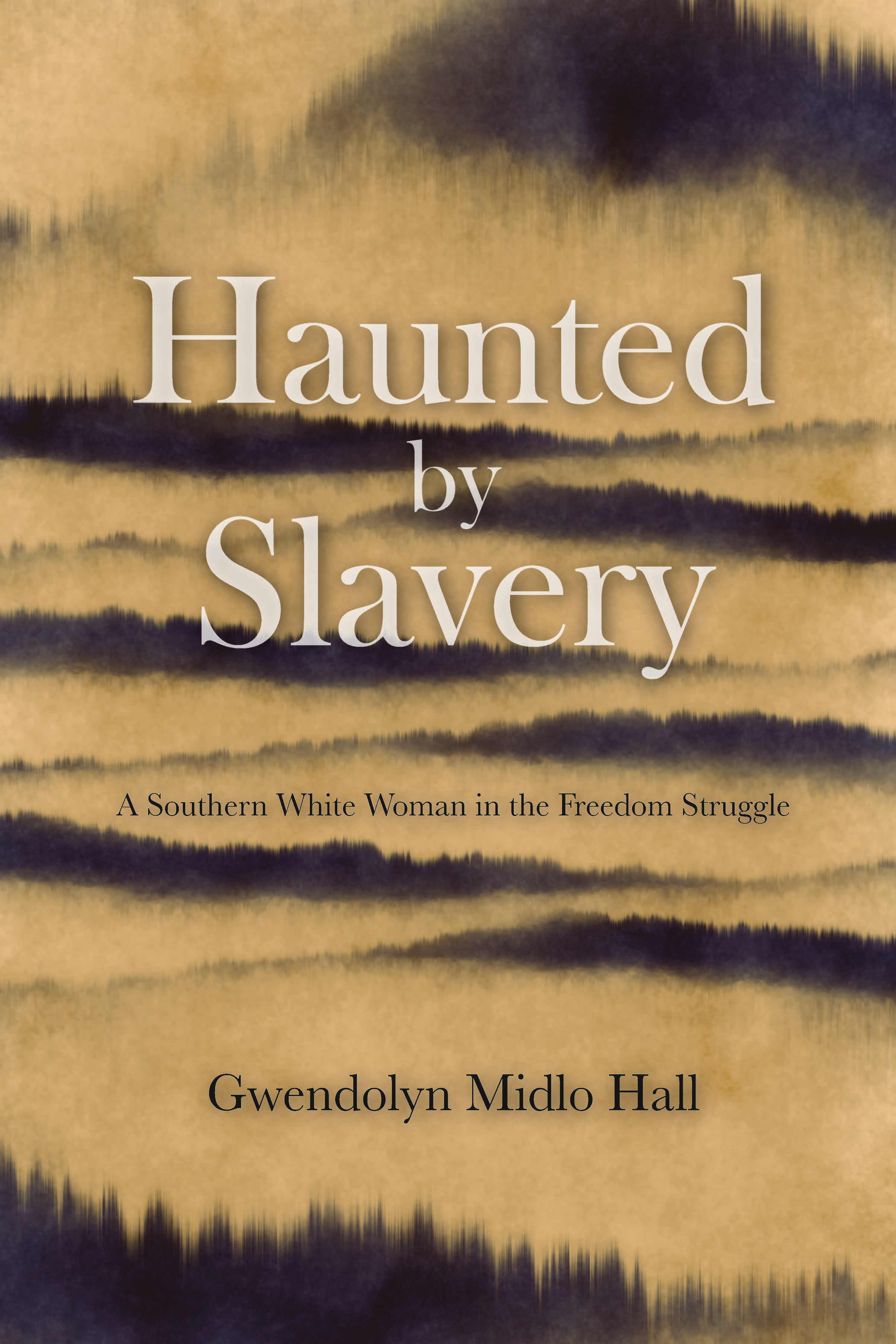 HAUNTED BY SLAVERY
A Southern White Woman in the Freedom Struggle
Gwendolyn Midlo Hall
Haymarket Books (March, 2021)
Trade paper • ISBN-13: 9781642592740 • US $21.95 • 5.5 in x 8.5 in • 250 pgs.
ABOUT THE BOOK:
The memoir of Gwendolyn Midlo Hall offers today's activists and readers an accessible and intimate examination of a crucial era in American radical history.
Born in 1929 New Orleans to left-wing Jewish parents, Gwendolyn Midlo Hall's life has spanned nearly a century of engagement in anti-racist, internationalist political activism. In this moving and instructive chronicle of her remarkable life, Midlo Hall recounts her experiences as an anti-racist activist, a Communist Party militant, and a scholar of slavery in the Americas, as well as the wife and collaborator of the renowned African-American author and Communist leader Harry Haywood. Telling the story of her life against the backdrop of the important political and social developments of the 20th century, Midlo Hall offers new insights about a critical period in the history of labor and civil rights movements in the United States.
Detailing everything from Midlo Hall's co-founding of the only inter-racial youth organization in the South when she was 16-years-old, to her pioneering work establishing digital slave databases, to her own struggles against cruel and pervasive sexism, Haunted by Slavery is a gripping account of a life defined by profound dedication to a cause.
PRAISE:
"What a refreshing book! Gwendolyn Midlo Hall's spunky, riveting, chronicle of a life of political activism and groundbreaking historical scholarship reminds us of the Left's crucial role in the Black struggle against White supremacy and of her own revolutionary use of digital technology in the remaking of American history."

Nell Irvin Painter, author of The History of White People and Southern History Across the Color Line
"Haunted by Slavery gives us a rare, up-close look at the Black freedom struggle across the twentieth century and the massive repression Black and white radicals encountered, from a white freedom fighter-scholar who throughout her life refused to be a 'good girl.'"

Jeanne Theoharis, Distinguished Professor of Political Science, Brooklyn College, author, A More Beautiful and Terrible History
"Three decades after Gwendolyn Midlo Hall's groundbreaking Africans in Colonial Louisiana, what's striking is not only how visionary it was, but also how far we have yet to go to integrate the key insights she offered about our past and our present."
64 Parishes
"Gwen Midlo Hall is a people's historian in the best sense of that term. Her scholarship, informed by a deep commitment to the struggle for freedom, maps the lives and struggles of oppressed and enslaved people over time and place. In her newest work, she traces her own freedom journey and offers insight into the making of a white radical anti-racist historian, whose life and work as a scholar, left wing organizer, daughter, wife and mother reveal the breadth of her humanity and remarkable accomplishments."

Barbara Ransby, author of Ella Baker and the Black Freedom Movement
"In Haunted by Slavery, renowned scholar and activist Gwendolyn Midlo Hall tells her remarkable life story with the same passion, conviction, depth and beauty that has guided her work for decades. Drawing on her personal experiences and extensive knowledge of history and politics, Midlo Hall's memoir lays bare the intricacies of race, gender, class and power."

Keisha N. Blain, author of Set the World on Fire: Black Nationalist Women and the Global Struggle for Freedom
"Haunted by Slavery is a magnificent account of the revolutionary life of a southern Jewish woman who fought racial inequalities during one of the most dreadful times in US history. When women's fate was to be confined to the domestic space, Gwen became a militant who challenged gender norms, escaped anti-Communist persecution, married a prominent African American activist, and raised her children across several states and countries. This memoir is an inspiring testament written by one of the most esteemed historians of slavery in the United States, who dedicated her entire life to fight for social justice, a strive that persists today."

Ana Lucia Araujo, Professor of History, Howard University
"In the overwhelmingly male-dominated, historically conservative field of southern history, Gwendolyn Midlo Hall has been a trailblazer. As an inspiration to countless women historians as well as scholar activists, Midlo Hall's Haunted by Slavery is an intensely intimate—and at times disarmingly honest—memoir. It offers a glimpse into the life of a white Jewish woman in the Deep South, complicating our prejudices about both the region and its people. Haunted by Slavery is a must-read for anyone interested in questions of race, gender, class, and power in America. Midlo Hall is a national treasure."

Keri Leigh Merritt, author of Masterless Men
"Like Dr. Gwendolyn Midlo Hall, this book is bold and engaging. As this white woman from the South recounts her life, we learn how she shaped history as an unrelenting civil rights activist and rewrote history as a path-breaking scholar of slavery in the Americas. All along, Dr. Midlo Hall urges us to fight for justice, seek education, and teach others. There can be no doubt that the world would be a better place if we followed her lead."

Walter Hawthorne, Professor of African History, Michigan State University
"Dr. Hall's memoir offers a thorough and necessary exploration of the misinformation, violence, and fear that create the circumstances for white Southerners—white Southern women and girls, in particular—to participate in segregation and enclosure even when it is against their own interests. Luckily, Hall also provides a recipe for fighting that—grit, truth, and the defiance to face down the family you are born into in order to form a more inclusive family of your own creation. Hall's book charts a path for not just understanding Southern white identity, but a reminder that the most toxic parts of that world can be excised and new lines of relation with Black, immigrant, poor, and other dispossessed people can by drawn—if you've the courage to try!"

Jessica Marie Johnson, author of Wicked Flesh
"Haunted By Slavery is a beautifully written memoir. Gwendolyn Midlo Hall offers an inspiring life story, detailing her lifelong commitment to upending racism and white supremacy, sexism, labor exploitation and global oppression. Midlo Hall's fascinating and engrossing personal histories illuminate the makings of a 'revolutionary internationalist,' radical, intellectual, and activist-historian. It provides a firsthand and fresh perspective on some of the most important political and social justice movements of the mid-to-late twentieth century. A wide-ranging political autobiography, this remarkable narrative is an intimate account of an activist's interior life."

LaShawn Harris, author of Sex Workers, Psychics, and Numbers Running
"In this gripping memoir of a radical American life, the pathbreaking historian Dr. Gwendolyn Midlo Hall draws on almost a century of living memory to tell a story that races from New Orleans to Paris, New York, Mexico, Detroit, North Carolina, New Jersey, Mississippi, and more. It's all here. Her presence at W.E.B. Dubois's 'Behold the Land' speech in 1946. Her arrest at an 'interracial' party in 1949. A frank account of her 30-year marriage to the brilliant and troubled Black revolutionary Harry Haywood. Her friendship with Mabel and Robert Williams. Her struggle to survive and grow as a professional historian in a bluntly sexist society. Her years-long harassment by the FBI. Her painstaking archival and pioneering database work to restore the historical identities of enslaved Africans and Black Americans. It's not a story you've heard before, and it's one you won't forget."

Ned Sublette, co-author of The American Slave Coast
"Dr. Midlo Hall's memoirs tell an intriguing story of survival. It is a love story about heartbreak, courage, and scholarship. As an awarded professor with over seventy years of study in courthouses and archives, Dr. Midlo-Hall has helped countless students and scholars understand the history of Africans in Louisiana through her slave database. For the first time, readers will learn the secrets behind the life of this scholar, who as a teenager started her work as a civil rights activist and freedom fighter while working in her father's law office in New Orleans."

Kathe Hambrick, Founder, River Road African American Museum and Dir. of Interpretation, West Baton Rouge Museum
"The 'Allées Gwendolyn Midlo Hall' is a memorial built at the Whitney Plantation Museum of slavery near New Orleans and dedicated to remembering and honoring all the people who were enslaved in Louisiana. This book allows everybody to understand why the name of its author was chosen in the naming of the said memorial."

Dr. Ibrahima Seck, director of research, Whitney Plantation Museum of Slavery
"Those who know historian Gwendolyn Midlo Hall from her pathbreaking research on the lives of enslaved Africans and their descendants might be surprised to learn of all the activist trailblazing she did as a young woman—building interracial coalitions against segregation in her hometown of New Orleans in the 1940s and organizing for workers' rights through the Communist Party, all the while struggling against the sexism that kept women from positions of leadership and careers of their own. But as her fascinating memoir Haunted by Slavery makes clear, the whole of her life's work, as an activist and a scholar, has been in the service of fighting injustice and broadcasting the stories of the oppressed, past and present."

Mary Niall Mitchell, Ethel & Herman L. Midlo Endowed Chair in New Orleans Studies, University of New Orleans
"This autobiography is an inspiring example of the convergence of political commitment and scholarly contribution. The author's life coincides, in youth, with the Civil Rights movement and, in the half-century that followed, with the persistence of systematic racism in the United States. Daughter of an East European immigrant who became a Civil Rights lawyer in segregated New Orleans, wife of a black Communist militant, mother of an activist physician in Mexico, she describes her fight for social justice and racial equality throughout her life. In the last five decades at Rutgers and more recently at Michigan State University, not only has she written prize-winning books and articles reflecting the paradigm shift from slaves as silent victims to resilient and resourceful actors in history, but she has also led major projects in comparative and digital history. Recounting how all this has been achieved against constraints of gender convention, racial prejudice, and petty FBI harassment makes for fascinating reading about segregated New Orleans and Louisiana, the Communist Party in postwar America, and much else besides appreciation of the noteworthy persona who is the memoir's principal subject."

Paul Lachance, Professor of History, University of Ottawa
"Part feminist memoir, part labor philosophy, part Louisiana history, part Civil Rights chronicle, part the academic genealogy of an African diaspora historian: Haunted by Slavery is all that one might expect of the autobiography of one of the most distinguished scholars of several generations–and in its intricate and fearless writing, the book is even more."

Laura Rosanne Adderley, Associate Professor, Department of History, Tulane University
"Deeply moving and exceptionally current. Professor Hall has kindly opened a window and allowed us to peer through into her extraordinary life. A life full with both joys and sorrows, but more than anything, signaled by her unwavering commitment to make our world a better place."

Manuel Barcia, Chair of Global History, University of Leeds, UK
ABOUT THE AUTHOR:
Gwendolyn Midlo Hall is Professor Emerita of Latin American and Caribbean History at Rutgers University. Born in 1929, Midlo Hall is a lifelong civil rights and Black Power essayist and activist, multi-award-winning historian, digital humanities pioneer, and outstanding public intellectual still writing indispensable works as she reaches her ninety-second year.
RIGHTS INFORMATION:
Please contact subagents for the following languages and territories:
For all other languages/territories, please contact Roam Agency.