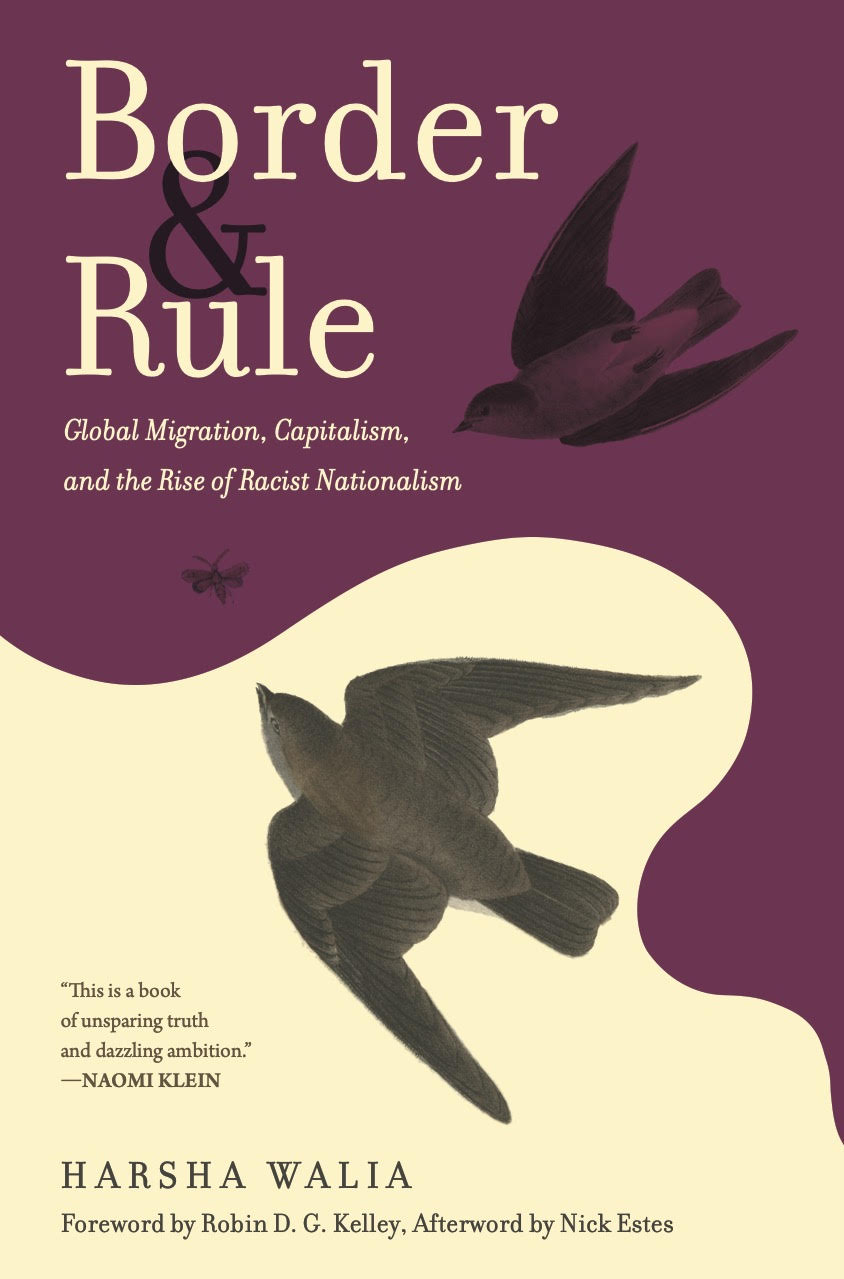 BORDER AND RULE
Global Migration, Capitalism, and the Rise of Racist Nationalism
Harsha Walia
Afterword by Nick Estes, and foreword by Robin D.G. Kelley
Haymarket Books (February 9, 2021)
Trade paper • ISBN-13: 99781642592696 • US $19.95 • 5.5 in x 8.5 in • 200 pgs.
READ: Confronting the Long Arc of U.S. Border Policy (The Intercept, Feb 7, 2021)
ABOUT THE BOOK:
In Border and Rule, one of North America's foremost thinkers and immigrant rights organizers delivers an unflinching examination of migration as a pillar of global governance and gendered racial class formation.

Harsha Walia disrupts easy explanations for the migrant and refugee crises, instead showing them to be the inevitable outcomes of the conquest, capitalist globalization, and climate change that are generating mass dispossession worldwide. Border and Rule explores a number of seemingly disparate global geographies with shared logics of border rule that displace, immobilize, criminalize, exploit, and expel migrants and refugees. With her keen ability to connect the dots, Walia demonstrates how borders divide the international working class and consolidate imperial, capitalist, and racist nationalist rule. Ambitious in scope and internationalist in orientation, Border and Rule breaks through American exceptionalist and liberal responses to the migration crisis and cogently maps the lucrative connections between state violence, capitalism, and right-wing nationalism around the world.

Illuminating the brutal mechanics of state formation, Walia exposes US border policy as a product of violent territorial expansion, settler-colonialism, enslavement, and gendered racial ideology. Further, she compellingly details how Fortress Europe and White Australia are using immigration diplomacy and externalized borders to maintain a colonial present, how temporary labor migration in the Arab Gulf states and Canada is central to citizenship regulation and labor control, and how racial violence is escalating deadly nationalism in the US, Israel, India, the Philippines, Brazil, and across Europe, while producing a disaster of statelessness for millions elsewhere.

A must-read in these difficult times of war, inequality, climate change, and global health crisis, Border and Rule is a clarion call for revolution. The book includes a foreword from renowned scholar Robin D. G. Kelley and an afterword from acclaimed activist-academic Nick Estes.
PRAISE:
"Harsha Walia's work is a must-read for anyone interested in issues of immigration…The activist, author, and educator's brand-new book, Border & Rule, explores how borders around the globe divide the working class, empower the ruling class, and criminalize refugees, along with the ways in which state violence, capitalism, and right-wing nationalism are all connected."
VICE
"This is a book of unsparing truth and dazzling ambition, providing readers with desperately needed intellectual ammunition to confront the inherent violence of borders. An enormous contribution to our movements."

Naomi Klein, author of This Changes Everything: Capitalism vs. the Climate
"Read Harsha Walia and your understanding of the world will shift."
Astra Taylor, author of Democracy May Not Exist, but We'll Miss It When It's Gone and The People's Platform: Taking Back Power and Culture in the Digital Age
"In this exceptional book, Harsha Walia takes us on a stunning and terrifying tour of the Great Wall of Capitalism, the border killing zone where viral fascism feeds on the bodies of the poor and persecuted. Hell is already here."

Mike Davis, co-author of No One Is Illegal: Fighting Racism and State Violence on the U.S.-Mexico Border and Set the Night on Fire: L.A. in the Sixties
"Harsha Walia's decades of visionary leadership in border abolition and migrant justice work, along with her relentless intellectual rigor, is apparent in this immensely important book, arriving right when we need it most."
Dean Spade, author of Mutual Aid: Building Solidarity During this Crisis (and the Next) and Normal Life: Administrative Violence, Critical Trans Politics and the Limits of Law
"We know that borders are violence. We know that violence numbs our collective imagination. We know that imagination is a muscle that must be exercised daily to prevent atrophy. This book is the workout. Border and Rule works us. With rigor, precision, and care, Harsha Walia pushes us beyond false solutions, rainbow imperialisms, and exclusionary projections. What a privilege to think with her, to build movement muscle for a world free of borders."
Shailja Patel, author of Migritude
"This indispensable, deeply researched, and beautifully written book is the first and most in-depth global analysis of borders and immigration, wars and displacement, imperialism and western white nationalism. Always with her ear to the ground and paying close attention to the people whose lives are wrecked or lost, Walia demands action and offers real solutions."
Roxanne Dunbar-Ortiz, author of Not "A Nation of Immigrants": Settler Colonialism, White Supremacy, and a History of Erasure and Exclusion and An Indigenous Peoples' History of the United States.
"Harsha Walia's deeply thoughtful and well-written book makes creative connections that other writers have preferred to ignore. It offers a lucid, insightful survey of the most difficult political issues that we face."
Paul Gilroy, author of The Black Atlantic: Modernity and Double Consciousness and Against Race: Imagining Political Culture Beyond the Color Line
ABOUT THE AUTHOR:
Harsha Walia is the award-winning author of Undoing Border Imperialism (2013). Trained in the law, she is a community organizer and campaigner in migrant justice, anti-capitalist, feminist, and anti-imperialist movements, including No One Is Illegal and Women's Memorial March Committee.
RIGHTS INFORMATION:
Languages & Territories Where Rights Have Been Sold:
Audio book
Please contact subagents for the following languages and territories:
For all other languages/territories, please contact Roam Agency.