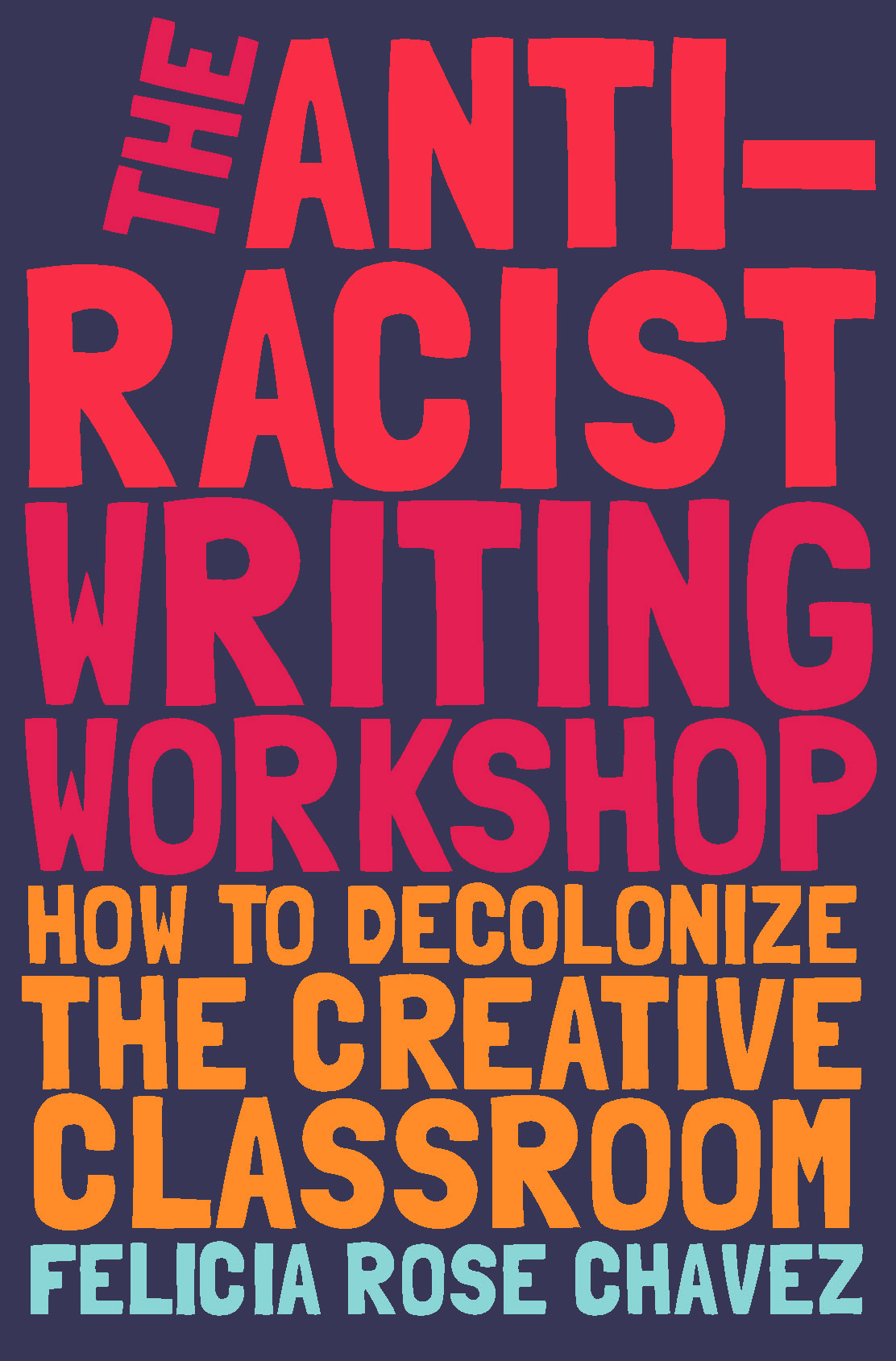 THE ANTI-RACIST WRITING WORKSHOP
How To Decolonize the Creative Classroom
Felicia Rose Chavez
Haymarket Books (January 5, 2021)
Trade paper • ISBN-13: 9781642592672 • US $24.95 • 5.5 in x 8.5 in • 180 pgs.
ABOUT THE BOOK:
A captivating mix of memoir and progressive teaching strategies, this book demonstrates how to be culturally attuned, twenty-first century educators. The Anti-Racist Writing Workshop is a call to create healthy, sustainable, and empowering classroom communities. Award-winning educator Felicia Rose Chavez exposes the invisible politics of power and privilege that have silenced writers of color for far too long.
Finally, a teaching model that protects and platforms students of color, because every writer deserves access to a public voice. For everyone looking to liberate their thinking from "the way it's always been done," The Anti-Racist Workshop is a clear, compelling guidebook on a necessary step forward.
PRAISE:
"In this spirited call for building more inclusive and supportive writing workshops… the mindfulness and generosity that guide [Chavez's] teaching principles will resonate with scholars and students who have been working to diversify creative writing and English literature programs."
Publishers Weekly
"Felicia Chavez's The Anti-Racist Writing Workshop is a generational intervention. Chavez is expanding expectations of How-To books while giving radical generative portals of entry into workshop reconstruction. Every writing teacher on Earth needs this book."

Kiese Laymon, author of Heavy

"There is power in the words we write. Understanding how we can use those words to build community, challenge racism, and decolonize classrooms is the work of anti-racist educators. Felicia Rose Chavez has skillfully and lovingly done all three in a book that will transform how we write to create an anti-racist world. Chavez lays out powerful and inclusive ways to model a writing workshop structure that would make June Jordan proud."

Dr. Bettina L. Love, author of We Want to Do More Than Survive
"The Anti-Racist Writing Workshop is an intelligent and necessary rethinking of the creative writing workshop. It provides a map to diversify the workshop and its aesthetics, to restructure its power dynamics and to align the process of critique more with basic principles of creativity and psychology. "

David Mura, author of A Stranger's Journey
"How does one write but not necessarily learn voice?" This is one of the most halting and necessary questions Felicia Rose Chavez poses in The Anti-Racist Writing Workshop. What Chavez presents from her experience as workshop participant, artist, activist, and professor is vital and generous. She expertly outlines the steps to produce a nurturing, collaborative, inclusive space for BIPOC writers where the core tenets are about emotional recognition, writing rituals, representative reading lists, and fully collaborative workshops where no one is silenced. The Anti-Racist Writing Workshop breaks down how a universal acclimation to inherently racist practices in workshops has stifled and harmed students of color. Chavez shares a methodology that is pure, enlightened, encouraging, and productive, allowing creators of color to understand their value and potential. As an author, editor, and teacher I found myself wholly changed by The Anti-Racist Writing Workshop and will be implementing much of this thinking and these actions to facilitate more accountability and unity within the workshop environment.

Jennifer Baker, editor, Everyday People: The Color of Life — A Short Story Anthology
"Part memoir, part pedagogical tract, part guidebook, part testimony, The Anti-Racist Writing Workshop: How to Decolonize the Creative Classroom is everything . "Dismantle" has become a trendy word in our current historical moment. We use it, but don't really know how to dismantle. Felicia Rose Chavez personifies the word. True to the adage, she shows us, doesn't tell us. When it comes to anti-racist pedagogy, most instructors go silent after acknowleging that systemic oppression exists in classrooms worldwide. They go silent as a form of denial, resistance, or they need the how-to, the step-by-step instructions and tools to work with. Chavez brilliantly confronts our comfort levels and our played out forms of teaching. The Anti-Racist Writing Workshop is a vital book. If we are truly going to learn, write, and read in an equitable, supportive, creative, humanity-driven environment that seeks to dismantle white-centered patriarchal teaching techniques, this book is required reading; it's bound to be an instant classic. Word to everything I love."

Willie Perdomo, author of The Crazy Bunch
ABOUT THE AUTHOR:
Felicia Rose Chavez is a digital storyteller with an MFA in creative nonfiction from the University of Iowa. An award-winning educator, Felicia served as Program Director to Young Chicago Authors and founded GirlSpeak, a feminist webzine for high school students. She went on to teach writing at the University of New Mexico, where she was recognized as the Most Innovative Instructor of the Year, the University of Iowa, where she was distinguished as the Outstanding Instructor of the Year, and Colorado College, where she received the Theodore Roosevelt Collins Outstanding Faculty Award.
Her creative scholarship earned her a Ronald E. McNair Fellowship, a University of Iowa Graduate Dean's Fellowship, and a Riley Scholar Fellowship. She is a co-editor, with Willie Perdomo and José Olivarez, of The BreakBeat Poets Vol. 4: LatiNext, and her work has been featured in the Kenyon Review, Black Warrior Review, The Normal School, and Brevity, among others.
RIGHTS INFORMATION:
Audio book:
Please contact subagents for the following languages and territories:
For all other languages/territories, please contact Roam Agency.