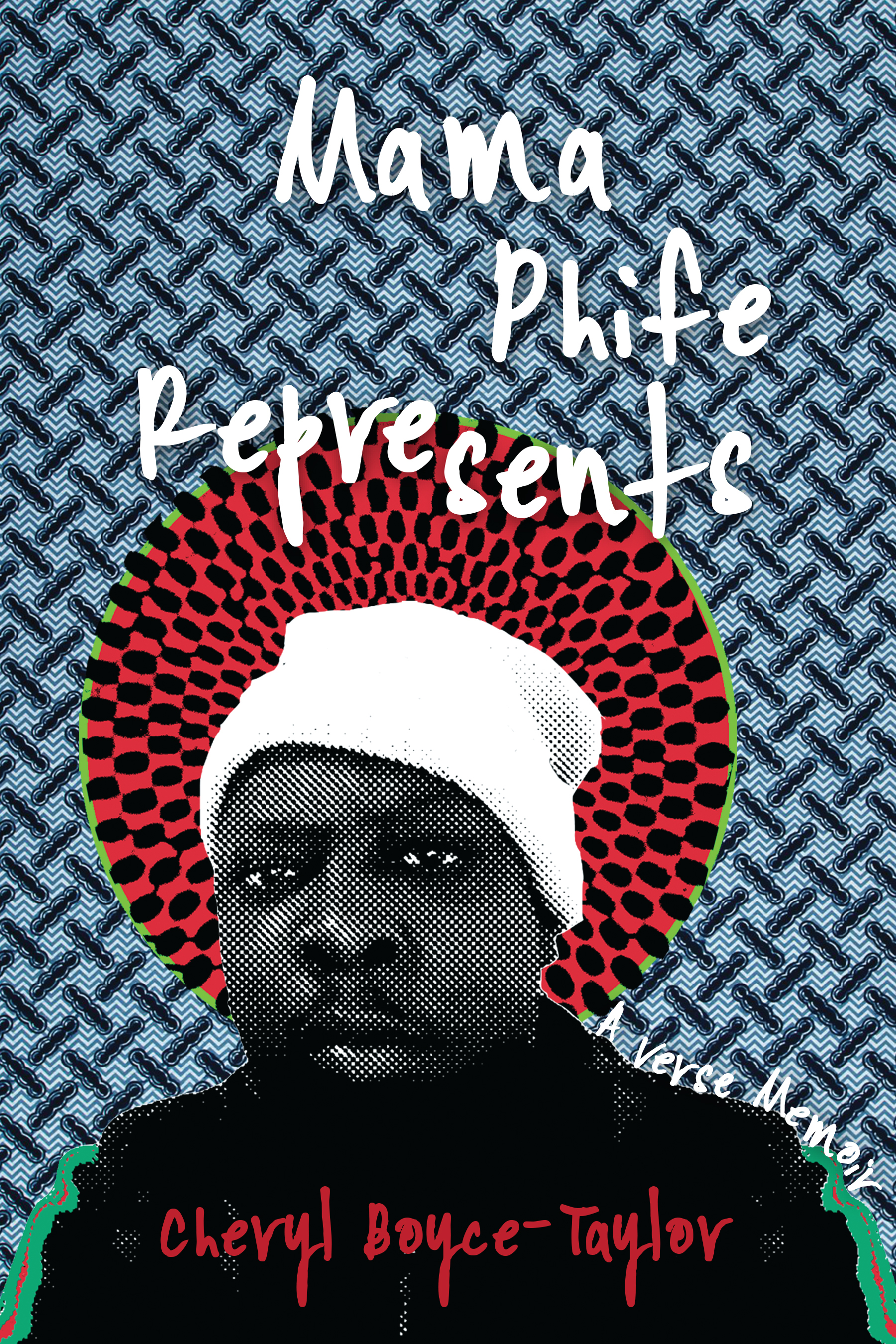 MAMA PHIFE REPRESENTS
A Memoir
Cheryl Boyce-Taylor
Haymarket Books (January, 2021)
Trade paper • ISBN-13: 9781642592665 • US $16.00 • 6 in x 9 in • 136 pgs.
ABOUT THE BOOK:
Award-winning poet Cheryl Boyce-Taylor pays tribute to her departed son Malik 'Phife Dawg' Taylor of the legendary hip-hop trio A Tribe Called Quest in this intimate collection.
Mama Phife Represents is a hybrid-story that follows the journey of a mother's grieving heart through her first two years of public and private mourning. Told through a tapestry of narrative poems, dreams, anecdotes, journal entries, and letters, these treasured fragments of their lives show a great love between mother and son. Artist and artist, teacher and friend. Cheryl Boyce-Taylor's gift includes drawings, emails, hip-hop lyrics, and notes Malik wrote to his parents beginning at age eight. Both elegy and praise song, there is joy and sorrow, healing, and a mother's triumphant heart that rises and blooms again.
PRAISE:
"Malik Phife Dawg Taylor represents everything that's beautiful about Hip-Hop. I had the honor of meeting his mother Cheryl Boyce-Taylor, the poet, long before I met him. She inspired me to become a better artist. When I became a professional artist, Malik was one of my biggest supporters. Without them, I don't know if I would be the artist I am today. This book is like a piece of me."

Talib Kweli, Hip-Hop Artist
"A teacher begets a teacher and a poet begets a poet. This book is the embodiment of pure love, grace and hope. Herein, Mama Phife aka Cheryl Boyce-Taylor has given us a gift about her greatest gift, her son Malik "Phife Dawg" Taylor. Malik was a great storyteller. To say he got it from his mama is an understatement. He was a treasure to me and Cheryl's writings and memoirs help to comfort the place that misses him greatly. I thank her for this book and for still teaching us… like her mother before her."

Ali Shaheed Muhammad, A Tribe Called Quest
"I am eternally hopeful that more people in the world come to terms with understanding that for anyone to share an experience of grief is a true generosity. With Mama Phife Represents, Cheryl Boyce-Taylor allows a reader to bask in the generosity. The sharing of loss and grief is the building of a bridge that others who have experienced that specific loss can cross. This is a book about losing a child, yes. But beyond that, it is a book of tactile emotions, and a singularly musical writing, which Boyce- Taylor has always done so well. Above all, Mama Phife Represents shows anyone who has lost someone how to make the most of memory, and the most of their own survival."
Hanif Abdurraqib, author of Go Ahead In The Rain: Notes to A Tribe Called Quest
"'All around are unhinged bones / wailing at the lip of sea.' And: 'I've stitched your breath / to my throat.' Such lines carry the loss of the writer's beautiful son out of which emerges this book of love, of joy, of grief, but also of plenty. Through poems, letters, photographs, and other communications, Cheryl Boyce-Taylor has gathered an exquisite record of this Great love between mother and son, artist and artist. Quietly I say to you here: It is like nothing else I have quite read. An elegy, an epic, a duet. A motherhand gathering the lastings. We are so utterly fortunate to witness this immense devotion, and in that witnessing be changed by yet another glimpse of deepest love and what it makes possible."
Aracelis Girmay, author of The Black Maria
"Mama Phife Represents is an intimate and heartbreaking tribute to Boyce-Taylor's son, Malik 'Phife Dawg' Taylor. Not only does Boyce-Taylor deftly humanize the hip-hop superhero, but she also logs every fragile emotion in both eulogy and celebration: so much so that 'she will travel to Anguilla/ beg Yemaya to bring him back.' The light that the poet finds on this journey is nearly unfathomable, but always redemptive. This collection is a monument, and I am grateful for it."
Michael Cirelli, CEO of Urban Word National Youth Poet Laureate Program
"Mama Phife Represents is at once a memoir and a living archive of one man's extraordinary life and his mother's love and pain in the face of his loss. At a time in the United States when so many black mothers are losing their black children —through illness and violence — this book stands as a testament to the deep, ground-shifting impact of that loss across generations. Honest, Healing, Timely."
Dr. Ana-Maurine Lara, poet, novelist, and scholar
ABOUT THE AUTHOR:
Cheryl Boyce-Taylor is a poet and teaching artist. She earned an MFA from Stonecoast at the University of Southern Maine and an MSW from Fordham University. Her collections of poetry include Raw Air (2000), Night When Moon Follows (2000), Convincing the Body (2005), and Arrival (2017), which was a finalist for the Paterson Poetry Prize.
The founder and curator of Calypso Muse and the Glitter Pomegranate Performance Series, Boyce-Taylor is also a poetry judge for the New York Foundation for the Arts and the Astraea Lesbian Foundation for Justice. She has led workshops for Cave Canem, Poets & Writers, and the Caribbean Literary and Cultural Center. Her poetry has been commissioned by The Joyce Theater and the National Endowment for the Arts for Ronald K. Brown's Evidence, A Dance Company. Boyce-Taylor is the recipient of the 2015 Barnes & Noble Writers For Writers Award and a VONA fellow. Her life papers and portfolio are stored at the Schomburg Center for Research in Black Culture in New York City.
RIGHTS INFORMATION:
Please contact subagents for the following languages and territories:
For all other languages/territories, please contact Roam Agency.