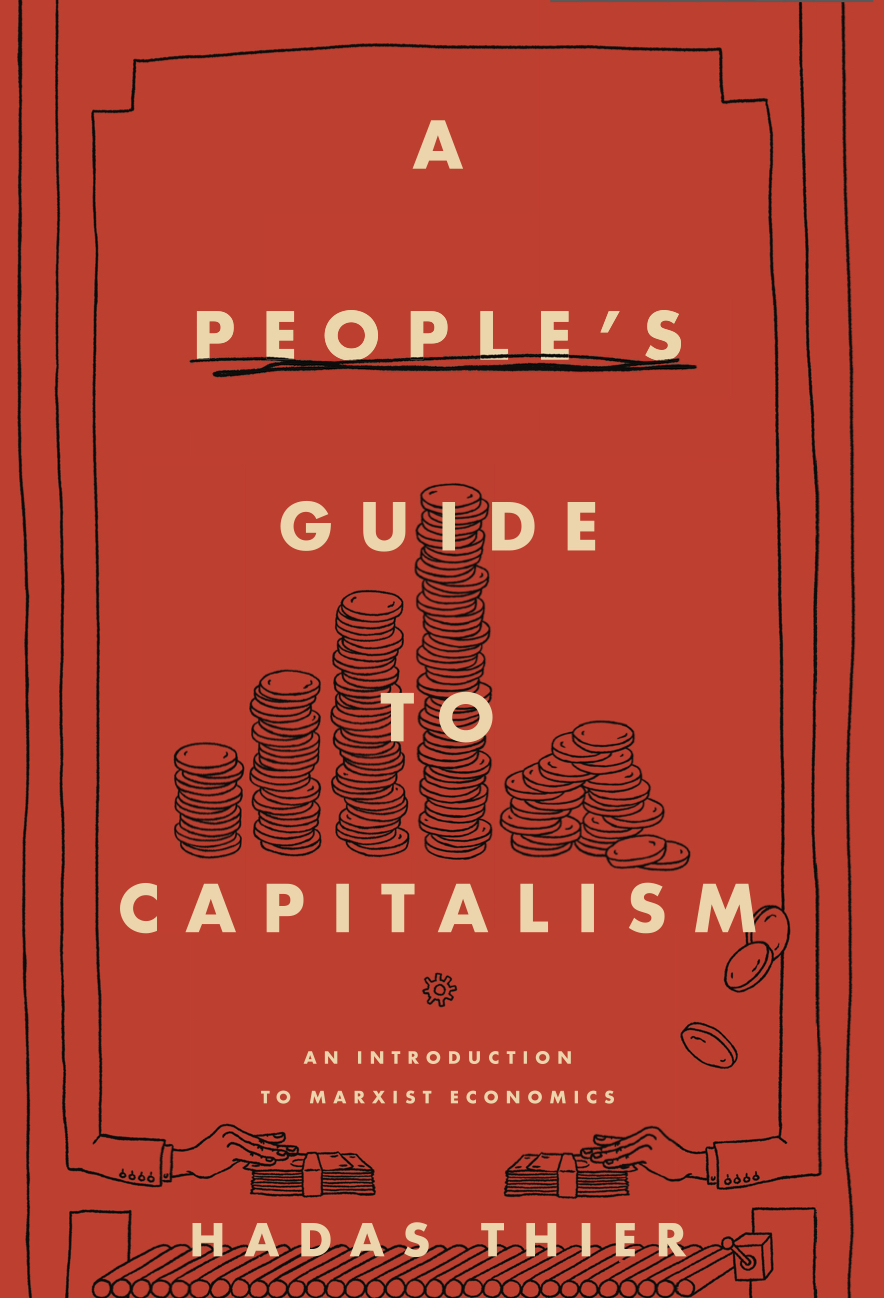 A PEOPLE'S GUIDE TO CAPITALISM
An Introduction to Marxist Economics
Hadas Thier
Haymarket Books (Summer 2020)
Trade Paper • ISBN-13:9781642591699 • US $20.00• 6 in x 9 in • 300 pgs.
ABOUT THE BOOK:
Pundits, politicians, and other enlightened commentators regularly tell us that Capitalism is the greatest economic system ever to grace the planet. With the same breath they sing its praises and implore the lay observers to leave the job of understanding the magical powers of the market to the "experts" and professionals.
Yet, despite the efforts of these mainstream economists and their boosters, increasing numbers of people have begun to question why the system has produced such vast inequality and wanton disregard for its own environmental destruction. Answering these questions requires a radical theory of economics.
A People's Guide to Capitalism offers exactly that in the form of an accessible, engaging, and refreshingly enraged introduction to how capitalism works, or rather doesn't work for the vast majority of the world's population. Drawing upon the ideas of Karl Marx, this book provides invaluable critical tools for activists who want to understand and dismantle the world of the 1%—a world that exploits, disenfranchises, oppresses, and dispossesses the many for the sake of the few.
Where conventional analysts see economics as numbers ticking off stock values and growth rates, A People's Guide to Capitalism stirringly reminds us that the workings and failures of the economy are fundamentally about human beings, and should thus be of interest to everyone.
PRAISE:
"When Marxist economics becomes usable by the people most threatened by capitalism—that is when it becomes great and dangerous. Hadas Thier's urgently needed book strips away jargon to make Marx's essential work accessible to today's diverse mass movements."

Sarah Leonard, contributing editor to the Nation
"As the world descends into a financial and public health crisis, the savage inequalities of capitalism are being laid bare. Hadas Thier's new book A People's Guide to Capitalism, has arrived right on time to clearly explain why the poor and working class always bear the brunt of capitalism's crises. Erudite and sharp, Thier unpacks the mystery of capitalist inequality with lucid and accessible prose. As we all enter into a world of new realities, we will need books like A People's Guide to help us make sense of the root causes of the financial crises that shape so many of our struggles today."

Keeanga-Yamahtta Taylor, author of From #BlackLivesMatter to Black Liberation and Race for Profit: How Banks and the Real Estate Industry Undermined Black Homeownership
"Economists have every incentive to mystify their craft and to dress up their political judgments as scientific fact. Hadas Thier's A People's Guide to Capitalism is a thorough and accessible corrective, and sure to be an important primer for generations of activists."

Bhaskar Sunkara, founding editor of Jacobin
"A People's Guide to Capitalism is a breath of fresh air on the left. Avoiding the obscure jargon of economics, Hadas Thier provides a rich, accessible introduction to how capitalism works. Ranging from exploitation at work to the operations of modern finance, this book takes the reader through a fine-tuned introduction to Marx's analysis of the modern economy. Along the way, Thier combines theoretical explanation with contemporary examples to illuminate the inner workings of capitalism. In addition, A People's Guide to Capitalism reminds us of the urgent need for alternatives to a crisis-ridden system."

David McNally, Cullen Distinguished Professor of History and Business at the University of Houston
"Times of economic instability, pandemics, and rising fascism have people looking for understanding. Luckily, radical traditions offer helpful tools. Hadas Thier's book offers a brisk and manageable introduction to many of these ideas, and is unusually playful about it. A great book for proletarian chain-breaking."

Rob Larson, Economics professor and author of Bit Tyrants: The Political Economy of Silicon Valley
"It is not easy explaining relatively complex ideas in a simple and clear manner. Ask any teacher. It's a skill lacking in many. Hadas Thier has brilliantly succeeded in that challenge with her book introducing Marxist economics. She has delivered a clear, straightforward and entertaining explanation of all Marx's basic theoretical insights into the nature and development of capitalism. And she has done so using modern examples that help the reader to understand why Marxist political economy is so clinical in its analysis of the reality of modern capitalist economics. I would say no one has done it better."

Michael Roberts, author of The Long Depression: Marxism and the Global Crisis of Capitalism
"Thier's book is a valuable introduction to Marxist concepts which helps us to see how Marxism can be used to deepen our knowledge of capitalism, beyond the level of mere appearance."

Daniel Saunders, Bias Magazine
"A People's Guide to Capitalism is a tremendous contribution to the understanding of economics today…It will be very useful both to veteran Marxists and people new to the subject. Everyone interested in this topic, and indeed anyone interested in fundamentally changing the world, should read this book."

Steve Leigh, New Politics
ABOUT THE AUTHOR:
Hadas Thier is an activist, writer, and socialist based in New York.

RIGHTS INFORMATION:
Audio book:
Please contact subagents for the following languages and territories:
For all other languages/territories, please contact Roam Agency.