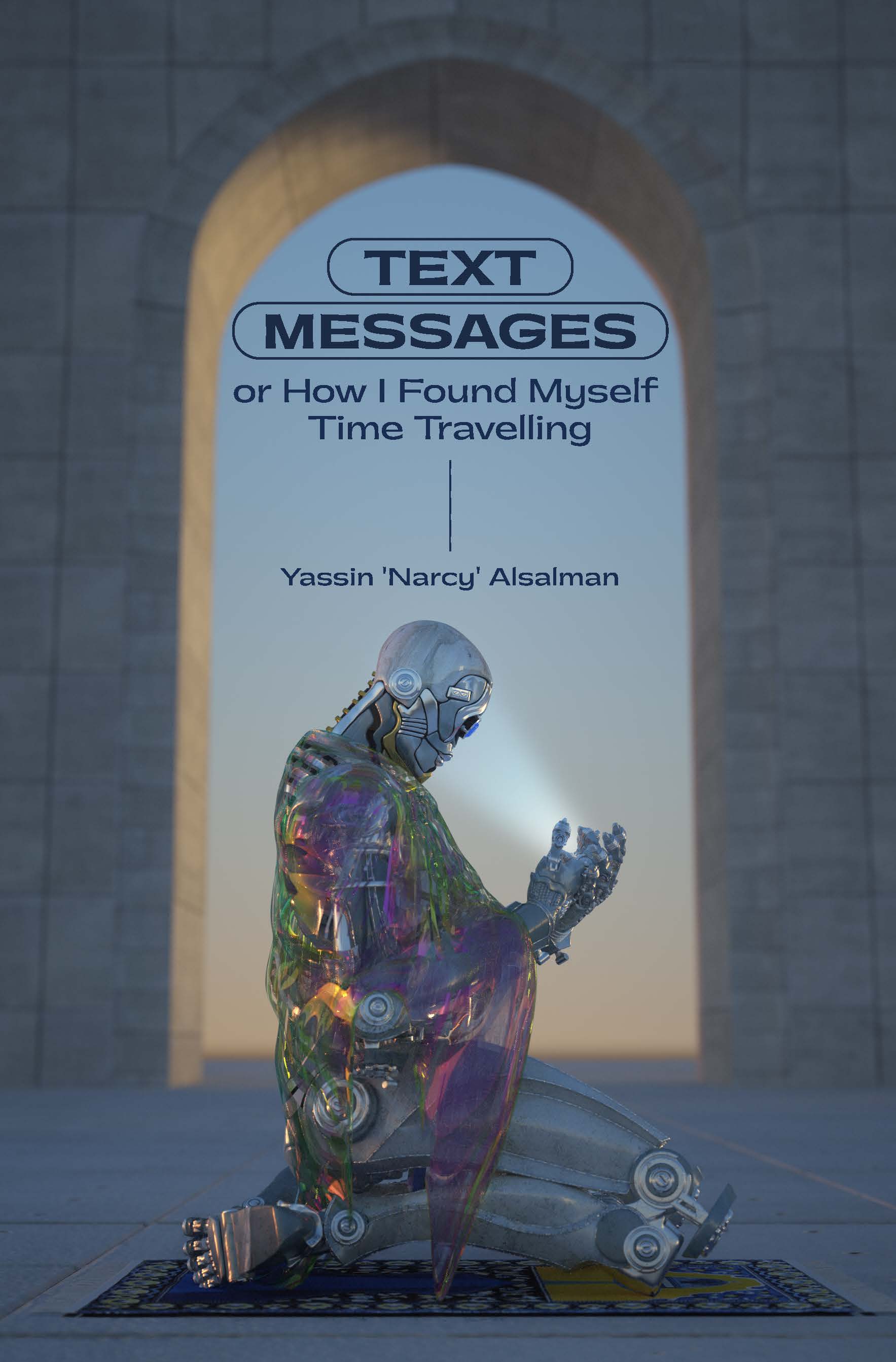 TEXT MESSAGES
Or How I Found Myself Time Travelling
Yassin "Narcy" Alsalman
Haymarket Books (Spring 2020)
Trade Paper • ISBN-13:9781642591507 • US $16.00 • 6 in x 9 in • 150 pgs.
ABOUT THE BOOK:
Text Messages is the first multi-genre collection by Montreal-based Iraqi hip-hop artist, activist, and professor Yassin "Narcy" Alsalman. Composed entirely on a smartphone during air travel and married to artwork from comrades, Narcy's writing speaks of the existential crises experienced by diasporic children of war before and during imperialism in the age of the Internet.
Narcy's verses span the space between hip-hop and manifesto, portraying a crumbling, end-stage capitalist society, visions for a new reality, and exposes the myth of multiculturalism in post-9/11 North America. The wordsmith hollows and transmogrifies the grotesque excess of the West by juxtaposing McLife with images of death, destruction, and trauma in the East.
From the depths of apathetic consumerism arises a voice of spiritual self-realization that explodes the misrepresented, mythical monolith of Islam in the West and with the rubble builds healing through intelligent resistance and radical love.
"Young boys and girls trapped in Walmarts— our consumer interim camps. A family-friendly, discounted freedom. You don't see what the Internet can't. Not our land or home. Not your mans or holmes. Not your towers or domes. Not your power or drones."
PRAISE:
"Yassin 'Narcy' Alsalman is a one-of-a-kind artist. He is transcendental, he is pop, he is the Muslim, he is the poet. Through his questioning of the tides of time, and the world's disregard of the Arab, he writes lyrics as anthem, providing a source material for a part of the world that is so often misunderstood and forgotten. This book is exciting in its futurity. It is punchy in its enthusiasm. I am grateful for this book's aliveness."

Fariha Róisín, author, How To Cure a Ghost
"Yassin Alsalman's writing weaves through the epic struggles of people to get free, enduring and resisting brutality, dictatorship, war, and occupation. As a hip-hop artist, he was forged in the rubble of 9/11 and the ensuing war against Muslims, emerging as one of the most creative and sharp artists chronicling the crimes of the powerful and giving voice to people's uprisings. Text Messages is a potent book rooted in the poetry and art of Alsalman's Iraqi ancestors, translated in a global language for the urgency of the times in which we now live."

Jeremy Scahill, co-founder of The Intercept and author of Blackwater and Dirty Wars
"Narcy's voice cuts through the rubble piled high in the wake of Amerikkka's 'War on Terror,' a true testament to hip-hop's intersectional revolutionary power and an unapologetic representation of the Muslim world in the 21st century's most ubiquitous art form."

Vic Mensa
"Yassin Alsalman possesses one of the most important voices in the world, and Text Messages could not be more timely or more necessary of a read. On paper, this Muslim teacher who raps should not be a success, but because of the beauty of his words and the pureness of his heart, he wins despite the massive odds against him. Narcy makes me feel heard, he gives me life. I am proud to be his friend and his peer."

Talib Kweli
Passion, pain, anger, hope, and swagger. Yassin is a man from the future. Narcy beautifully captures the chaotic multitudes of being a brown diaspora kid living through the war on terror in the technology age. Text Messages is an ambitious and bold time capsule capturing the insane times we're living through. Poems, barbs, and bars — take a bow Yassin, you've made a classic." 

Hasan Minhaj
ABOUT THE AUTHOR:
Real name Yassin Alsalman, Narcy is a musician, director, professor, writer, and actor. He teaches a hip-hop production class and a cultural study of rap and politics at Concordia University. He is the cofounder of WeAreTheMedium, a culture point for publishing, media, and the arts. He currently resides in Tiohtià:k, on unceded Indigenous lands, has his heart in the Arab world, and is grounded on planet Earth. Most importantly, he is a father of two.
RIGHTS INFORMATION:
Languages & Territories Where Rights Have Been Sold:
Please contact subagents for the following languages and territories:
For all other languages/territories, please contact Roam Agency.