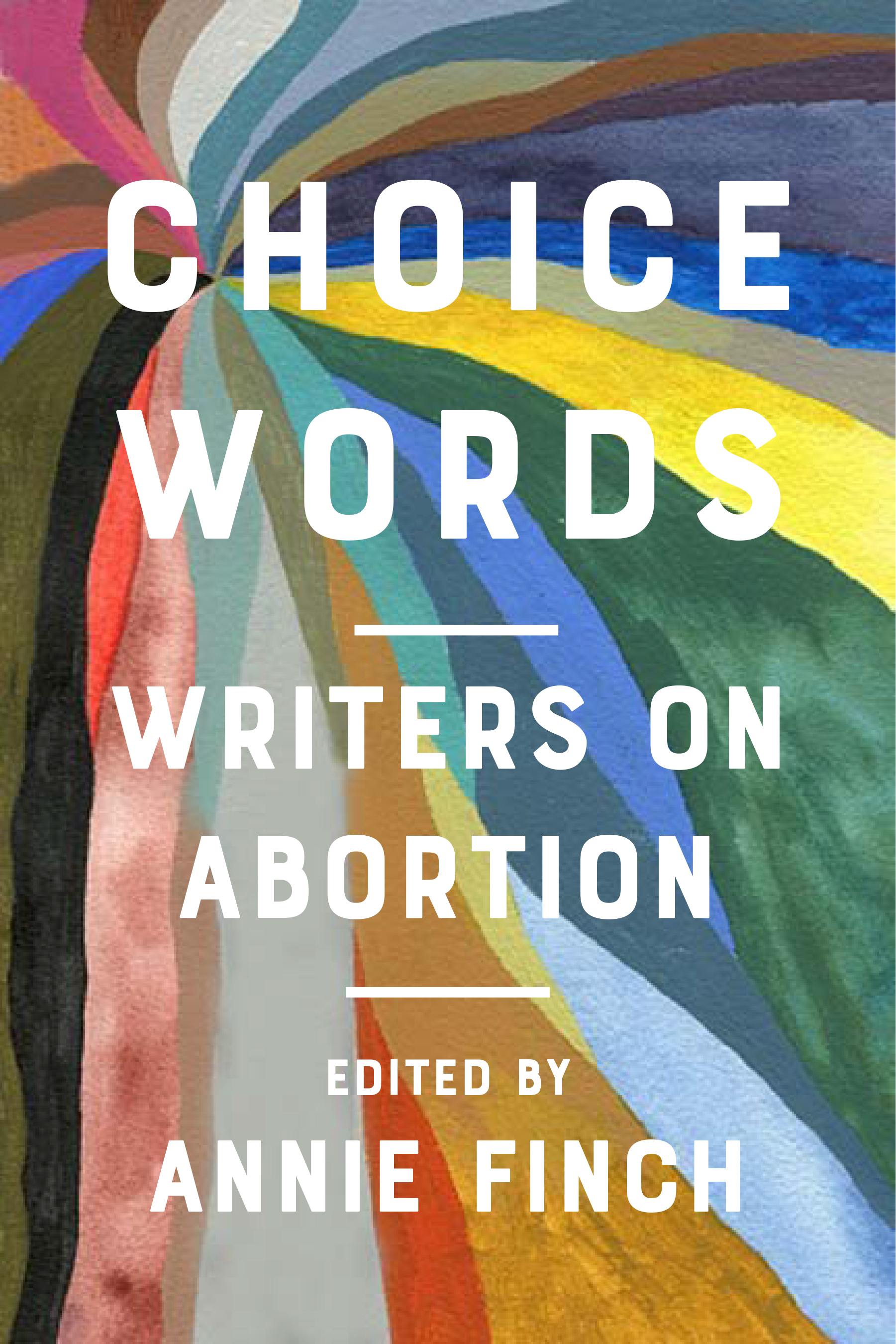 CHOICE WORDS
Writers on Abortion
Edited by Annie Finch
Haymarket Books (April, 2020)
Hardcover • ISBN-13:9781642591484 • US $26.95 • 6 in x 9 in • 400 pgs.
ABOUT THE BOOK:
With reproductive freedom under unprecedented attack, it's time to take back the conversation. Literature has always been at the forefront of profound shifts in human consciousness, and that's the level of shift that is needed now. It's time for Choice Words: Writers on Abortion, the first major literary anthology of poems, stories, and literary essays about abortion.
Twenty years in the making, this book spans continents and centuries; and includes Audre Lorde, Margaret Atwood, Lucille Clifton, Amy Tan, Gloria Steinem, Ursula Le Guin, Gwendolyn Brooks, Joyce Carol Oates, Gloria Naylor, Dorothy Parker, Ruth Prawer Jhabvala, Anne Sexton, Ntozake Shange, Sholeh Wolpe, Ai, Jean Rhys, Mahogany L. Browne, Shirley Geok-lin Lim, Frank O'Hara, Vi Khi Nao, Sharon Olds, Judith Arcana, Alice Walker, Lucille Clifton, Molly Peacock, Carol Muske-Dukes, Mo Yan, Leslie Marmon Silko, Bobbie Louise Hawkins, Kathy Acker, Anne Sexton, Langston Hughes, Sharon Doubiago, and numerous other classic and contemporary writers including voices from Canada, France, China, India, Iran, Ireland, Kenya, and Pakistan.
PRAISE:
"The poems, essays, and stories in Choice Words prove that women's bodies cannot be nationalized."

Gloria Steinem
"This book is a treasure, a gift, and a long-overdue shining of light in the most secret, sometimes painful, and often defiant lives of women. I am grateful that this anthology finally exists."
Elizabeth Gilbert, author, Eat, Pray, Love
"The anthology's contents are confessional, funny, graphic, stolid, absurdist, cagey, heartbreaking, vitriolic and on it goes, the approaches to the subject at hand as varied as human experience."
Shelf Awareness
"This is a captivating collection, organized and curated as only Annie Finch can do. It is a book I will cherish for years to come."
Dolen Perkins-Valdez, author, Balm
"A powerful collection of poems, fiction, and essays on the reality of abortion. . . Finch (Measure for Measure: An Anthology of Poetic Meters, 2015, etc.) has drawn together writers across time (from the 16th century to the present), place, race, ethnicity, gender, age, and culture who offer stark, often wrenching revelations. . . Eloquent contributions to the literature on a deeply contested issue."
Kirkus, starred review
"With reproductive rights under relentless assault, never has a book been more needed. Annie Finch has spanned five centuries and six continents to assemble writers who articulate a commonality of experience in every situation and emotion. Conceived and compiled with scrupulous scholarship, and with an illuminating introduction by Katha Pollitt, Choice Words will become a classic of both feminism and literature."
Robin Morgan, activist, author, host of Women's Media Center Live
"Choice Words is an important contribution to our movement for abortion access. It's time to read what literary voices have been saying about abortion. As we read their voices and stories, we have more nuanced context as we navigate our own lives."
Yamani Hernandez, Executive Director, National Network of Abortion Funds
"Silence, as much as anything, is why abortion's such an easy target in America. Stories save lives. We need women to say, shamelessly, I had an abortion. I'm not sorry. I'm not afraid. This anthology is a valuable contribution to this work."
Molly Crabapple, author, Drawing Blood
"Every kind of abortion you can imagine is represented here: abortions legal and illegal, safe and dangerous and fatal; abortions despite the wishes of others and abortions at the behest−the compulsion−of others; abortion as a claiming of self and abortion as an abnegation of self. There is abortion as tragedy, and also abortion as an occasion for wry comedy."
Katha Pollitt, author, Pro
"This landmark abortion anthology is not merely words on a page, but a literary rallying cry. Choice Words gives us words to fill the silence created by decades of anti-choice rhetoric, violence and abortion stigma."

Ash Jordan, founder of Choice Words Action
ABOUT THE AUTHOR:
Annie Finch is an award-winning feminist poet and writer and the author or editor of twenty books, including eight previous anthologies from publishers including University of Michigan Press, University of Arkansas Press, and Penguin/Random House. She earned a Ph.D from Stanford, has taught widely, and lives in Washington, DC.
RIGHTS INFORMATION:
Please contact subagents for the following languages and territories:
For all other languages/territories, please contact Roam Agency.