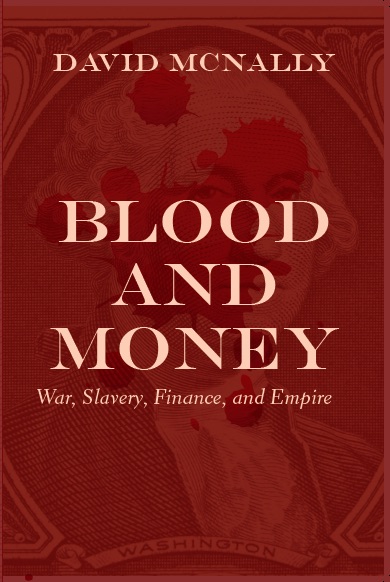 BLOOD AND MONEY
War, Slavery, and the State
David McNally
Haymarket Books (28 April, 2020)
Trade Paper • ISBN-13:9781642591330 • US $20.00 • 6 in x 9 in • 320 pgs.
ABOUT THE BOOK:
In most accounts of the origins of money we are offered pleasant tales in which it arises to the mutual benefit of all parties as a result of barter. In this groundbreaking study David McNally reveals the true story of money's origins and development as one of violence and human bondage. Money's emergence and its transformation are shown to be intimately connected to the buying and selling of slaves and the waging of war. Blood and Money demonstrates the ways that money has "internalized" its violent origins, making clear that it has become a concentrated force of social power and domination. Where Adam Smith observed that monetary wealth represents "command over labor," this paradigm shifting book amends his view to define money as comprising the command over persons and their bodies.
PRAISE:
"This fascinating and informative study, rich in novel insights, treats money not as an abstraction from its social base but as deeply embedded in its essential functions and origins in brutal violence and harsh oppression."
Noam Chomsky
McNally builds a powerful, richly documented argument that unchecked capitalism prioritizes greed and violence over compassion….[T]his searing academic treatise makes a convincing case."

Publishers Weekly
"David McNally's new book makes an important contribution to the growing critical literature on such basic components of contemporary capitalism as markets and money. His historical perspective makes the contribution especially insightful."
Richard D. Wolff, author, Democracy at Work
"Blood and Money is an ambitious and challenging account of the nexus between money, war, slavery and, eventually, capitalism—across vast swathes of history. At the heart of the book lies a crucial argument about the pivotal role of war finance in the emergence of modern banking, carefully laid out both in McNally's superlative chapter on the early decades of the Bank of England and in the condensed and fascinating synopsis of American capitalism with which the study concludes. These chapters alone should make the book indispensable reading for anyone seriously interested in the longer-term sources of modern capitalism as we know it today
ABOUT THE AUTHOR:
David McNally is the Cullen Distinguished Professor of History and Business at the University of Houston (UH) and Director of the Center for the Study of Capitalism. He is the author of Monsters of the Market, as well as six other books.
RIGHTS INFORMATION:
Languages & Territories Where Rights Have Been Sold:
Audio book:
Please contact subagents for the following languages and territories:
For all other languages/territories, please contact Roam Agency.